#VogelStrong: Veteran stands tall in return
Righty allows 1 run in first start after 2-month rehab for facial fractures
ATLANTA -- There he stood, a 39-year-old former journeyman turned two-time World Series champion, on the cusp of perhaps the greatest achievement of his 19-year professional career.
A little over 10 weeks earlier, Ryan Vogelsong was worried his left eye was gone and his career was over, the victim of an errant 92-mph fastball to the face.
But after undergoing surgery to repair multiple facial fractures in the aftermath of that frightful incident on May 23, he stood on the mound at Turner Field.
Although the Pirates fell to the Braves, 5-2, Vogelsong shined in his first game off the 60-day disabled list, allowing one run on only three hits across six innings with six strikeouts.
"Emotionally for me, it was like getting ready for a postseason game or a World Series game," Vogelsong said. "When I broke my hand, it was like, 'Well, I know I'm coming back from this.' But with the face thing, there were moments where I wasn't sure.
"To be able to make it back, pitch a big league game and throw the ball like that is icing on the cake."
After waiting nearly two months to pitch in the Majors again, an hour-and-16-minute rain delay stalled Vogelsong's return. But he didn't allow yet another obstacle hinder his performance.
#VogelStrong pic.twitter.com/rbQykLF8cI

— Pirates (@Pirates) August 5, 2016
The right-hander pitched two perfect innings to start the game and registered his first strikeout when he froze Nick Markakis with an 88-mph slider in his second frame.
But after Ender Inciarte reached on an infield single in the third and later scored on a slow chopper back to the mound, the Braves appeared set to spoil Vogelsong's comeback with the bases loaded and only one out.
Instead, Vogelsong struck out Freddie Freeman and escaped the inning without any more damage when center fielder Starling Marte chased down Matt Kemp's fly ball at the warning track.
"I think it's just experience," he said when asked about how he maintained his composure. "I've been through so much, so many games and so many different situations. You just learn how to concentrate on continuing to make pitches.
"I was fortunate enough to strike out Freddie there in a big situation and then Marte makes a great play. I think it's just being around the block a few times, really."
That experience showed as the game wore on, as Vogelsong retired the final 11 batters he faced before exiting.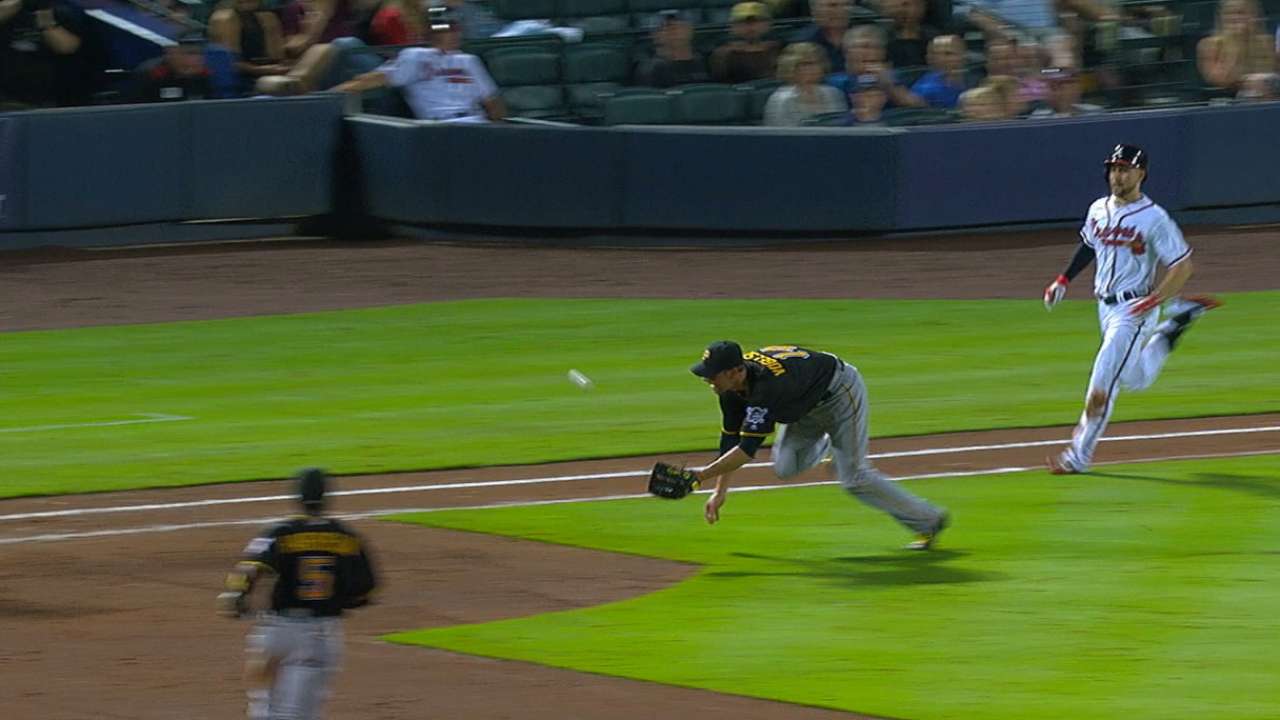 Vogelsong said he worked one-on-one with pitching coach Ray Searage throughout his recovery. And after delivering his longest outing since Aug. 18, 2015, while pitching for the Giants, he gave Searage most of the credit for his success.
"If you want to find a positive in getting hit in the face and having to miss two months," Vogelsong said, "it was the fact that I got to be with him and kind of start from the ground up and basically get rid of some bad habits that I had developed."
After being removed from the game, Vogelsong walked through the Pirates' dugout and hugged catcher Francisco Cervelli, manager Clint Hurdle and the trainers who helped him through his recovery.
And there he stood, his comeback complete.
"I figured if anybody could pull it off, he'd be the guy to pull it off," Hurdle said. "He's dealt with adversity throughout his career, whether it be geographical, physical or game. He's been a case study for a lot of players.
"If they want to research grit, determination or perseverance, all they've got to do is look him up and see the road he's traveled."
Pat James is a reporter for MLB.com based in Atlanta. This story was not subject to the approval of Major League Baseball or its clubs.