MLB.com Columnist
Jim Callis
Top 10 fantasy baseball prospects for 2016
Padres' Renfroe ready to make impact upon Major League arrival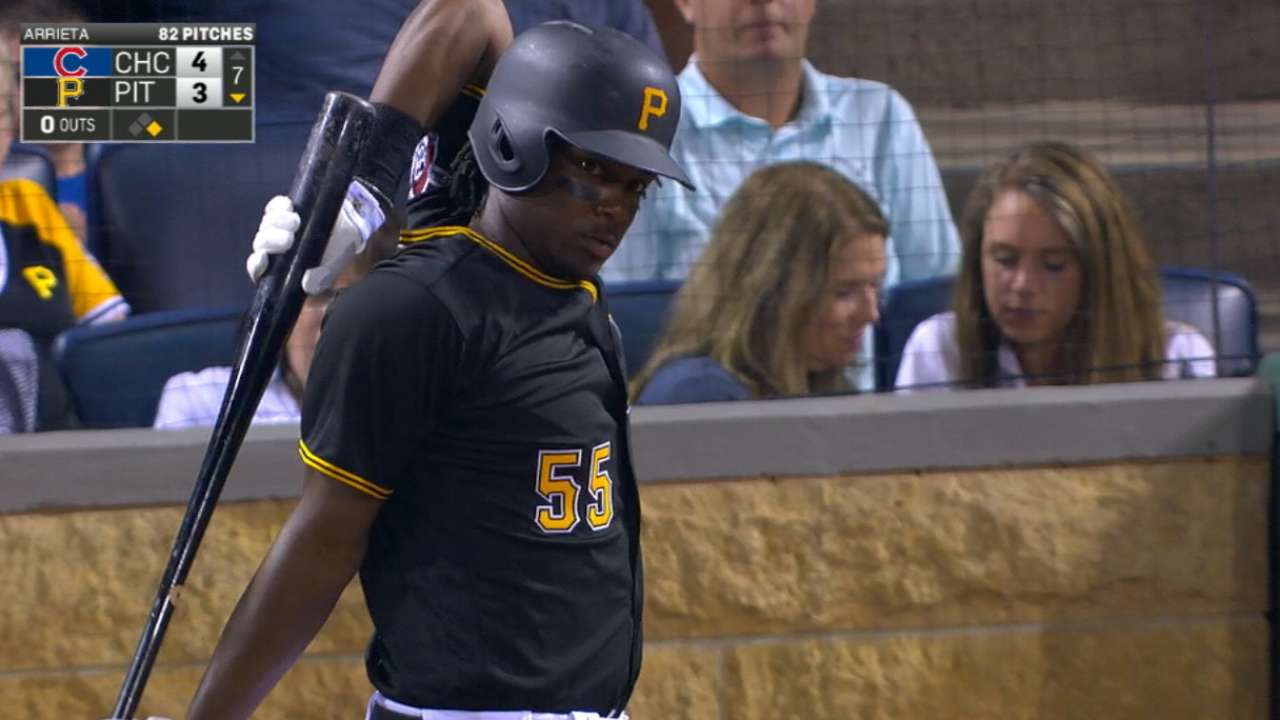 Tuesday was a notable day for debuts. Listed in order of how significant a contribution they can make to their real-life and fantasy teams this year, four prospects arrived in the big leagues:
Andrew Benintendi, OF, Red Sox: The No. 7 overall pick in the 2015 Draft will start in left field against right-handers, and Benintendi is advanced enough to hold his own and provide some power and speed. In time, Benintendi could be a .300-hitting, 20-20 guy in center field.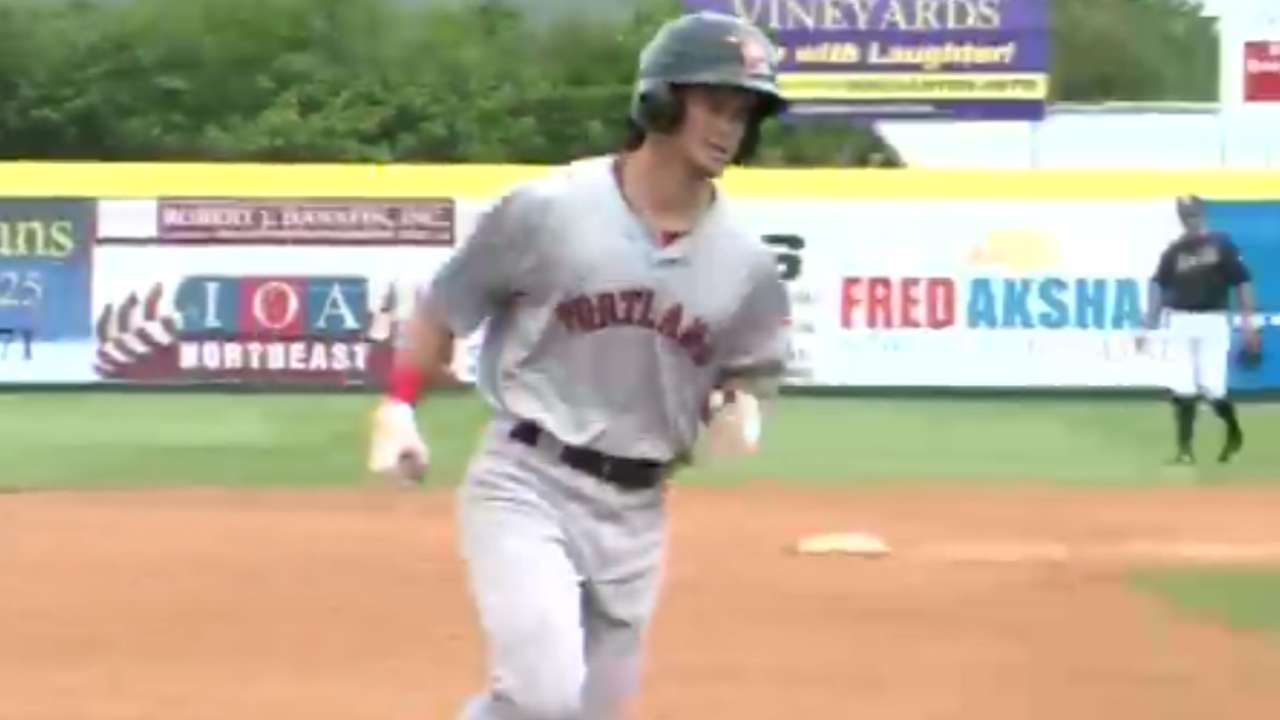 Joe Musgrove, RHP, Astros: Known more for his superb command, Musgrove looked pretty good when he tied a record for strikeouts by a reliever in his debut with eight in 4 1/3 scoreless innings. He entered the game when Lance McCullers Jr.'s elbow started barking, and now Musgrove will take his place in the rotation after McCullers went on the disabled list.
Orlando Arcia, SS, Brewers: The best prospect in the best farm system is more of a long-term play than someone who will make an impact down the stretch. Arcia can eventually be a .280 hitter with 10-15 homers and 20 steals, but he was promoted to get acclimated to Milwaukee, not because he was tearing up Triple-A.
Charlie Tilson, OF, White Sox: Acquired from the Cardinals for Zach Duke, Tilson came straight to Chicago, and he could have been a sleeper source for stolen bases. He singled in his first at-bat, but he tore his left hamstring three innings later, and it required season-ending surgery.
Below are MLBPipeline.com's updated rankings of the top 10 fantasy baseball prospects in the Minors. They are based on expected 2016 fantasy production in the Majors, as opposed to our Top 100 Prospects list, which reflects long-term value in all phases of the game.
1. Hunter Renfroe, OF, Padres (Previous rank: 3)
The Matt Kemp trade cleared right field in San Diego for Renfroe, who's leading the Triple-A Pacific Coast League in homers (27), extra-base hits (63) and total bases (264). The Padres initially have replaced Kemp with Jabari Blash, but they should come to their senses soon.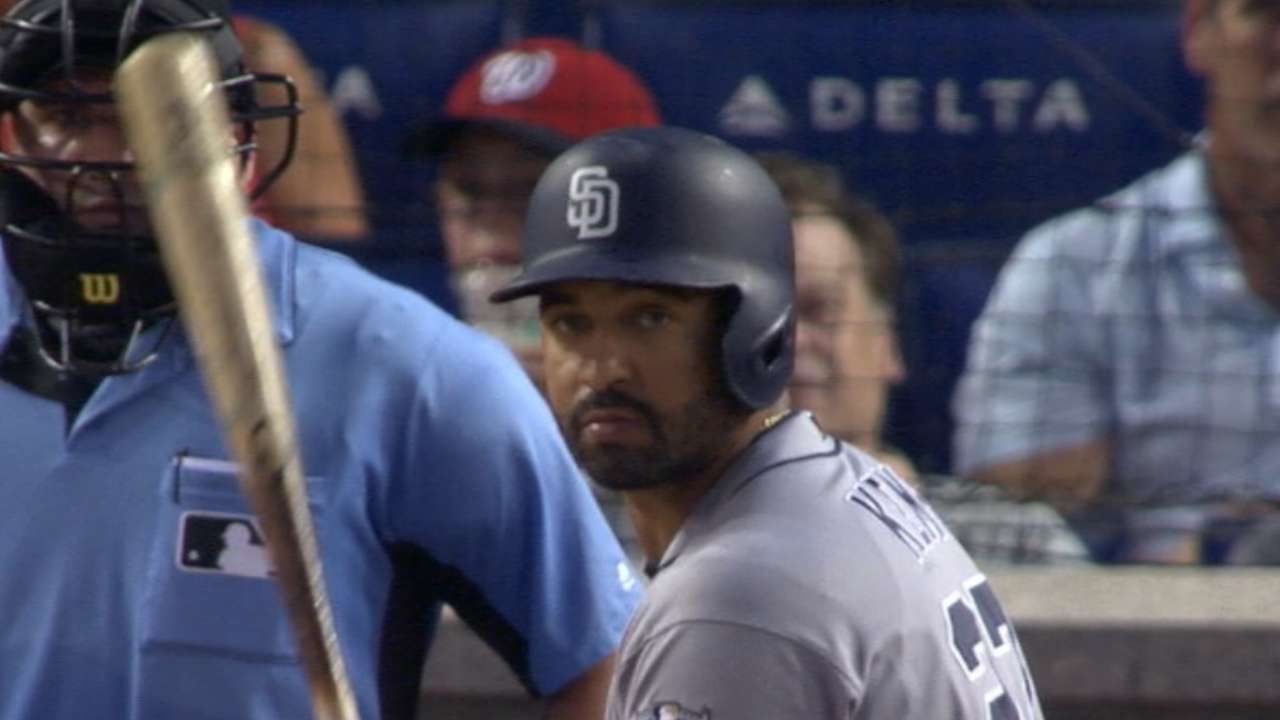 2. Yulieski Gurriel, 3B, Astros (Previous rank: unranked)
A longtime Cuban star, the 32-year-old Gurriel signed a five year, $47.5 million contract in mid-July, and he began his Minor League career this past Saturday. It's unclear where Gurriel will fit in Houston's lineup, but he should arrive in the next couple of weeks and play regularly once he does. (Gurriel is too old and experienced to be considered a prospect by MLBPipeline's guidelines, but he is a rookie, so we're including him here.)
3. Josh Bell, 1B, Pirates (Previous rank: 8)
All Bell did in his first brief taste of the Majors was go 2-for-2 with a homer and two walks. Bell won't maintain that 3.500 OPS when he returns, but he would be an upgrade over the slumping John Jaso.
4. Aaron Judge, OF, Yankees (Previous rank: unranked)
Judge returned on Tuesday after missing a month with a mild sprain in his left knee. He was one of the Triple-A International League's hottest hitters before he got hurt, and his power and youth would fit nicely in a Yankees club that could use more of both.
5. Jose De Leon, RHP, Dodgers (Previous rank: unranked)
Los Angeles can't keep its starters healthy, and Julio Urias already has exceeded his career high for innings, so the best hope for in-house help is De Leon. He led the Minors in strikeout rate (12.8 per nine innings) a year ago, and he has posted similar numbers in Triple-A, after missing time with a right ankle injury and right shoulder inflammation.
6. Lucas Giolito, RHP, Nationals (Previous rank: 5)
Baseball's best pitching prospect didn't seize the opportunity presented by Joe Ross' trip to the DL with a shoulder injury, and now Ross should be ready the next time the Nationals need a fifth starter. Nevertheless, Giolito's ability to make a difference with his overpowering fastball and curveball can't be discounted.
7. Alex Reyes, RHP, Cardinals (Previous rank: 6)
St. Louis' Opening Day rotation has missed exactly one start this year, but its bullpen has sprung more leaks. Reyes is still smoothing out some rough edges in Triple-A, but he has the same kind of impact as Giolito, and he could make a difference in the late innings.
8. Joey Gallo, 3B/1B/OF, Rangers (Previous rank: 4)
Mitch Moreland caught fire in July, and Texas traded for Carlos Beltran, so Gallo doesn't have any obvious openings in Arlington. However, he still has as much raw power as anyone in baseball, and he is capable of hitting 10 homers in the last two months, if he plays regularly.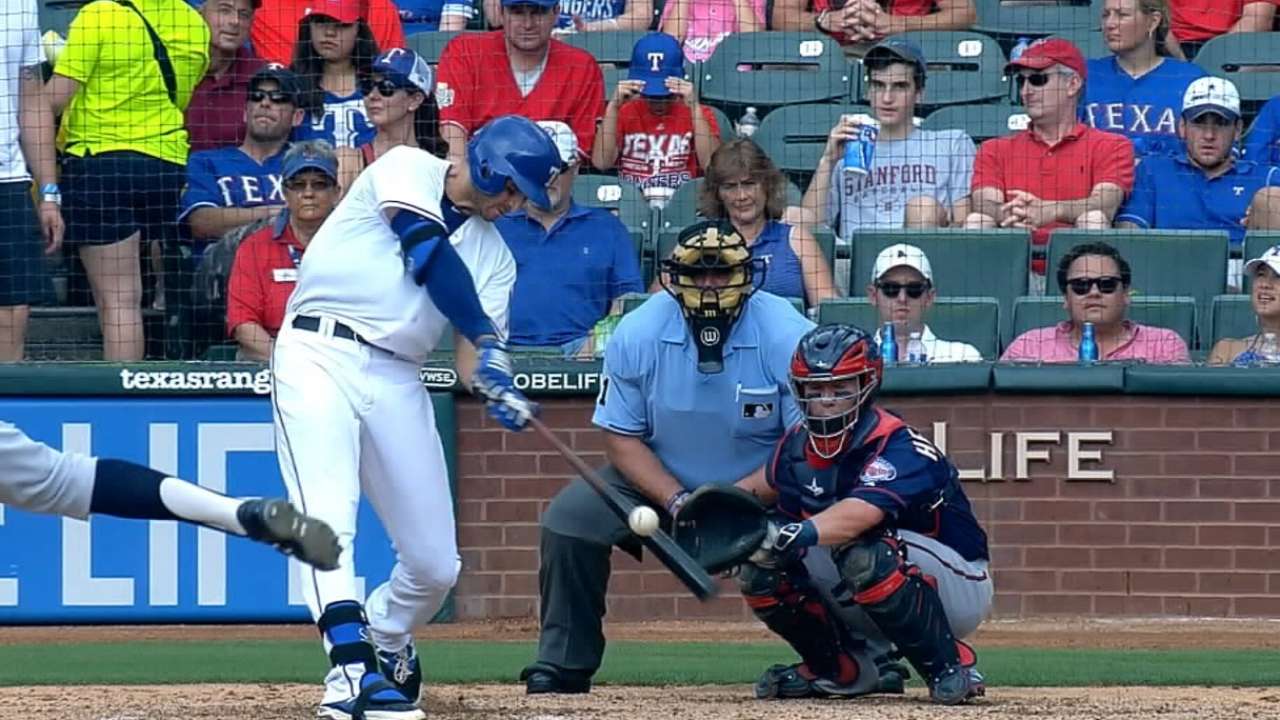 9. Manuel Margot, OF, Padres (Previous rank: unranked)
In addition to promoting Renfroe, San Diego should further overhaul its outfield by installing Margot in center field. Margot is the best prospect in the package the Padres got from the Red Sox for Craig Kimbrel in November -- he can do everything incumbent Travis Jankowski can, and he has a higher offensive ceiling.
10. Adalberto Mejia, LHP, Twins (Previous rank: unranked)
Minnesota's shell-shocked rotation got a recent upgrade with the overdue promotion of Jose Berrios, and it could get another one in Mejia, who came over from the Giants in a trade for Eduardo Nunez. A polished lefty, Mejia has pushed his strikeout rate to new highs (9.6) since moving to Triple-A in June.
Dropped out: Alex Bregman, 3B, Astros (Previous rank: 1/promoted to big leagues); Tyler Glasnow, RHP, Pirates (Previous rank: 2/promoted to big leagues); Jose Berrios, RHP, Twins (Previous rank: 7/promoted to big leagues); Andrew Benintendi, OF, Red Sox (Previous rank: 9/promoted to big leagues); Joe Musgrove, RHP, Astros (Previous rank: 10/promoted to big leagues).
Jim Callis is a reporter for MLB.com. Follow @jimcallisMLB on Twitter and listen to him on the weekly Pipeline Podcast. This story was not subject to the approval of Major League Baseball or its clubs.