Mets say golf has nothing to do with Yo's injury
GM Alderson, though, calls it 'bad optics,' suggests slugger stop playing while on DL
NEW YORK -- A day after Yoenis Cespedes aggravated his right quadriceps injury a second time, landing on the disabled list, the firestorm surrounding his golf game only intensified. When a reporter brought up the fact that Cespedes played golf Wednesday morning, mere hours before hurting himself, Mets manager Terry Collins cut him off.
"Don't go there," Collins said. "That has nothing to do with it. This is a baseball player. This has nothing to do with it."
Ultimately, the Mets believe golf indeed had nothing to do with Cespedes' injury, as their doctors told them. But general manager Sandy Alderson nonetheless called it "bad optics," going as far as to suggest to Cespedes' representatives that he stop playing -- at least while on the DL. Alderson said he is unsure if the organization has any contractual recourse should Cespedes violate that suggestion, but that he does not believe it will be an issue going forward.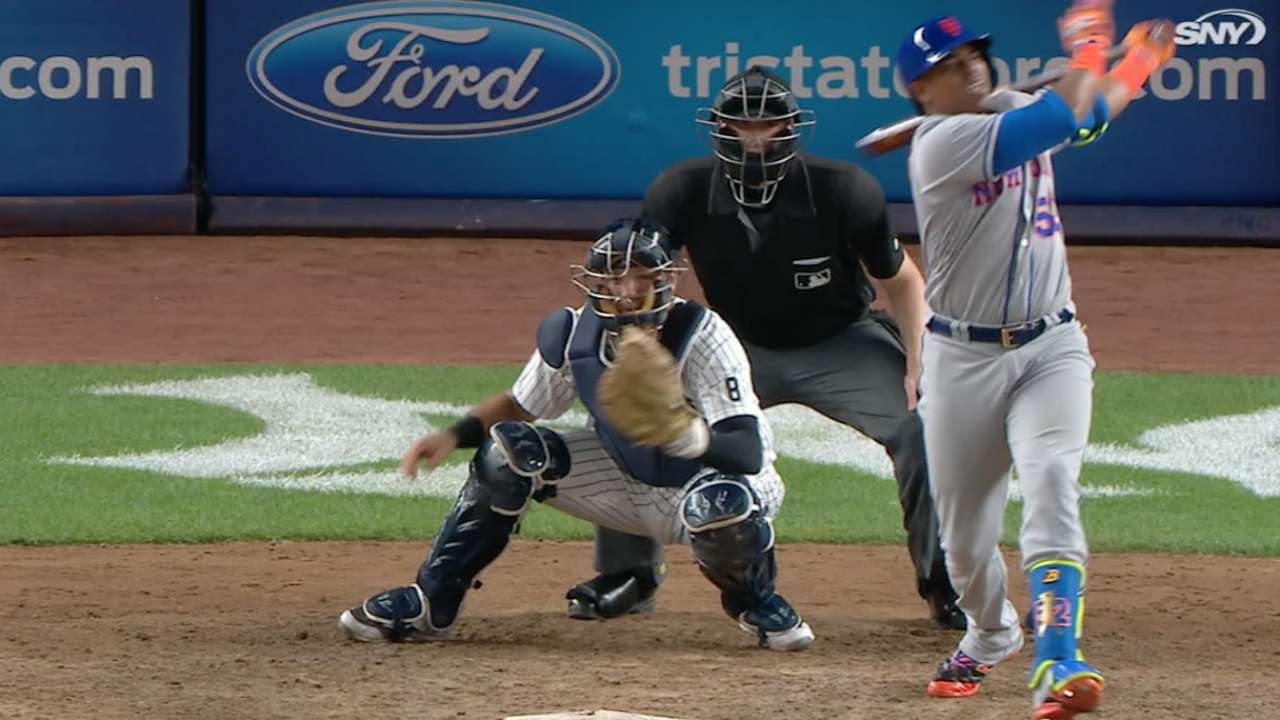 "Let's face it: You play golf during the day, and then go out and get injured in the evening, it's a bad visual," Alderson said. "I think he recognizes that at this point. So we'll go from there."
Former big leaguer and current MLB Network analyst Kevin Millar, who sparked the controversy by posting a picture of him and Cespedes golfing on Wednesday, later cracked a few jokes about the episode on Twitter. With Cespedes unavailable for comment, the Mets took a graver tone.
He got me this am @ynscspds #BoyClub #Millar/Cespedes #Rematch ⛳️⛳️⛳️⛳️⛳️ pic.twitter.com/bI5epD1Job

- Kevin Millar (@KMillar15) August 3, 2016
"I think everybody is taking it seriously," Alderson said, referring to Cespedes' commitment to the Mets. "I think Yoenis takes it seriously. But Yoenis has his own personal life that sometimes is larger than life."
Alderson continued: "Look, Yoenis made a month's worth of effort to try to play through [his injury]. I don't think we can lose sight of that fact."
Yet that is also an issue for a Mets team that delayed placing Cespedes on the disabled list for three and a half weeks. Not only did the outfielder start just 12 of the Mets' 21 games during that stretch, but he also moved from center to left in a shift that compromised the team's defense. And he hit only .227/.321/.341, a shell of his usual self.
Getting ready for the big @IntentionalTalk show today was just reading up on some big stories #GolfGate #BoysClub pic.twitter.com/JX7W4nHZg2

- Kevin Millar (@KMillar15) August 4, 2016
Now, the Mets will be without Cespedes for at least 15 days, and possibly longer than that. Collins said that the Mets "want this thing to quiet down totally," and that "there's no timeframe as to how long that's going to take."
"It has been a trying month or so with Yoenis and the injury," Alderson said. "In retrospect, it's probable that we should have just put him on the DL at the beginning of this episode."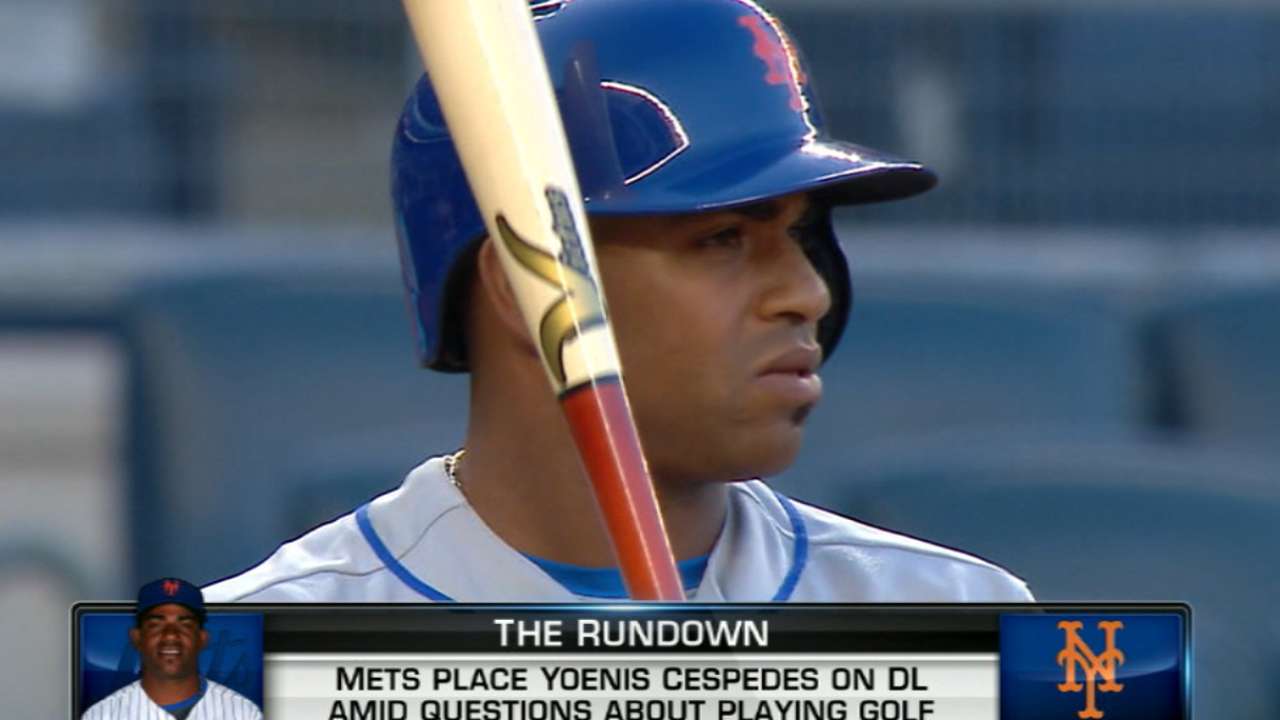 That would have eliminated both a lost month for Cespedes and a firestorm surrounding his hobby.
"We can't worry about what happened at 12 in the afternoon," Collins said. "We've got to worry about what happened at 10 o'clock last night. That's when he hurt his leg. And that's what we have to worry about."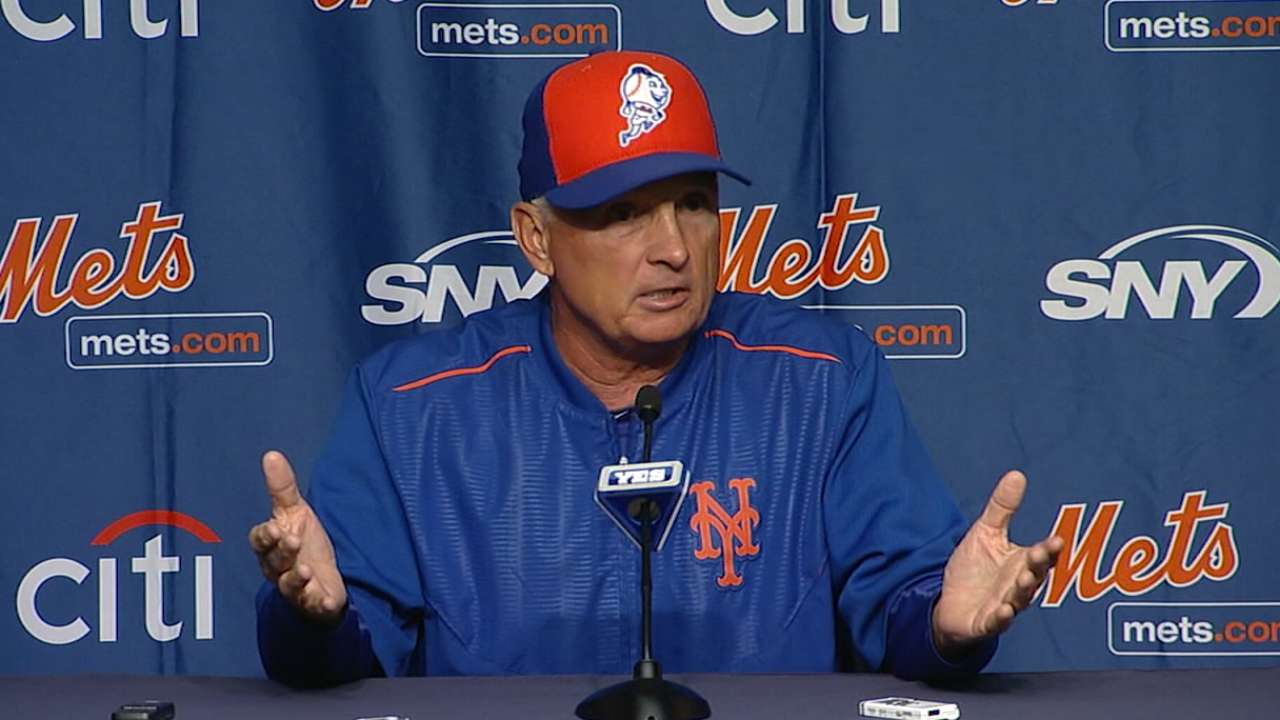 "He's the nicest guy ever," Millar said. "We had such a great time. I could see if there was an issue, if he had a sore oblique, if he's on the disabled list with a problem, intercostal, shoulder, and he's out there whacking a golf ball. I don't even understand where the hatred comes from."
Anthony DiComo has covered the Mets for MLB.com since 2008. Follow him on Twitter @AnthonyDiComo and Facebook, and listen to his podcast. This story was not subject to the approval of Major League Baseball or its clubs.