Braves still searching for Saturday starter
Blair's injury a blow to young pitching staff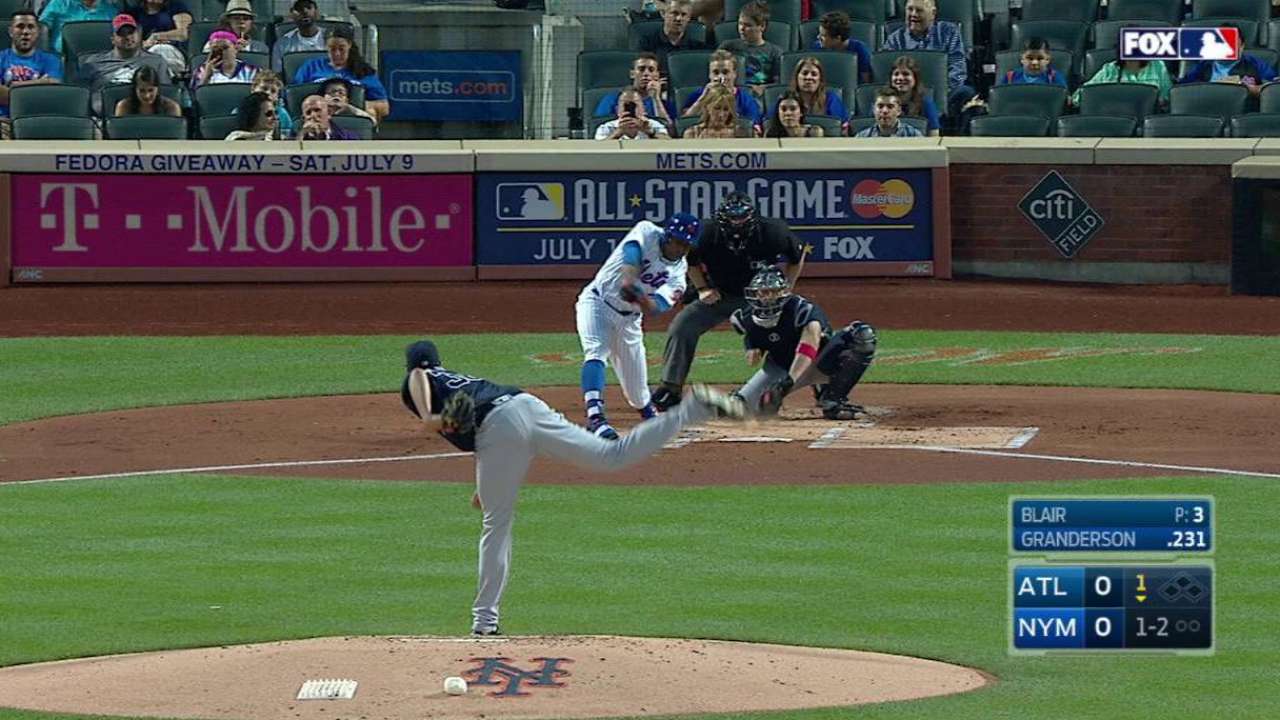 ATLANTA -- When the Braves drafted a bunch of pitchers in June and then said, "You can never have enough pitching," they certainly didn't believe they'd be in their current position, where they essentially don't have enough pitching to construct a big league rotation in comfortable fashion.
Atlanta's starting rotation took another hit on Thursday, when Aaron Blair was placed on Triple-A Gwinnett's disabled list with a left knee strain suffered during a bullpen session on Wednesday. The Braves had been planning to promote Blair and have him start Saturday's game in St. Louis. Instead, they have to fill another void within a rotation that now counts Mike Foltynewicz as its only member who has made more than five career starts.
Blair was carted off the field because he was not able to put any weight on his left leg after he hyperextended the knee and fell to the ground. The Braves are cautiously optimistic this was not a season-ending injury suffered by the 24-year-old right-hander, who stood as one of the Braves' top prospects before he graduated from prospect status while making the first 11 starts of his big league career this year.
This has been a rough year for Blair, who posted a 7.99 ERA over the two stints he has had for Atlanta this year. But he had shown promise over each of the past four starts he made for Gwinnett. His fastball was once again touching 95 mph, and he was consistently commanding his secondary pitches.
With Blair out of the picture and their internal options thin, the Braves may look outside their organization for a pitcher to start Saturday's game. They could attempt to trade for a pitcher, who has cleared waivers, or sign a free agent like Kyle Lohse, who recently refused the Rangers' outright assignment to Triple-A.
Given that Lohse allowed 13 earned runs while totaling 9 1/3 innings over the two starts made for Texas, he certainly wouldn't be viewed as an optimal option. But the options are few and far between for the Braves, who currently have three starting pitchers -- Julio Teheran, Williams Perez and John Gant -- on the disabled list. Gant is the only member of this trio who has started a rehab assignment, but he is still at least a week away from being deemed ready for activation.
If the Braves do not find an external option, they could opt to give the start to Roberto Hernandez, who was formerly known as Fausto Carmona. Hernandez has posted a 4.60 ERA over the 16 starts he has made in the International League this year for Triple-A Buffalo and Gwinnett. The 35-year-old pitcher has made three starts since signing a Minor League deal with the Braves after the All-Star break.
Matt Wisler was optioned to Gwinnett last week, but because he started Tuesday, he would not be available to start Saturday's game. Nor is Ryan Weber currently an option. Weber was optioned to Gwinnett on Wednesday and thus can't be recalled before Aug. 13, unless he replaces a current Atlanta pitcher who is placed on the disabled list.
Manny Banuelos entered this season hopeful to eventually rejoin Atlanta's rotation. But as the southpaw has continued to be burdened by his surgically-repaired left elbow, there has been reason to wonder if he'll ever return to the big league level. He was placed on Double-A Mississippi's disabled list on Thursday.
Mark Bowman is a reporter for MLB.com. Listen to his podcast. This story was not subject to the approval of Major League Baseball or its clubs.