Velasquez looks to go deeper into starts
Right-hander lasts five innings in loss to Giants on Thursday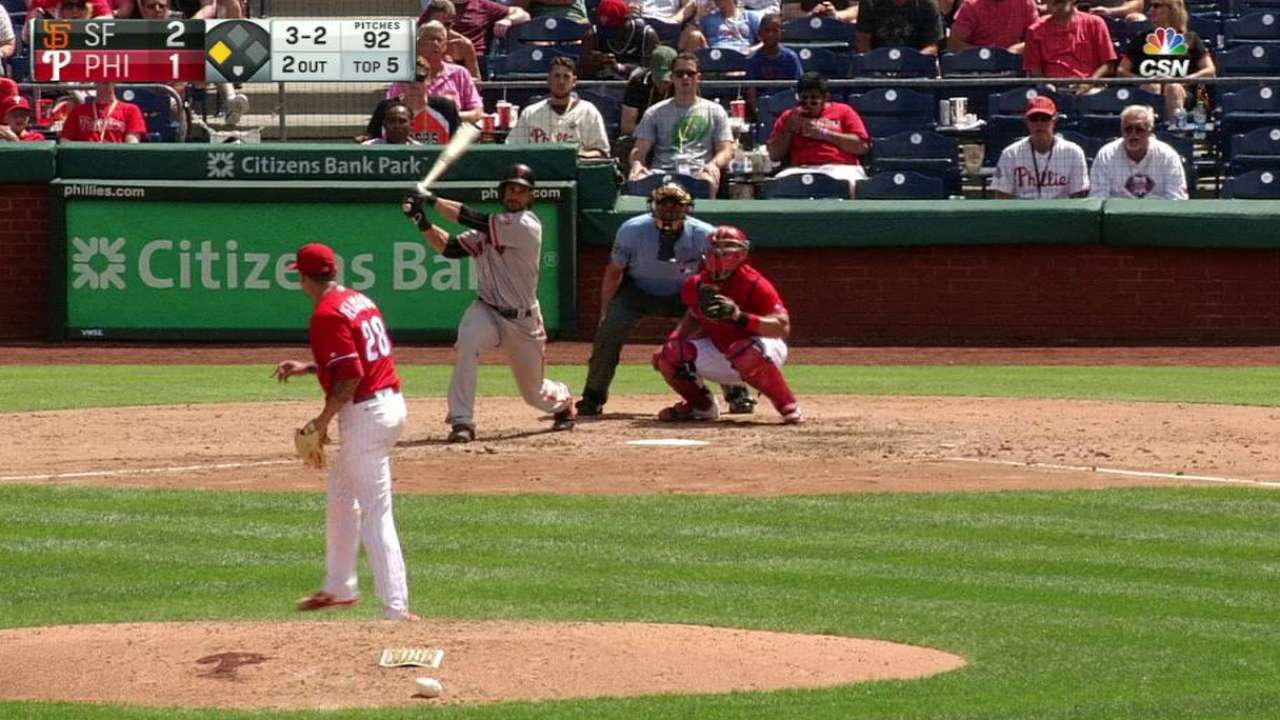 PHILADELPHIA -- After using his bullpen for seven innings on Wednesday and four on Tuesday, Phillies manager Pete Mackanin was counting on a little help in Thursday's 3-2 loss to the Giants from Vince Velasquez -- the only starter of the past three games to open the season in the Phillies' rotation.
But Velasquez lasted no longer than his two predecessors, Zach Eflin on Tuesday and Phil Klein on Wednesday, needing 93 pitches to make it through five innings. Velasquez's five were better than Eflin or Klein's, allowing only two runs compared to six and four, respectively. But another inefficient outing from Velasquez again put the weight on the shoulders of a beleaguered bullpen.
"It was tough. I had to push myself and at least get to five innings," Velasquez said. "We used a lot of pitchers last night, and starting out with [28] pitches in the first inning doesn't help. So I just had to make my pitches and manage to get through five."
Nearing the end of his start, Mackanin and head trainer Scott Sheridan paid Velasquez a visit on the mound to check a blister on his middle finger. Mackanin said if not for the blister, Velasquez would have possibly stayed in longer than five innings, likely to take the load off a depleted bullpen, as Velasquez was already at 93 pitches.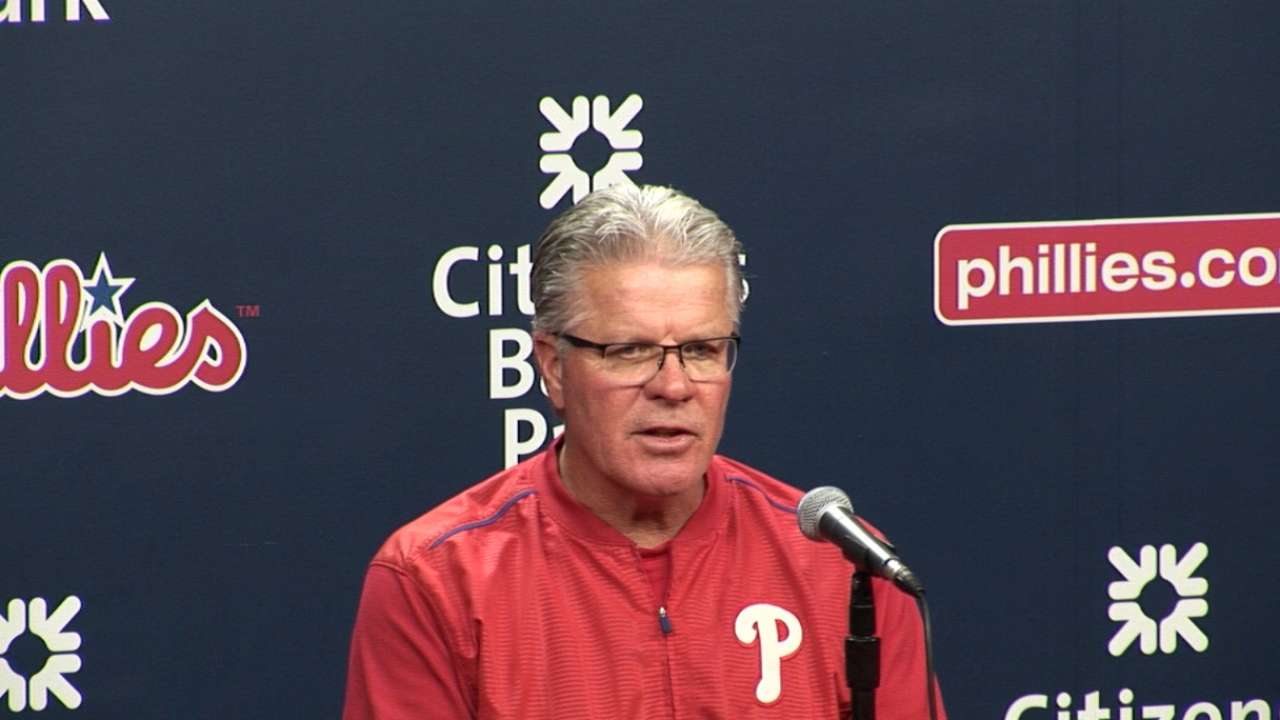 Even the supposed fresh arms in the 'pen weren't so. The two relievers called up the last two days, Michael Mariot and Elvis Araujo, had each pitched for Triple-A Lehigh Valley the day prior to getting the call. Severino Gonzalez, the one reliever who had a day or more of rest, was the one to serve up Denard Span's go-ahead solo home run in the 10th.
For Velasquez, it is becoming all too much of a trend to not make it deep in games. Only twice this season has he made it past the sixth inning -- his 16-strikeout shutout of the Padres in his second start with the Phillies and a seven-inning, one-run performance in his first start out of the All-Star break.
Take out those, and also the start he left injured after a third of an inning, and Velasquez is averaging just over 5 1/3 innings per start this season.
"He is a power pitcher, but the thing I like about him is he uses all of his pitches," Mackanin said. "He uses two-seamers, he'll throw his changeup, he'll mix in his breaking ball. And I think it is tough for him because he can blow people away with 95-plus. I think he has a tendency to try to pitch too much instead of trying to establish that fastball early."
Velasquez next faces his hometown team, the Dodgers, in his hometown of Los Angeles. He has walked at least two in each of his last six starts, including three Thursday.
"I'd like to minimize my walks," Velasquez said. "I know I am probably leading the team in walks right now, which is kind of bad, actually really bad.
"So I've got to work on some things in the bullpen, utilizing my two-seam, locating my two-seam. My secondary pitches are just kind of brutal right now. So I've got to sharpen up a lot of stuff before my next start because the Dodgers are an ecstatic team. Those guys just rake."
But at only 24 years old and in his first full season in a Major League rotation, Velasquez's inability to pitch deep into games is only disappointing, not concerning, to Mackanin.
"He's pitching very well," Mackanin said. "But he's just not locating as well as he's going to in the future."
Evan Webeck is a reporter for MLB.com based in Philadelphia. This story was not subject to the approval of Major League Baseball or its clubs.