Mariners put Cishek on DL amid flurry of moves
Miranda, Parker recalled from Triple-A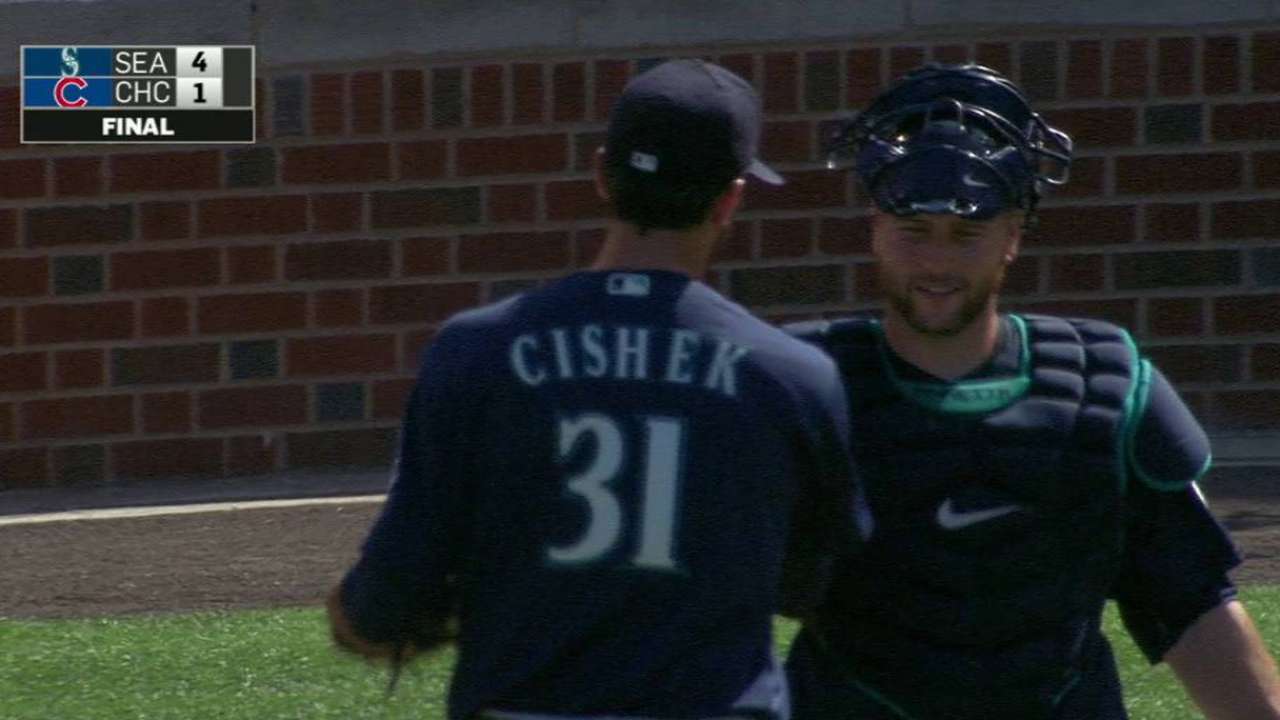 SEATTLE -- Mariners reliever Steve Cishek was placed on the 15-day disabled list on Thursday with a tear in his left hip labrum amid a flurry of roster moves, though the injury is believed to be relatively minor and the hope is he could return later this month.
Ariel Miranda, the left-hander acquired in a trade with the Orioles for Wade Miley on Sunday, was recalled from Triple-A Tacoma and started Thursday night's game against the Red Sox, while veteran reliever Blake Parker was also brought up from Tacoma to take Cishek's place.
Right-handed reliever Mayckol Guaipe, who has pitched 26 games for Seattle over the past two seasons and had a 2.84 ERA in 10 outings for Tacoma this year, was released to open a 40-man roster spot for Parker. The Mariners also optioned right-handed reliever Donn Roach back to Tacoma to open a 25-man roster spot for Miranda, who will be making his first Major League start.
Cishek had just relinquished his closer role to rookie Edwin Diaz earlier this week. The 30-year-old has 25 saves and a 3.40 ERA with 62 strikeouts and 16 walks in 47 2/3 innings over 44 appearances this season. He is tied for third in the American League in saves and opposing batters have hit just .197 against him.
Cishek said he thought he strained a groin muscle about a month ago and had been wrapping his leg, but the issue got to the point where "it felt like my muscle was rolling over something like a sharp knife" and an MRI on Wednesday revealed a slight tear in the labrum.
"It's been going on for a little bit, but lately if you've watched the last eight outings or so, the stuff has just kind of gone down a little," he said. "I've started to pitch a little more carefully and the velocity was down a tick. I just wasn't having the same life on my fastball.
"I went through a stretch where I was still getting people out and just kind of dealing with it, so I was too prideful to say anything else. But once it started affecting my performance and my shoulder started to get more sore than usual because I'm throwing with all arm, I figured it was time to say something."
Cishek received a cortisone shot and will be given four or five days off from throwing, but manager Scott Servais is optimistic the sidearmer will be back before long. This will be his first time on the DL in his seven-year MLB career.
"I know he didn't feel right," Servais said. "And he hasn't obviously looked right the last few times out there. It's something he needs to get calmed down and go from there. From what I understand, it's not a surgical thing. It might be eventually, but it's not right now. I'm very hopeful he's back in our bullpen in 15 days."
Parker, 31, will take Cishek's place after posting 19 saves with a 2.72 ERA with 56 strikeouts and 11 walks in 39 2/3 innings over 38 outings for Tacoma. Parker pitched in 74 games with the Cubs from 2012-14 with a 3.68 ERA before running into elbow problems that required surgery 13 months ago.
"I knew it'd be a long road," said Parker. "The hardest thing to do is to get back on the roster after you're taken off once. I kept my head straight and focused on the prize and I finally got the call up, so I'm excited to come back up and prove it."
Roach, 26, pitched two innings and got the victory in Tuesday's 5-4 win over the Red Sox when he allowed one hit and one run in relief of Wade LeBlanc. That was his only appearance after being added to the roster to take Miley's place on Monday. He is 2-0 with an 8.44 ERA in two stints with Seattle this season.
Greg Johns has covered the Mariners since 1997, and for MLB.com since 2011. Follow him on Twitter @GregJohnsMLB and listen to his podcast. This story was not subject to the approval of Major League Baseball or its clubs.