Angels hope Trout illness is short-term issue
Reliever Morin looks to keep his command in check on the mound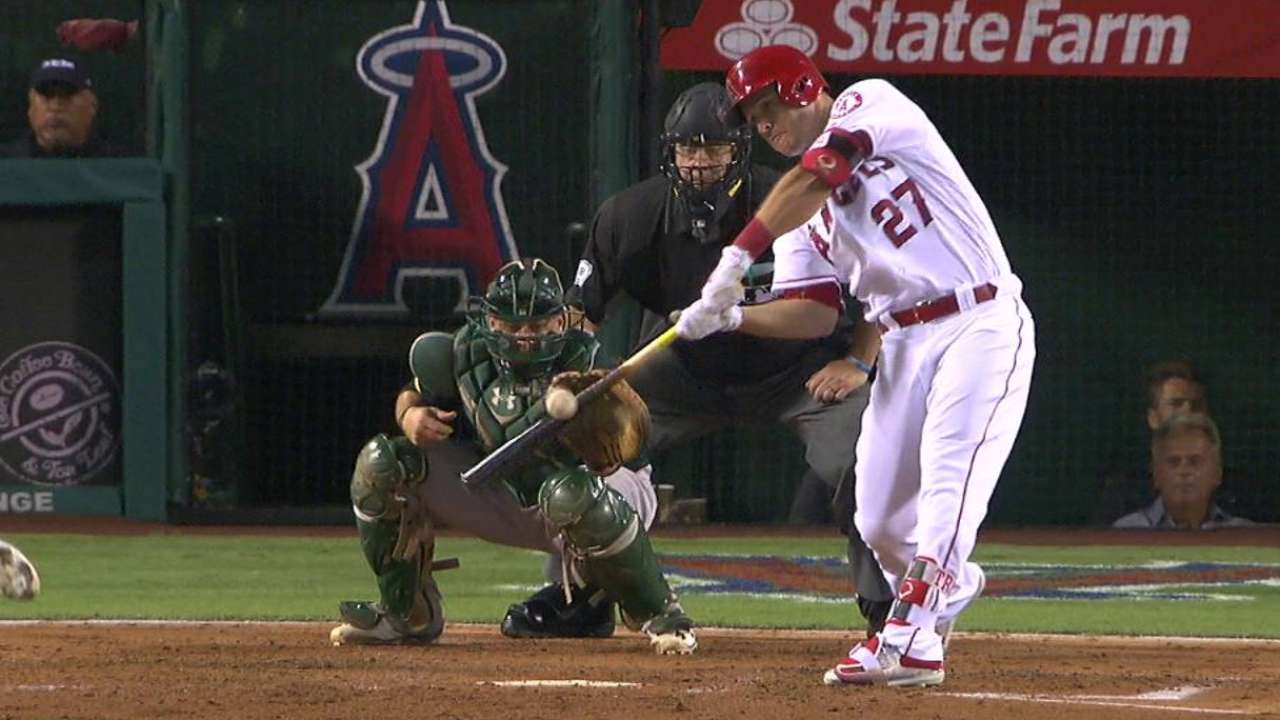 ANAHEIM -- Angels center fielder Mike Trout is one of baseball's best players, but he's not invincible.
Trout was held out of Thursday's lineup in their 8-6 10-inning loss to the A's, marking just the second time this season he did not start. Trout previously missed a start against the Rays on July 5, but came in as a pinch-runner.
Trout did play in Thursday's game, appearing as a pinch-hitter with a pair of baserunners on and one out in the eighth inning before walking on four pitches. He would stay in the game in center field and later strike out as the tying run in the 10th.
Angels manager Mike Scioscia said Trout, who at one point this season was the active leader in the Majors for consecutive starts, has been feeling sick the past couple days and needs a day off to recuperate.
"We have the day off Monday, which helps, but when you feel a player needs it you can't really wait for an off day," Scioscia said.
Injuries have severely limited the Angels' depth this season, but Scioscia said he'd like more chances to give everyday players a chance to rest if they need it.
"There's no doubt that we have to look at some point to get the guys that are grinding everyday off of their feet at some point," Scioscia said.
Morin hoping for better command in the Majors
In his first outing back with Triple-A Salt Lake after being sent down, Angels reliever Mike Morin walked the first batter he faced.
Walks had plagued Morin at times this season, as his command has evaded him and forced him to rely almost solely on off-speed pitches. After that first outing in the Minors. Morin said he looked back on footage of when he has excelled in the Majors, notably when he posted a 2.90 ERA as a rookie in 2014 and a stretch of 12-outings this season where he didn't allow a run.
Morin admittedly has never focused much on his mechanics, but found himself working on everything as he was playing catch -- how he set, his arm angle, his release point and even where he found his plant leg. It worked, as he wouldn't walk another batter and earned another call-up on Tuesday when closer Huston Street found himself on the DL.
Scioscia said he still believes Morin can be an elite reliever, even after inconsistency forced him to post a 6.37 ERA in 47 appearances last season.
"For him to be the reliever he can be, it comes down to commanding counts," Scioscia said. "It comes down to a balance of his pitch selection and that starts with fastball command."
Added Morin: "I just have to remember that the odds are in the pitchers' favor. You don't have to try to make every pitch and try to perfectly locate that fastball down and away…I just need to attack the zone."
It worked well for Morin on Wednesday, coming in with the bases loaded in the ninth and inducing an inning-ending double play on his best pitch, his changeup. He would earn the win after Albert Pujols' walk-off two-run home run in the bottom of the ninth
Worth noting
• Outfielder Daniel Nava, who was designated for assignment on Saturday, has cleared waivers and accepted an assignment to Triple-A.
• First baseman Ji-Man Choi has shown an unusual amount of flexibility on defense, thrice flashing the ability to do the splits since being called back up to the Majors. He did so again on Wednesday, stretching out to snag the back end of an inning-ending double play in the eighth.
"You don't see the stretch to that extreme very often," Scioscia said. "That's old school. Guys are definitely teaching the stretch, but the flexibility involved is going to be the determining factor in whether a player can do that or not, and [Ji-Man] is certainly able to do it."
Fabian Ardaya is a reporter for MLB.com based in Anaheim. This story was not subject to the approval of Major League Baseball or its clubs.