Miller enters in 6th, highlights 'pen's hitless effort
New Indians acquisition makes earliest appearance since 2014 and K's three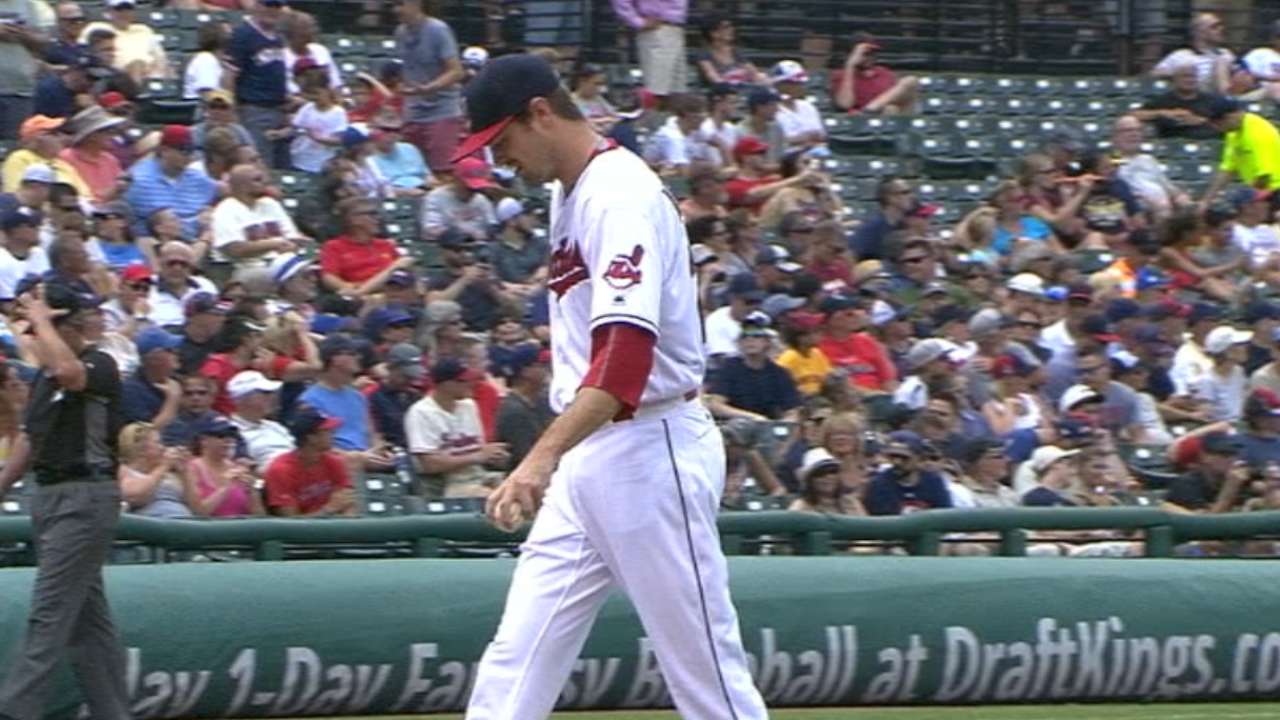 CLEVELAND -- Indians manager Terry Francona made the call for recently acquired All-Star reliever Andrew Miller much sooner than he anticipated on Thursday.
In the sixth inning of the Tribe's 9-2 win over the Twins, the bullpen door at Progressive Field swung open for Miller to enter the mix. The new Cleveland piece in the 'pen was asked to get the final out to preserve a two-run lead.
"To wait didn't seem to make any sense," Francona said. "So his ability to be efficient and get outs [was important.] … I thought [Dan] Otero, who probably was pitching on fumes today, got huge outs and allowed us to get where we can get our bullpen in some semblance of order, as opposed to just trying to fill innings. That's a hard way to go about it."
It marked the first time Miller had entered a game that early in a contest since April 18, 2014, when he notched two outs against the Orioles as a member of the Red Sox. On Thursday, Miller froze Byron Buxton to end the sixth and recorded his first strikeout as a member of the Tribe.
Miller came back out for the seventh and cruised through the top of the Twins' lineup in order, striking out two more. His three-strikeout effort over 1 1/3 innings highlighted an excellent performance by the Indians' bullpen, which threw 4 2/3 hitless frames in relief of Mike Clevinger.
The former Yankees setup man was acquired Sunday, just before the non-waiver Trade Deadline. And though Miller's role is not yet defined, Francona did say after the game he doesn't foresee using Miller in that situation very often.
"I'd prefer not to use him that early, and that won't happen a lot," Francona said. "This is a little bit of a unique situation. Cody [Allen], [Bryan] Shaw and Miller were probably going to finish the game."
Cleveland's bullpen was taxed entering Thursday, having logged 18 2/3 innings though the first three games of the series against Minnesota. The Indians did not have a starter complete at least four frames until the series finale, when Clevinger allowed two runs over 4 1/3 innings.
"I was trying to be consistent and trying to stay low," Clevinger said. "I wish I could have helped the bullpen a little bit more, but they came in and did more than their job."
Shane Jackson is a reporter for MLB.com based in Cleveland. This story was not subject to the approval of Major League Baseball or its clubs.