MLB.com Columnist
Jim Callis
Inbox: What sets Brewers' farm apart from Yanks'?
Jim Callis answers fans' questions about baseball's future stars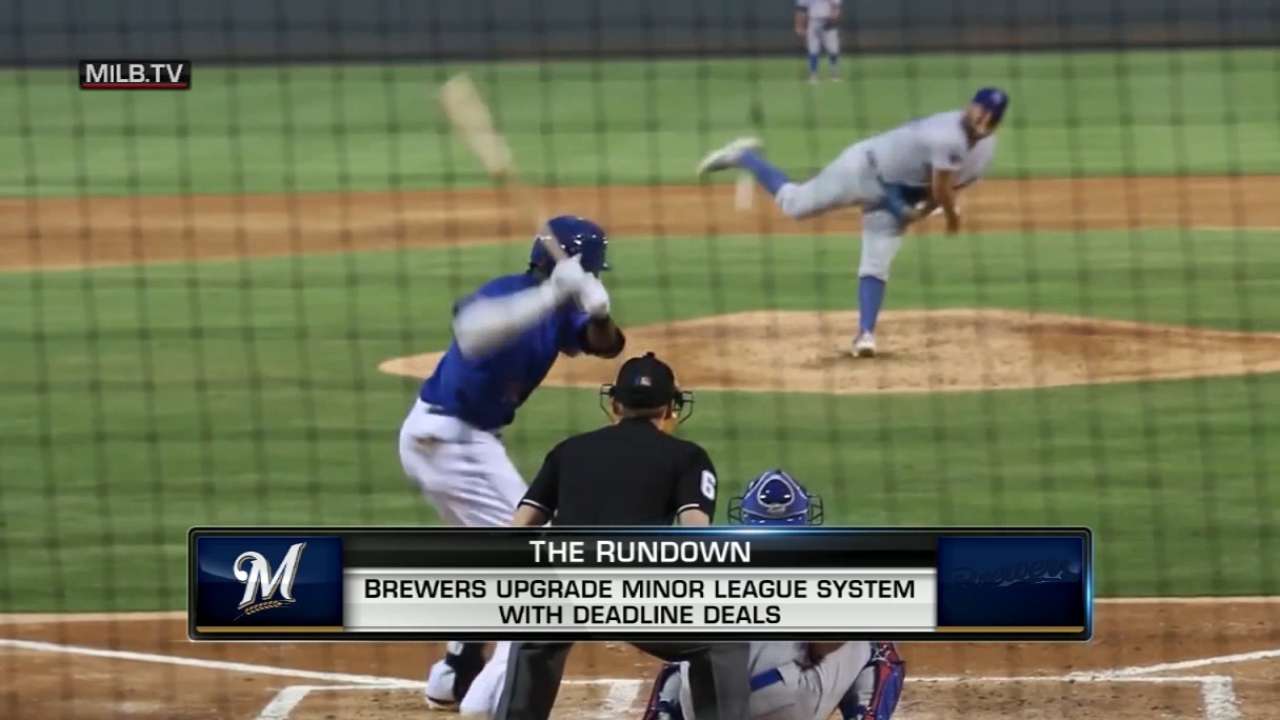 Jonathan Mayo and I spent Wednesday at MLB Network, recording a Top 50 Prospects special with Greg Amsinger and Dan O'Dowd. The show features video clips of all 50 players, breakdowns of several of them and discussion of topics such as using prospects as trade currency and what goes into player development beyond the refinement of physical tools. The special will air on the Network on Sunday at 11 p.m. ET and Monday at 7 a.m. ET.
@jimcallisMLB @MLBPipeline what set the Brewers and Yankees apart in the Brewers ranking 1 and the Yanks 2?
— Ben K (@BKoch1010)
August 3, 2016
I've received a lot of questions and comments about my updated farm-system rankings. I did spend a lot of time deliberating about the Brewers versus the Yankees for the top spot. They were clearly the two best and deepest systems, recently bolstered by a potential first-round steal in the Draft and some savvy moves at the Trade Deadline.
When it came time to separate them, I liked Milwaukee's blue-chip prospects just a little bit more than New York's. I'd take shortstop Orlando Arcia and outfielder Lewis Brinson over any Yankees prospect, and I'd take left-hander Josh Hader and right-hander Luis Ortiz over any pitcher in New York's system. If the Brewers hadn't acquired Brinson, Ortiz and Phil Bickford on Deadline Day, the Yankees would have ranked No. 1.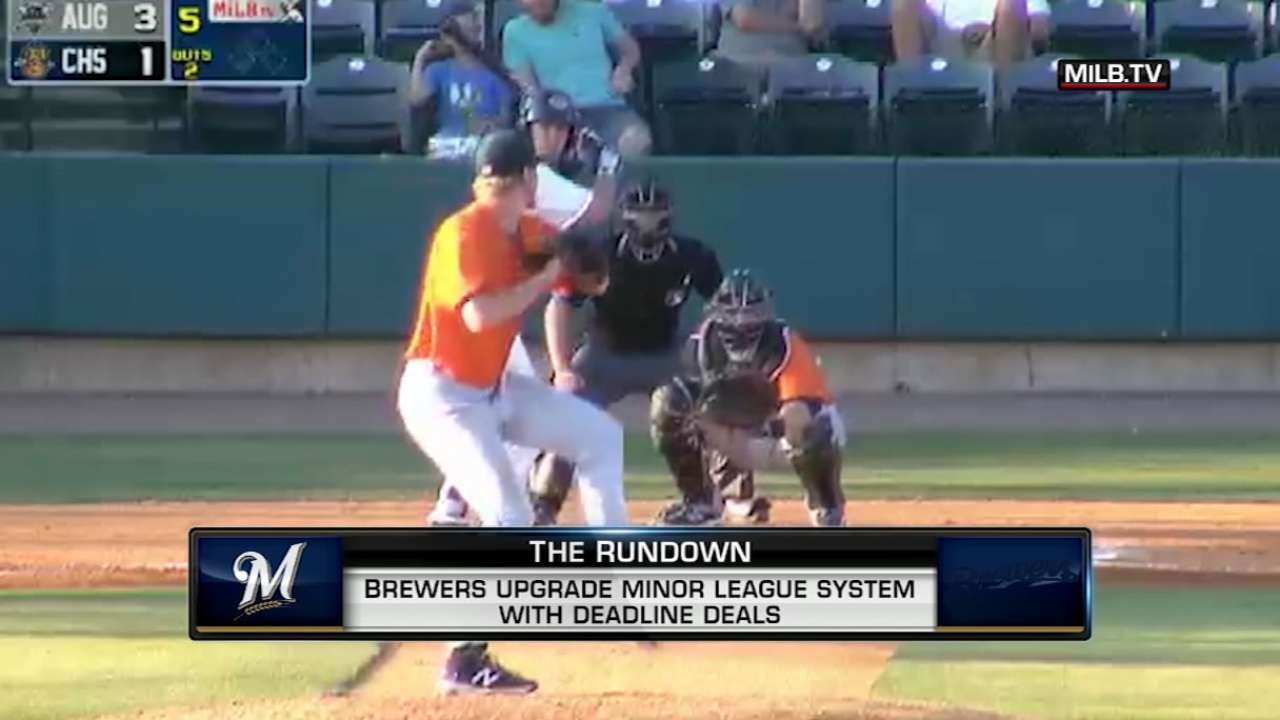 Now that the Yankees have acquired Gleyber Torres, which prospect infield duo do you prefer: Dansby Swanson /Ozzie Albies with the Braves or Torres/Jorge Mateo with the Yankees? With the latter pair, who is the better bet to stick at shortstop?
-- J.P. S., Springfield, Ill.
Those are two talented double-play combinations, with all four players ranked in the Top 25 of MLBPipeline.com's recently revamped Top 100 Prospects list. I like Swanson and Albies slightly more because they're better bets to hit and a little more athletic as a combo, though Torres and Mateo have a higher combined offensive ceiling.
Torres and Mateo have similar arms, but the latter is quicker and faster, so I'd project Mateo as New York's more likely shortstop of the future. Yet in the six games they've played alongside each other at high Class A Tampa, Torres has been the shortstop and Mateo the second baseman in five of them. The Yankees do like all of their middle-infield prospects to see time at both positions, so that first week together may not mean anything.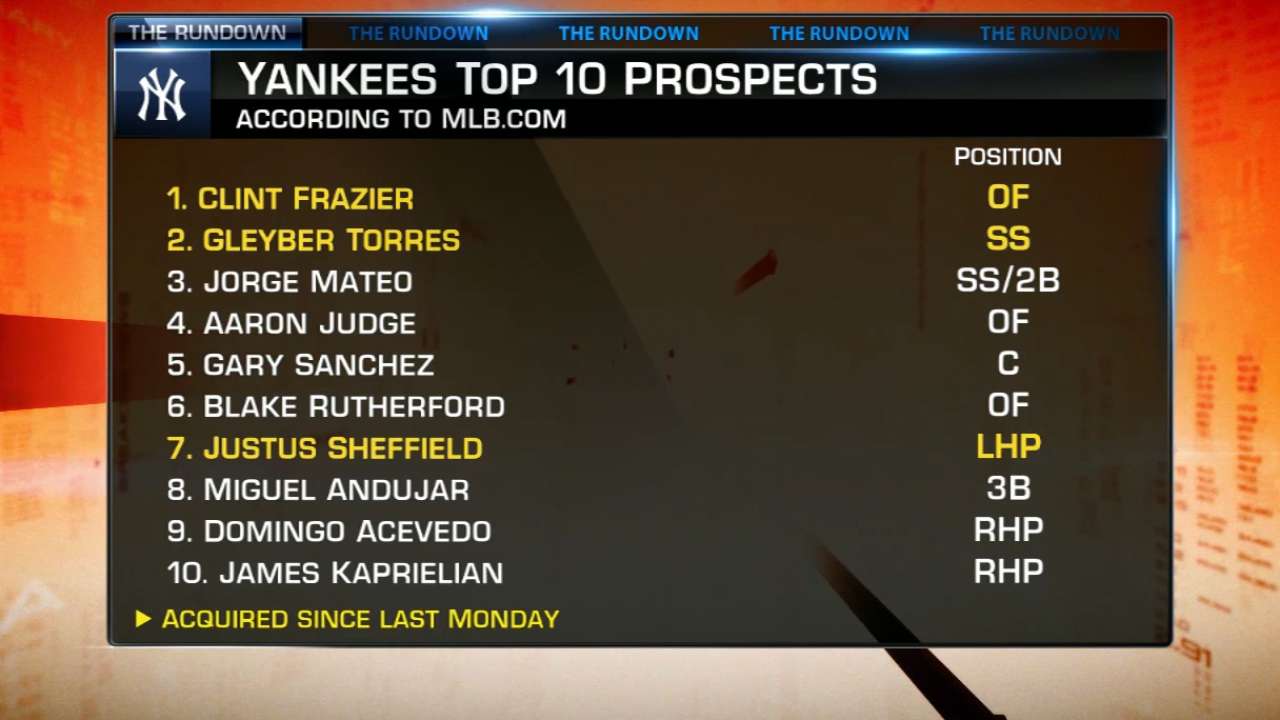 @jimcallisMLB Jim, with all due respect, it would be great for you to address the Braves falling to 9 after adding and not graduating much.

— Efrim Dragovic (@efdrag) August 3, 2016
For all the love I received from Brewers fans for my farm-system rankings, I got at least as much vitriol from Braves diehards, who thought their favorite team's system deserved to be No. 1 and couldn't believe that I ranked Atlanta as low as No. 9 after it was No. 2 in MLBPipeline's preseason rankings.
As noted above, I'm bullish on the Braves' future double-play combo of Swanson and Albies. I also love the upside of Venezuelan infielder Kevin Maitan, who signed for $4.25 million in early July and could be the next Miguel Cabrera. I'm not nearly as sold on the rest of Atlanta's position prospects, however.
Nine of the first 14 guys on our Braves Top 30 Prospects list are arms who were drafted in the first round or signed for first-round money -- exactly one of whom doesn't have control issues or health concerns or no experience above Rookie ball: Mike Soroka. I can see the potential in Sean Newcomb, Kolby Allard, Ian Anderson and Co., but they have a long way to go. Farm systems heavily slanted toward pitching often wind up falling short of expectations.
I'm a sucker for high-ceiling prospects, which is why the Pirates (No. 4), Nationals (No. 6) and Red Sox (No. 7) came out ahead of the Braves despite having less depth. Farm-system rankings are terribly subjective, and if you want to value depth over elite talent, you could argue that Atlanta belongs in the top five. I just don't see it that way.
How do your feel about the prospects the Blue Jays acquired in the Francisco Liriano trade with the Pirates? Do catcher Reese McGuire and outfielder Harold Ramirez have the skills to become everyday players on a talented Toronto roster?
-- Michael Z., Bolton, Ontario
Of all the trades on Deadline Day, the deal that sent Liriano, McGuire and Ramirez baffled me the most. The Pirates wanted to shed Liriano's $13 million salary and Hutchison still could be a viable big league starter, but sacrificing both McGuire and Ramirez in the transaction seemed a bit extreme.
McGuire has yet to hit the ball with any authority, but he's an advanced defensive catcher who's still just 21 and excels at making contact. His work behind the plate can make him a big league regular, and he also could hit produce solid batting average and on-base percentages.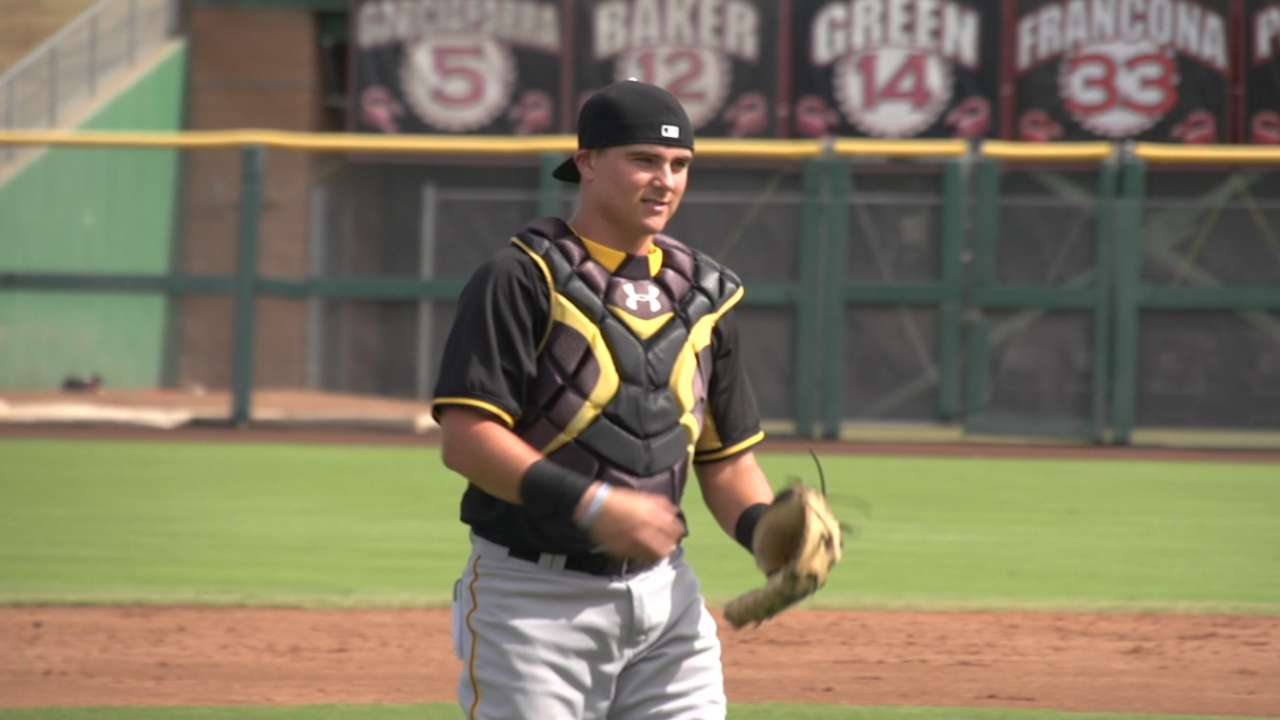 Though Ramirez had little hope of breaking through Pittsburgh's logjam of outfielders, he's also just 21 and has hit everywhere he has played. He'll have to do a better job of tapping into his raw power if he has to move to a corner with Kevin Pillar in Toronto, but Ramirez also has the potential to become a regular for the Jays.
Jim Callis is a reporter for MLB.com. Follow @jimcallisMLB on Twitter. This story was not subject to the approval of Major League Baseball or its clubs. This story was not subject to the approval of Major League Baseball or its clubs.