Kennedy keeps making strides in no-decision
Royals starter logs 6 shutout frames, 9 K's against Rays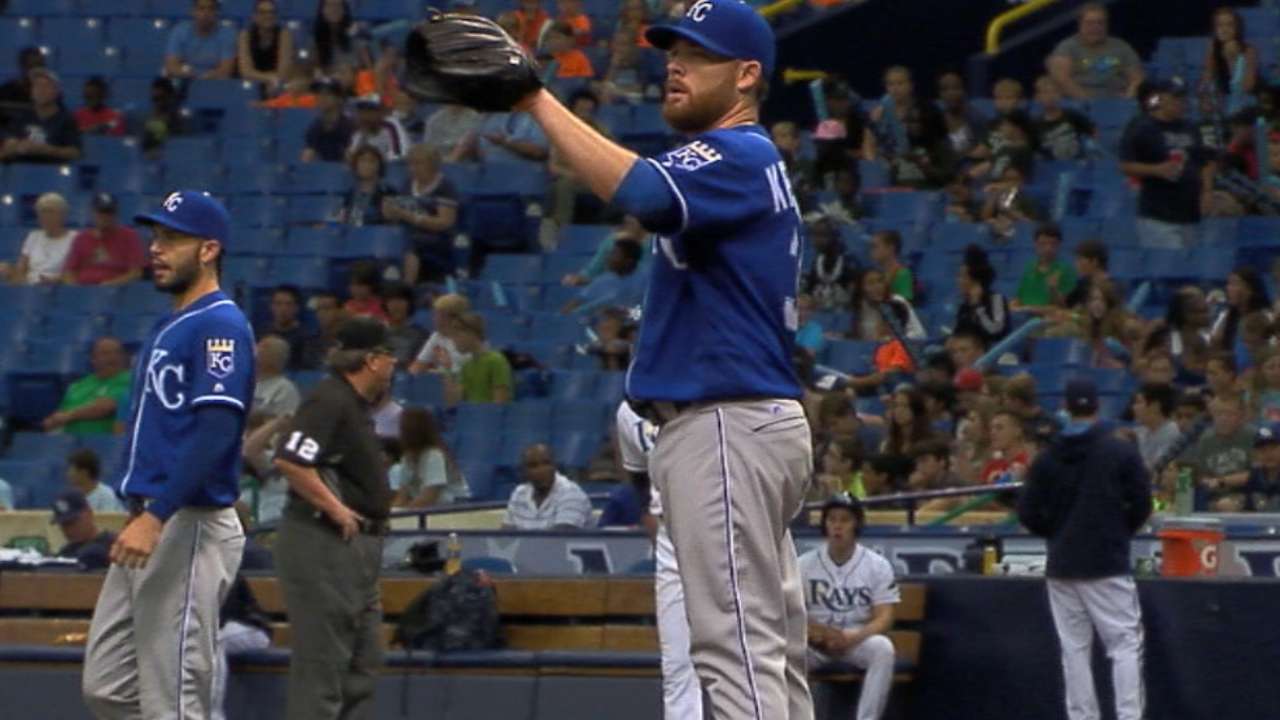 ST. PETERSBURG -- This is the Ian Kennedy the Royals saw through April and May. And they're glad he's back.
Kennedy threw his second straight superb outing, giving up one hit and no runs through six innings while striking out nine in the Royals' 3-2 loss to the Rays on Thursday at Tropicana Field.
Kennedy's start came on the heels of a seven-inning, one-run outing against the Rangers on Saturday.
"It felt like my last start," Kennedy said. "I worked on some of the muscle memory stuff. Don't want to go through [the slump] again. The ball was down a lot today. My fastball command was good again.
"I didn't throw that many sliders, just a few changeups. [Catcher] Salvy [Perez] and I, especially later in the game when a base hit could hurt you, we were on the same pitch. It was a pretty nice start."
Royals manager Ned Yost agreed.
"Fantastic. One hit," Yost said. "He got us through six."
But the trouble came in the eighth when reliever Joakim Soria served up a three-run homer to Brad Miller and Kennedy's fine effort was overshadowed by another dismal loss. The Royals finished 2-6 on the road trip.
"It's been hard knowing what these guys are capable of and what they've done the last couple of years," Kennedy said. "I know we keep saying that, but I know these guys are too good to be losing series, losing games when we are ahead, or losing, getting swept in Texas."
Kennedy, though, is doing his part. While he is tied for the Major League lead in homers allowed with teammate Chris Young (26), Kennedy hasn't yielded a home run in three starts.
"It's probably a personal record," Kennedy said, smiling. "I don't know when the last time that happened. I've been keeping the ball down, staying behind it, more than anything. I walked some guys today, but there were some times I didn't mind, like walking Miller because he's been swinging the bat hot, like he did later in the game.
"It's been more, 'He's going to hit my pitch or walk him,'" Kennedy said.
Kennedy lowered his ERA to 4.03.
"This is a little like the beginning of the year when my fastball command was really good," Kennedy said. "You'll have starts now and then when you get in a funk. But I think the All-Star break kind of jacked me up. I felt good going into break and then got nine days off and just kept feeling good."
Jeffrey Flanagan has covered the Royals since 1991, and for MLB.com since 2015. Follow him on Twitter @FlannyMLB. This story was not subject to the approval of Major League Baseball or its clubs.