Rays need Miller's bat fueling their offense
Home runs in consecutive games help net series split with KC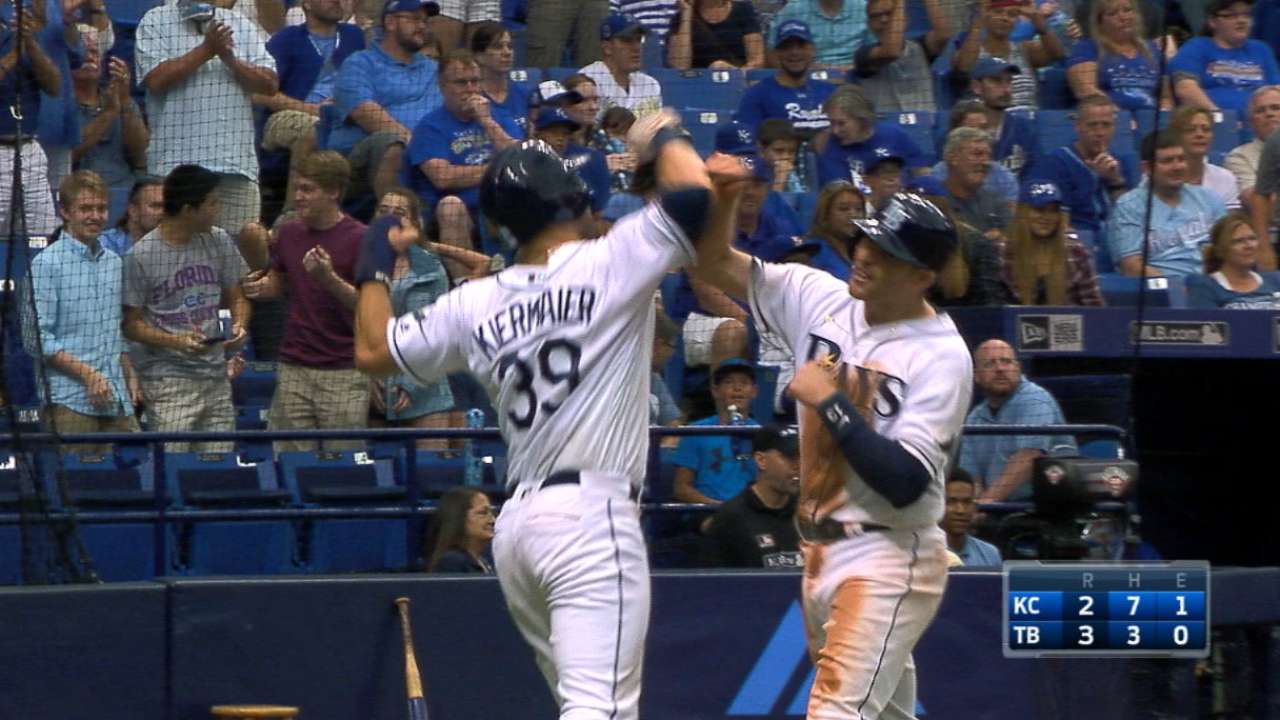 ST. PETERSUBRG -- Brad Miller has experienced a week he'd like to forget. Being the pro that he is, he has soldiered on and the results reflected that in the Rays' 3-2 win over the Royals on Thursday afternoon.
Tampa Bay traded Matt Moore to the Giants at Monday's non-waiver Trade Deadline. In return, the Rays received two prospects and infielder Matt Duffy, who is on the disabled list and will eventually be the starting shortstop. Miller was less than pleased with his future shift to first base.
Despite the disappointment over the Rays' defensive plans for him, Miller has performed well, prompting manager Kevin Cash to note how that has shown that Miller is "a pro."
"We're lucky to have him. And it doesn't matter where he plays," Cash said. "We know his bat plays and he's a huge part of our plans, and our team going forward."
Miller has chosen to focus on things he can control.
"I just go out there and play, that's all I can really do," Miller said. "I'm not going to change. I'm going to attack the day and get after it."
Miller got after it in a big way on Thursday, providing the decisive blow against Kansas City. It happened in the eighth inning, when Royals reliever Joakim Soria started the frame by yielding a single to Logan Forsythe and a walk to Kevin Kiermaier. After Evan Longoria struck out swinging, Miller hit a 1-1 pitch into the right-field stands to put the Rays up, 3-2.
"... I think I've shown them all year how valuable I am. But at the end of the day, I've got to go out there and play," Miller said. "That's all that matters."
Miller also homered in Wednesday night's 12-0 win over the Royals, giving him home runs in consecutive games for the third time this season.
"He's so valuable to our lineup, we know for us to be good, Brad Miller has to be there and be hitting right in the thick of things and doing the things he's been doing all season long," Cash said. "What he's done here of late. He's played very good on defense. Offensively, he's really put a charge and sparked us, it seems in all of our wins."
Miller is hitting .254 with 19 home runs and 43 RBIs, which is huge improvement from his first month of the season, when he hit .185 with two homers and five RBIs.
"You just have to fight through it," Miller said. "You're going to have some ups and downs. Just keep pushing and learning."
Given the start Miller had, Cash said "the actual home run numbers are a little bit of a surprise."
"He hasn't done that before," Cash said. "Now, he might not have been given that opportunity. Don't know if he's ever hit 20 home runs anywhere."
Miller is now earmarked for first base. When asked if having a few days has made the Rays' decision a little more palatable, Miller replied: "I'm not going to change my perception on that whatsoever."
Bill Chastain is a reporter for MLB.com. This story was not subject to the approval of Major League Baseball or its clubs.