Rangers get leadoff hitter back, activate Choo
Outfielder comes off DL; Alvarez optioned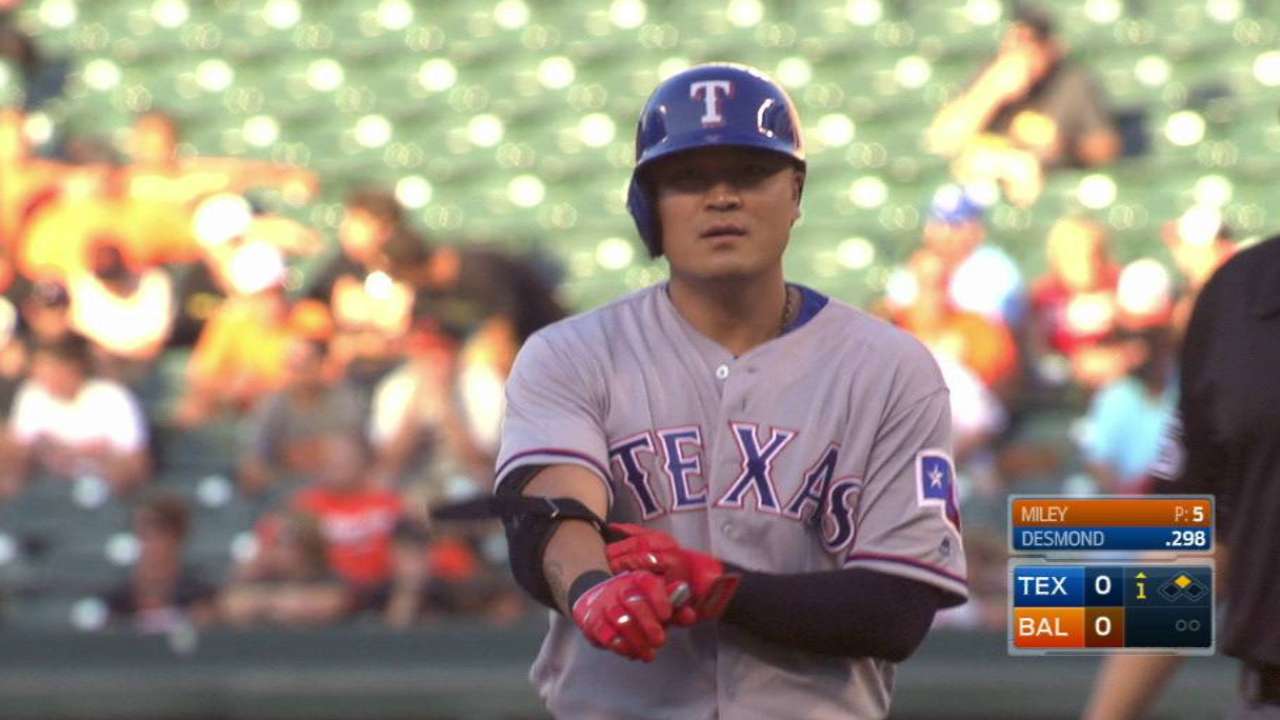 BALTIMORE -- The Rangers activated Shin-Soo Choo from the 15-day disabled list Thursday and optioned left-hander Dario Alvarez to Triple-A Round Rock.
Choo batted leadoff in the series finale against the Orioles and started in right field. He led off Texas' 5-3 win with a double, and went 2-for-5 with a run scored. The 34-year-old was first eligible to come off the DL on Thursday and didn't play any rehab-assignment games.
"I think if it had gone any longer, we would've thought about a rehab," manager Jeff Banister. "But watching what we saw in the live [batting practice], we felt good about where he was at timing-wise."
The lower back injury bothered Choo the most when he threw the ball, but he completed fielding drills before Tuesday's game without any problems.
"I started to feel good last week and started throwing," Choo said. "I was ready to play probably the last five days."
Since Choo went on the DL, the Rangers have struggled to get steady production from the leadoff spot. Choo has led off in 28 of his 32 starts this season, posting a .273/.365/.509 slash line from the top of the order.
"I like the leadoff spot," Choo said. "I get an extra at-bat and another appearance. They pitch the same wherever I'm hitting. It doesn't matter if I'm hitting leadoff, third, eighth or nine."
Jurickson Profar, who's filled in as Texas' primary leadoff batter with Choo out, is hitting .173 in his last 16 games. In the 18 games since the All-Star break, Rangers leadoff hitters have posted a .224 on-base percentage.
As a whole, the Texas offense has been slumping, scoring just 3.6 runs per game since the break. And in the two games since adding Carlos Beltran and Jonathan Lucroy at the non-waiver Trade Deadline, they have scored a combined three runs.
In 18 games between Atlanta and Texas this season, Alvarez is 3-1 with a 3.78 ERA. The move gives the Rangers a normal four-man bench after they optioned infielder Hanser Alberto on Wednesday while activating right-hander Jeremy Jeffress.
"I really like what I saw from Dario," Banister said. "I think he is going to help us out some point."
Worth noting
• The Rays claimed former Rangers catcher Bobby Wilson off waivers Thursday. Texas designated Wilson for assignment Monday after trading for Lucroy.
"We would've loved to continue to have Bobby in the organization," Banister said. "Extremely happy for him, his wife, his two daughters. Tampa is home for him."
Ryan Baillargeon is a reporter for MLB.com based in Baltimore and covered the Rangers on Thursday. This story was not subject to the approval of Major League Baseball or its clubs.