How did Brewers build their No. 1-ranked system?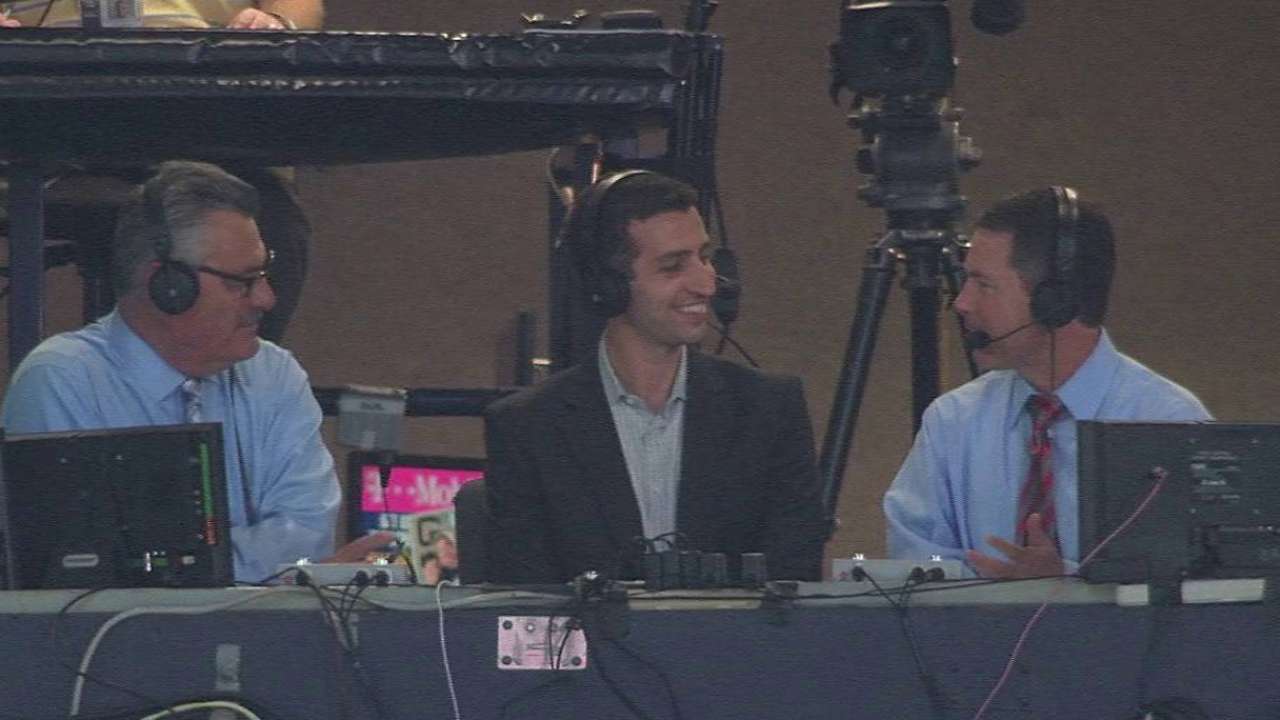 PHOENIX -- Ranking prospects is subjective business, but here's one thing on which the armchair farm directors and actual farm directors can agree: In the 13 months since the Milwaukee Brewers dove into rebuilding mode, they have vastly improved their Minor League system.
How improved? Well, that is where the interpretation begins. By one view unveiled Wednesday by MLBPipeine.com, it's the No. 1 collection of talent in baseball.
• Midseason ranking of MLB's Top 10 farm systems
It has been a rapid ascent to that position for the Brewers, who, still recovering from their "go for it" seasons earlier in the decade, entered 2015 in the bottom third of system rankings. Now, 18 of the Brewers' Top 30 Prospects, including seven of the top eight, were acquired via the Draft or a trade within the past 14 months. Those eight players all rank among the Top 100 Prospects in baseball, up from five Milwaukee farmhands in the Top 100 entering this season, and one in each of the three years before that. The Brewers and Astros are tied for the most players on the latest list.
The common denominator between those two clubs is David Stearns, who was Houston's assistant general manager for three years before taking over the top job in Milwaukee from Doug Melvin last fall. Melvin started the rebuild by trading the likes of Carlos Gomez for prospects, and Stearns continued it by dealing Adam Lind, Jean Segura, Will Smith, Jeremy Jeffress and Jonathan Lucroy. All of those trades netted players among the Brewers' current Top 30.
"The most important thing I've stressed to our group is that we stay on strategy, and that strategy is to continue to try to acquire as much young talent as we possibly can," said Stearns, repeating a line so engrained in his thinking that a version of it appears in his media guide biography.
"Time will tell," he said. "But when I looked at the farm system when I started, it was an improving system that had already been infused with some very nice talent, and I think we've continued that. I think we've brought some potentially high-impact players into the system since then."
The system rankings unveiled Wednesday were compiled by prospect guru Jim Callis, who came to MLB.com from Baseball America, giving him a deep background on organizations which have made similar leaps. Callis searched his archives and came up with the following comps from his BA days:
Royals (16th in 2010, 1st in '11)
Marlins (17th in 2008, 2nd in '09)
Brewers (16th in 2003, 1st in '04)
Indians (20th in 2002, 1st in '03)
Cubs (16th in 2000, 2nd in '01)
Reds (20th in 2000, 3rd in '01)
That list should offer encouragement to Milwaukee -- if it can be patient. Each of the three teams above that jumped to the No. 1 spot found themselves in the postseason within four years, including the Brewers. Their 2004 list was topped by Rickie Weeks and also included Prince Fielder, J.J. Hardy and Manny Parra. They were all in the Majors in 2008, when the team snapped its 26-year postseason drought.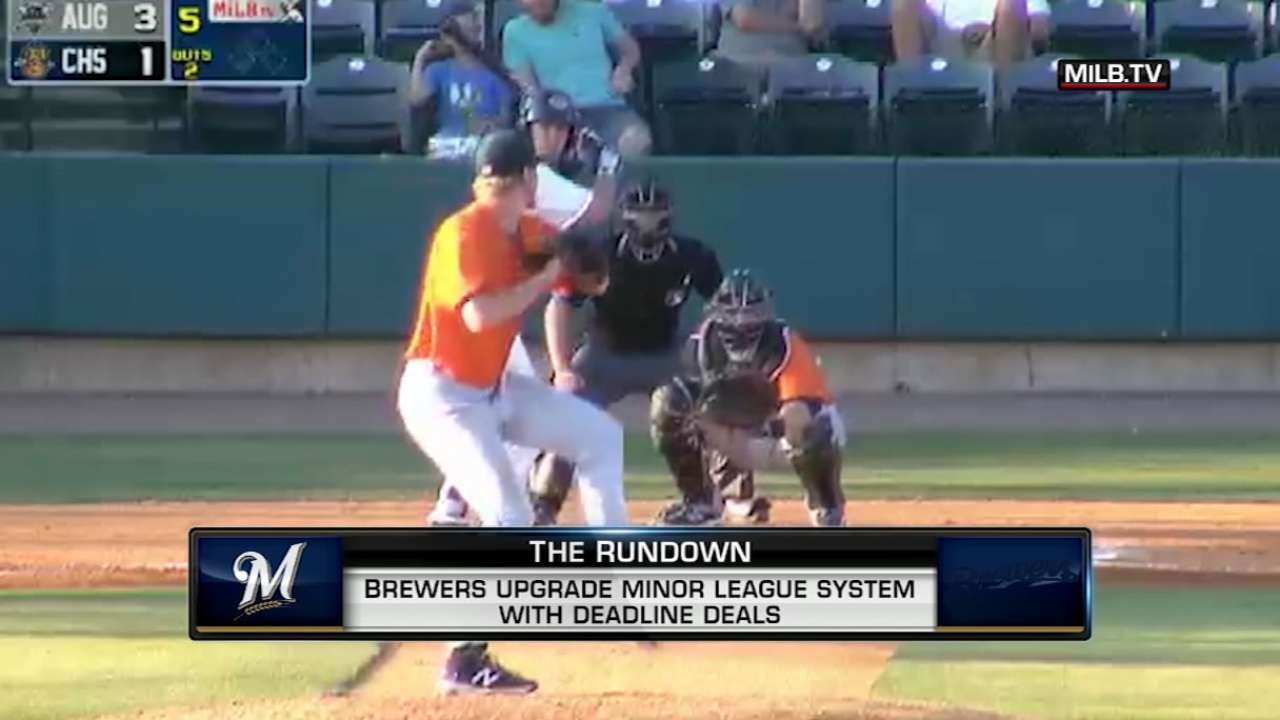 "I thought the Brewers improved their farm system as much as any organization did over the course of 2015, and now they've taken it to another level with another promising Draft and an impressive performance at the Trade Deadline," Callis said in an email exchange on Wednesday. "They have a lot of star-quality talent, a lot of talent in the upper levels of their system and an admirable balance between hitting and pitching prospects."
The following is a breakdown of how the group was built. Italicized players were acquired under Stearns. An asterisk denotes the player was entered the pro ranks a first- or supplemental first-round Draft pick.
Draft (18)
OF Corey Ray (No. 3 prospect) *
OF Trent Clark (7) *
RHP Cody Ponce (11)
LHP Kodi Medeiros (13) *
RHP Jorge Lopez (14)
OF Monte Harrison (16)
3B Lucas Erceg (17)
RHP Devin Williams (18)
RHP Corbin Burnes (19)
LHP Nathan Kirby (22) *
OF Demi Orimoloye (23)
3B Jake Gatewood (24) *
RHP Brandon Woodruff (25)
OF Tyrone Taylor (26)
OF Michael Reed (27)
C Mario Feliciano (28)
3B Chad McClanahan (29)
RHP Braden Webb (39)
Trades (9)
OF Lewis Brinson (No. 2 prospect) *
LHP Josh Hader (4)
RHP Luis Ortiz (5)*
RHP Phil Bickford (6) *
OF Brett Phillips (8)
SS Isan Diaz (10)
RHP Marcos Diplan (12)
C Jacob Nottingham (15)
RHP Freddy Peralta (21)
International signs (3)
SS Orlando Arcia (No. 1 prospect)
3B Gilbert Lara (9)
RHP Miguel Diaz (20)
Asked for his view of the accuracy of those lists, Stearns smiled and said they are "directionally significant."
"I think they are useful in that they provide a general view for fans as to some of the bright young stars who are coming up," Stearns said. "From our evaluation standpoint, we don't use them to much extent. We have our own systems and our own people who we try to rely upon, and we think they do a pretty good job.
"But I like that we have this part of our game that fans get excited about. That's a good thing."
Adam McCalvy has covered the Brewers for MLB.com since 2001. Follow him on Twitter @AdamMcCalvy, like him on Facebook and listen to his podcast. This story was not subject to the approval of Major League Baseball or its clubs.