Cashman: Releasing A-Rod not on agenda
Yanks GM cites contract, veteran's 2015 production, though 41-year-old remains on bench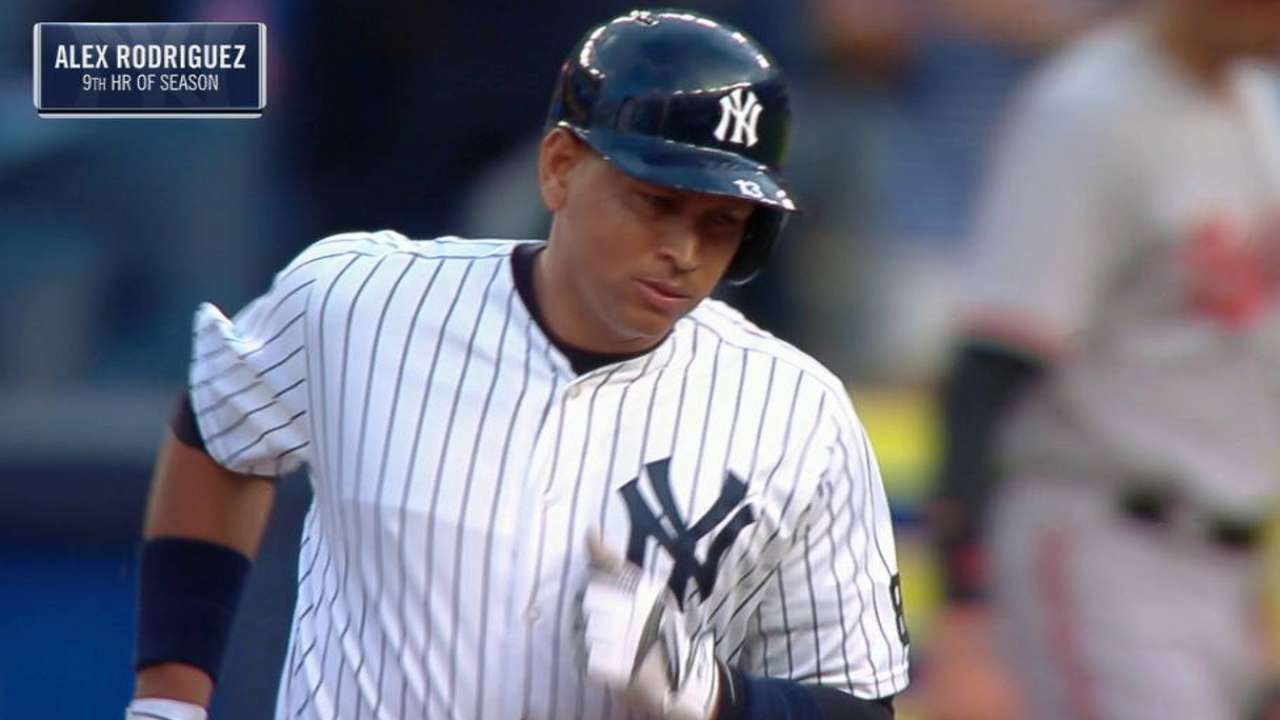 NEW YORK -- Alex Rodriguez still sits within striking distance of becoming the fourth player in history to launch 700 home runs, but the slugger's milestone pursuit has been delayed indefinitely as the Yankees have reduced his role to that of a bench player.
Though the Yankees have decided to offer opportunities to other players, general manager Brian Cashman said on Wednesday that there are "no plans" to release the 41-year-old Rodriguez, who is owed approximately $27 million through the 2017 season.
"First and foremost, you just have to flat-out admit, it is not easy to eat -- meaning release -- that kind of money," Cashman told ESPN Radio. "It's not something you come to a quick decision on. You see players -- and I don't want to name them because they are still playing -- but there are players around the game who are on big contracts that have been well-below-average players now for many years, not just a year.
"Alex hit 33 home runs, I believe, last year. This is a bigger media market and more attention, and there is certainly a tempest about what should be done. All I can tell you is, slow down a little bit and here is the counterarguments: There is a very large financial commitment through next year on a player of Alex's caliber that was productive as early as last year."
Rodriguez is batting .204 with nine home runs, 29 RBIs and a .609 OPS in 62 games, and he has not homered since hitting No. 696 off the Orioles' Kevin Gausman on July 18. A-Rod is in the final stages of a 10-year, $275 million extension signed with the Yankees following an American League MVP Award-winning campaign in 2007.
Yankees manager Joe Girardi elected not to start Rodriguez on Thursday against Mets starter Bartolo Colon, a pitcher against whom he's had tremendous success; Rodriguez's .442 lifetime batting average against Colon is his best mark against any pitcher he's faced more than 50 times. Girardi explained the decision, saying that most of that success came very early in Rodriguez's career when he was a much different player, and the one-time slugger's recent struggles against right-handers was the deciding factor in keeping him out of the lineup.
This comes one day after Girardi elected not to start Rodriguez against left-hander Steven Matz. With Rodriguez sitting against both a lefty and a pitcher he has a long positive history against, Rodriguez's chances to get into the lineup are becoming rarer and rarer.
"I can't really tell you exactly when I'm going to play him," Girardi said. "I've had him up a couple of times to pinch-hit ... I'm not sure. I can't really tell you. I can't give him a day."
Girardi also explained that it's not as if he's benching Rodriguez out of spite. The Yankees called up their No. 5 prospect, Gary Sanchez, on Wednesday and are trying to get him at-bats and, at least for the first two days of his brief tenure, the best spot for him is designated hitter.
"We brought Sanchez up and we said that Sanchez is going to play," Girardi said. "I'll probably catch him tomorrow and I'll go from there."
"It's not an easy circumstance, but there are no plans right now to do anything but give some reps to other people and see where it takes us. And if some matchups show up or injuries hit, you might see him back out there," Cashman said.
Cashman said that it is possible that the Yankees could carry Rodriguez until rosters expand to 40 players in September; Girardi said that he does not believe that essentially playing with a 24-man roster has handicapped him.
Saying that Rodriguez deserves "props" for keeping a good attitude during this stretch, Cashman ultimately did not rule out the possibility that the Yankees could cut ties with Rodriguez, who has been with the organization since being acquired in a 2004 trade with the Rangers.
"If we at some point choose to do anything, that's our right at any time," Cashman said. "At any place in the future, we can do things. For right now, that's not something that's being done."
Bryan Hoch has covered the Yankees for MLB.com since 2007. Follow him on Twitter @bryanhoch, on Facebook and read his MLBlog, Bombers Beat.

Nick Suss is a reporter for MLB.com based in New York.

This story was not subject to the approval of Major League Baseball or its clubs.