Tigers monitoring Fulmer's pitch counts, not innings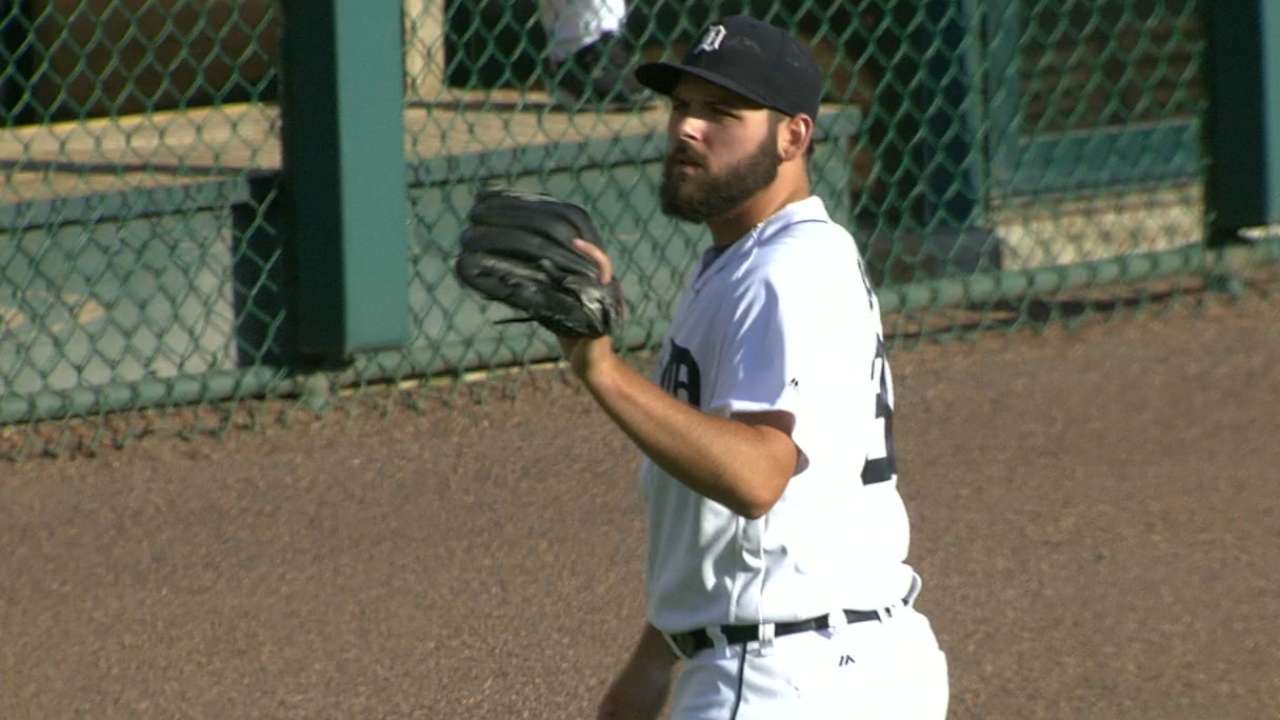 DETROIT -- The Tigers have been watching Michael Fulmer's innings ever since calling him up at the end of April, hoping to keep him within a workload range. The way Fulmer has pitched this summer has forced team officials to change their thinking.
It's not just about how well he's pitching, but how efficiently, enough that they're thinking in terms of pitch counts rather than innings. In terms of pitches thrown, the Tigers believe they can keep him in a safe range the rest of the season without having to shut him down early, or maybe even skipping a start.
"In terms of pitches thrown, he's actually in real good shape," manager Brad Ausmus said on Tuesday, before Fulmer tossed 6 2/3 innings of one-run ball on 91 pitches against the White Sox on Wednesday night at Comerica Park.
Among all the impressive statistics Fulmer has produced this season, headlined by a 2.42 ERA in 17 starts that would easily lead American League pitchers if he had enough innings to qualify, his efficiency has gone relatively overlooked. He's averaging 15.38 pitches per inning, second lowest among Tigers pitchers, behind Shane Greene (15.20). He would rank 10th among AL pitchers in efficiency if he had enough innings to qualify.
Fulmer has pitched deeper into games with fewer pitches thrown as the season has gone on. He has delivered seven or more innings in fewer than 100 pitches in three of his last six starts, and he would've done the same on Wednesday night if he had gotten one more out on eight pitches or fewer.
That led Ausmus and the Tigers' front office to shift their thinking.
"There are different types of innings, and there are different types of games," Ausmus said on Thursday morning. "And some pitchers tend to use more pitches per inning. I think you have to take into account the pitches thrown as much as the innings pitched, maybe even more. But he does, for a young guy, have a knack for keeping his pitch count down, at least in more recent starts. That's why we looked at pitches thrown as well."
Ausmus has talked about a standard 25-30 percent limit for an innings increase over last year for most young pitchers. Fulmer pitched 124 2/3 innings in the Minor Leagues in 2015. He has 104 in Detroit this year, plus 15 1/3 innings at Triple-A Toledo. A 25 percent increase from last season would put him around 155 innings, while a 30 percent uptick would cap him at 162. A postseason run, notably an AL Division Series berth, would put a few more frames onto the workload.
The pitches per inning, however, are likely to temper those limits. So, too, could other factors.
"It wouldn't be results. It would be performance," Ausmus said. "Is his velocity suddenly coming down? Does his pitch count start going up on a regular basis? That type of thing."
At this point, however, the Tigers think they can not only get him through the season but also get him through it in the rotation. Ausmus said they haven't discussed a shift to the bullpen, like what the Blue Jays have planned with Aaron Sanchez.
"There's been no discussion about that," Ausmus said.
Jason Beck has covered the Tigers for MLB.com since 2002. Read Beck's Blog, follow him on Twitter @beckjason and listen to his podcast. This story was not subject to the approval of Major League Baseball or its clubs.