Twins may send struggling Sano to Triple-A
Plouffe close to returning as several reserves show capability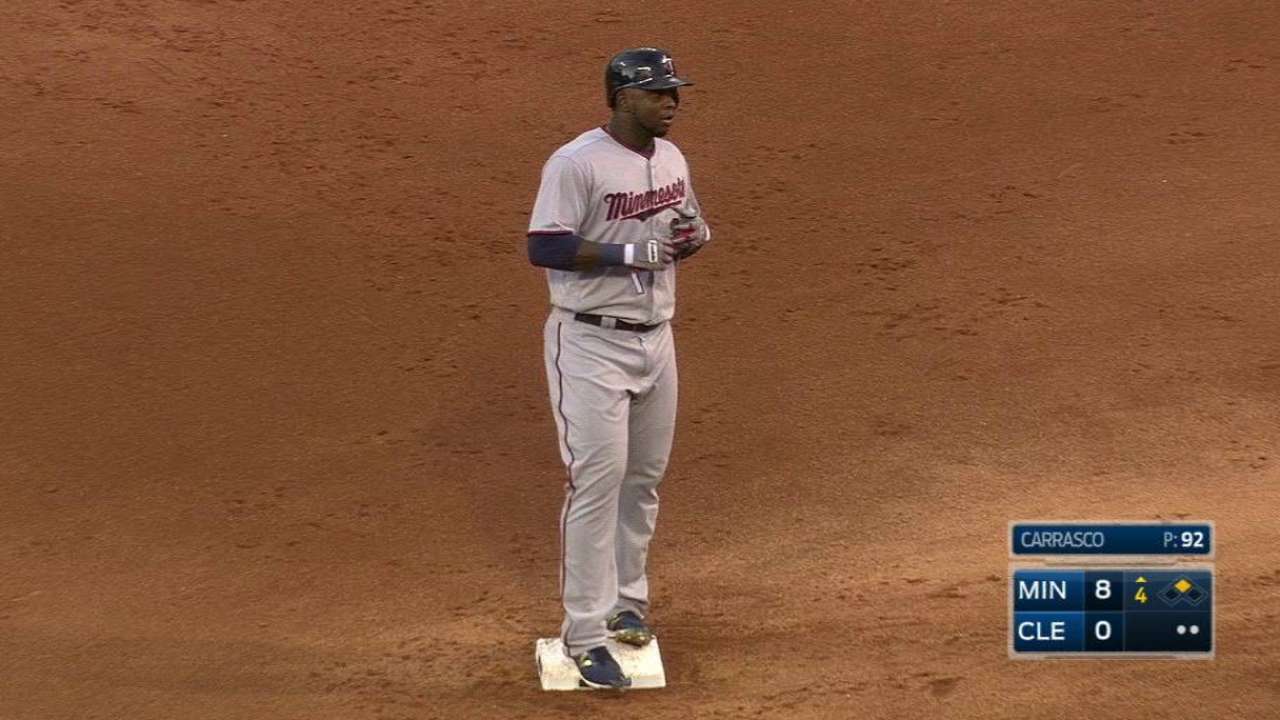 CLEVELAND -- With third baseman Trevor Plouffe expected to return from the 15-day disabled list as early as Monday, Twins manager Paul Molitor said he hasn't ruled out sending Miguel Sano to Triple-A Rochester.
Sano has been slumping recently, hitting .219/.265/.344 with one homer in his past 15 games entering Thursday, and he has also struggled defensively at third and made several baserunning gaffes, including another in Wednesday's 13-5 win over the Indians.
And as Sano is trending the wrong way, rookie infielder Jorge Polanco has played well in limited action, while Kennys Vargas and Eddie Rosario have also been hot offensively since coming up from Rochester in early July.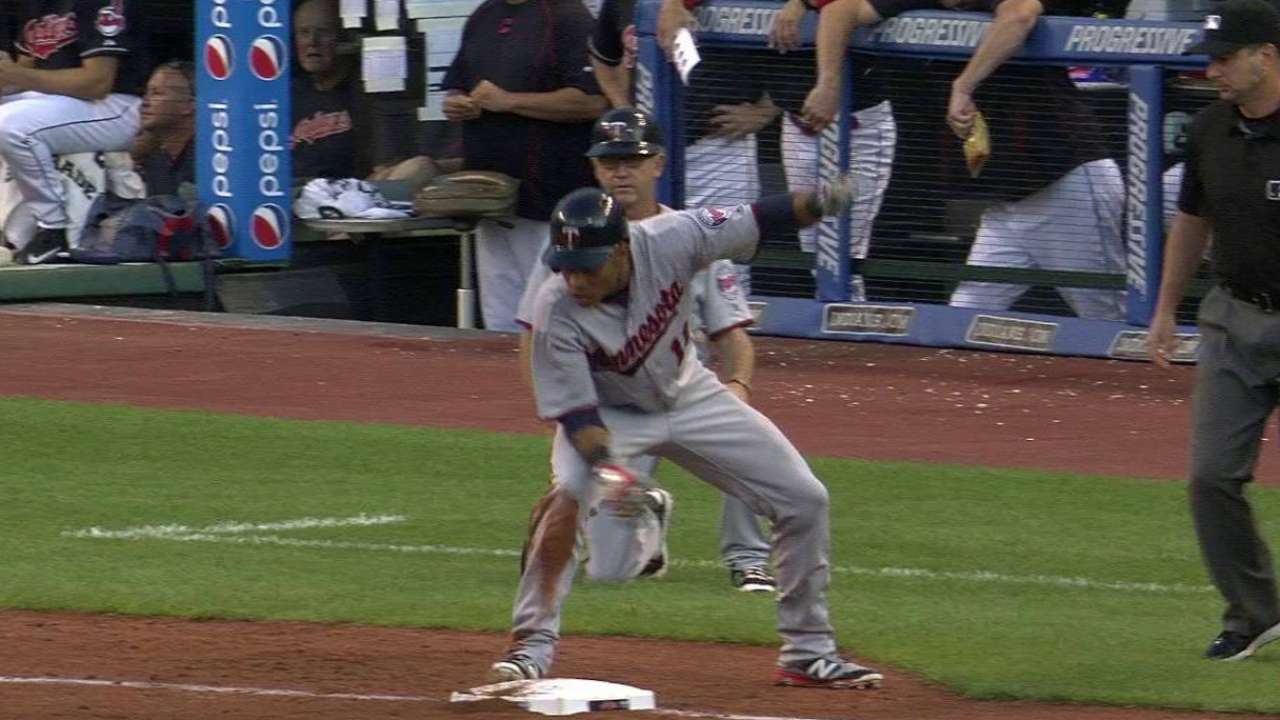 "It's something that's looming," Molitor said. "I wouldn't say I've put off having to consider it. A lot of times, you gather information before that decision gets closer so things can become more clear. You guys can look at the roster and there's limited people you can actually consider. Whether it clears itself up this weekend, I'm going to be open to doing the right thing."
Sano responded in Thursday's 9-2 loss by going 1-for-2 with a double and two walks at the plate, but he was also charged with an error on a tough play in the ninth, giving him 12 errors in his past 20 games at third. He said he understands the Twins have a decision to make when Plouffe returns, and he'll do whatever the organization asks of him.
"The manager has a decision with everybody and the GM, so I don't know what decision they'll make," Sano said. "I'm just going to play my game and don't worry about the [front] office. If they want to make that decision, I'll be OK. I'll do whatever they want me to do."
At issue is also how hard Sano has been working at getting better, as hitting coach Tom Brunansky told 1500 ESPN Radio on Wednesday that Sano's "work ethic needs to match his talent level." Molitor said it's not uncommon for young players to run into that issue, and he agreed with Brunansky's assertion.
"I think Miggy as a young man is still trying to have a balance where he understands this is a huge priority for him," Molitor said. "It's a huge responsibility. You have to minimize the things that interfere with the skills you have. So [Brunansky] is not wrong. I think that's a fair statement by Bruno. But it's been the case for a lot of years for a lot of players."
After a breakout rookie season in 2015 that saw Sano hit .269/.385/.530 with 18 homers and 17 doubles in 80 games, he entered Thursday batting .238/.332/.443 with 15 homers and 13 doubles in 75 games. Molitor said he believes Sano has become a bit too complacent in some areas, and it's hurt his production.
"I think it goes along the lines with young players who get to the big leagues and they either subconsciously, or their agents, someone's telling them they've got everything figured out and go enjoy the life," Molitor said. "It's contrary to what's real in terms of you don't want to ever get too comfortable. And there are other guys we've had discussions with as young players to keep their focus on how they got here, why they're here and [doing] what they need to do to stay here."
Molitor said he's continued to talk with Sano this year to help him get better, and that though sometimes he has the right intentions -- like when he tried to advance to third as the trail runner during a rundown on Wednesday, only to make the inning's final out -- he needs to improve his decision-making.
"We've had a lot of conversations this year," Molitor said. "He's trying to make the changes he needs to make so he can walk out of here knowing he did what he could do to be a better player. It doesn't happen every day."
Rhett Bollinger has covered the Twins for MLB.com since 2011. Read his blog, Bollinger Beat, follow him on Twitter @RhettBollinger and listen to his podcast. This story was not subject to the approval of Major League Baseball or its clubs.