Inbox: What roster adjustments will be made?
Beat reporter Joe Frisaro answers questions from Marlins fans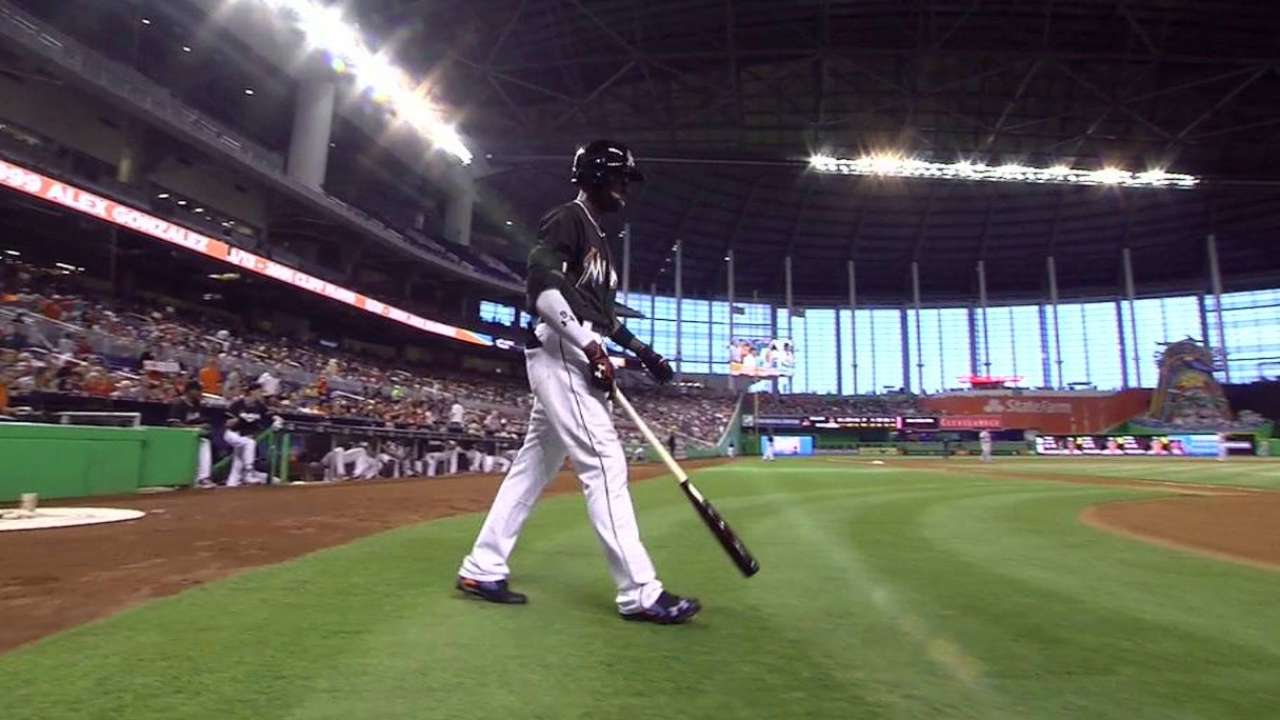 How do the Marlins best manage this Dee Gordon /Derek Dietrich playing-time situation?
-- @JarrahVW
I think the decision has already been made. Manager Don Mattingly spoke about doing everything possible to get into the playoffs, and then he'll worry about who plays at that point. Gordon is the starting second baseman, and he is a Gold Glove defensive player, plus he solidifies the leadoff spot. Having Dietrich available for multiple roles helps the club in other ways, because he can play first base, second and third, and even left field. He is also a pinch-hit threat to drive the ball out of the park. In these final two months, I expect Mattingly to manage with urgency and treat each game like a playoff game. All players will be on call to handle multiple roles.
Would you say J.T. Realmuto is the next player the Marlins will work with for an extension? These types of catchers are rarities.
-- @alexpinzon23
I think this is a question best to be asked after next season, because Realmuto isn't arbitration-eligible until 2018. But I do agree that the club at some point -- whether this offseason or next -- should seriously consider an extension. Keep in mind, Realmuto also won't have the necessary service time to be a free agent until '21, so he promises to be in Miami for a long time.
With David Phelps back in the rotation, does this mean Kyle Barraclough gets his spot in the bullpen? And is this for the rest of the season?
-- @dan_collado21
In recent weeks, the Marlins have been using Barraclough more in the seventh inning than Phelps. Perhaps they started leaning that way because they were figuring Phelps may eventually wind up in the rotation. When you talk about "rest of the season," keep in mind that this isn't a year to develop. This is a year the club has gone all-in to win. This doesn't just apply to Barraclough but to a number of players. If they aren't performing, they may wind up changing roles quickly.
• Submit a question to the Marlins Inbox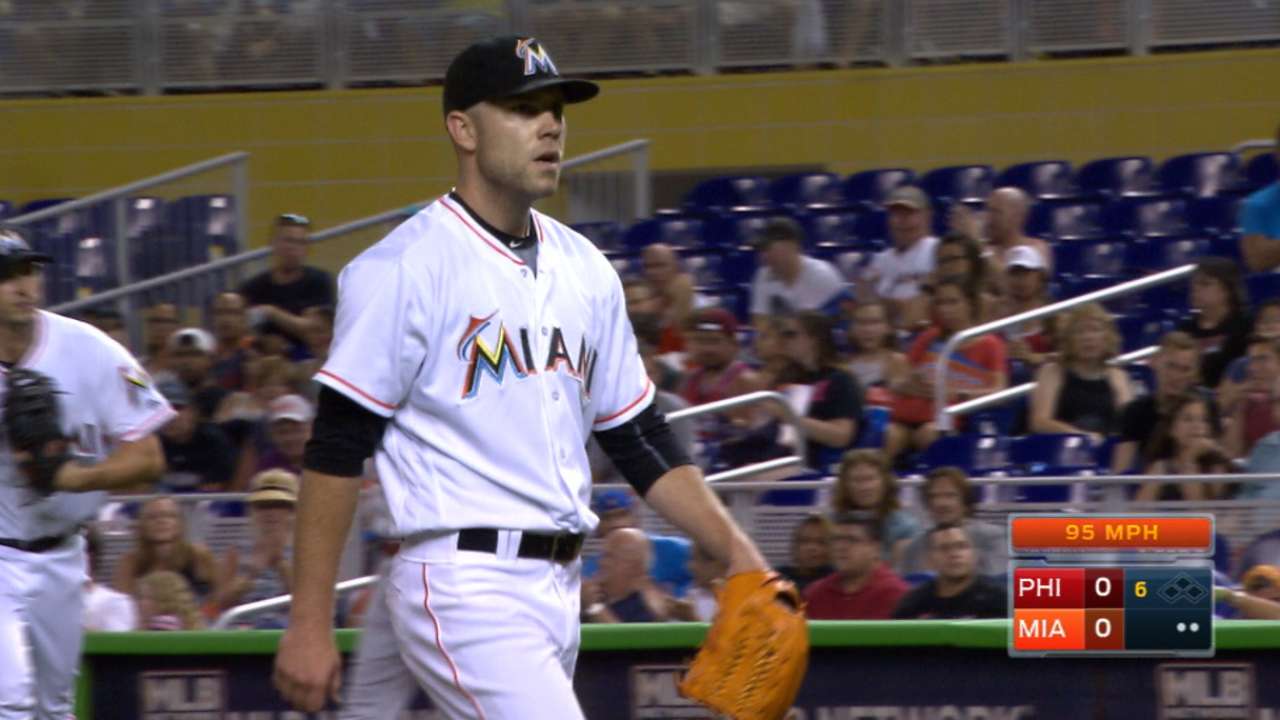 If the Yankees release Alex Rodriguez, would the Marlins look to sign him for their bench?
-- @Bschiller_02
This question is understandable, because A-Rod is from Miami, and he is a high-profile player with a long track record. But I would be surprised if he were added, because Justin Bour is handling first base, and Rodriguez doesn't really have a position right now. In my opinion, he would be more of a pinch-hitter/designated hitter, so I think he would be a candidate to be picked up by an American League club. Mattingly has also spoken about being committed to these players, and it is hard to imagine they would part with Chris Johnson at this point, considering Johnson can play third base, first and left field, if needed.
Do you think the Marlins saw some kind of defect in Josh Naylor that made them more comfortable about trading him?
-- @Marlins365
You hear rumblings about the makeup of players, especially after Naylor's pranking incident with Stone Garrett, his Class A Greensboro teammate, who is still out after undergoing thumb surgery. But Naylor is 19 years old, and he is a promising left-handed hitter with power potential. Trading him for Andrew Cashner had more to do with getting a veteran starter for the club now, and top prospects are part of the asking price. Also, Miami has Bour as a short- and long-term choice to play first base, so Naylor was years away from replacing Bour.
How high is Luis Castillo's ceiling? And when will he be promoted to Double-A?
-- @jmb9299
It's hard to say, because he showed so much improvement in a short period of time, and now it is a matter of continuing his development. First, the organization is sending Castillo back to Class A Advanced Jupiter, after he was dealt back to Miami from San Diego for Colin Rea. With only a few weeks to go in the Minor League season, a promotion at this point may not make much sense.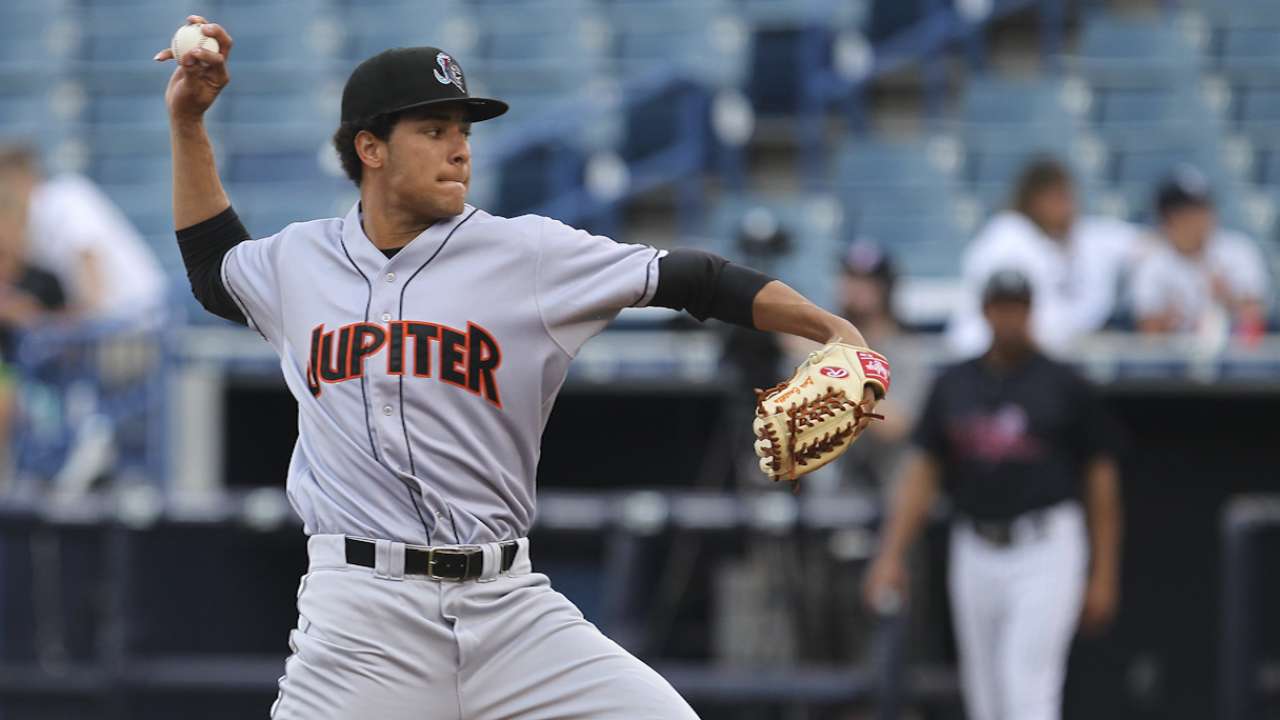 Joe Frisaro has covered the Marlins for MLB.com since 2002. He writes a blog, called The Fish Pond. Follow him on Twitter @JoeFrisaro and listen to his podcast. This story was not subject to the approval of Major League Baseball or its clubs.