Clevinger, Merritt up; Armstrong, Anderson down
Moves provide relief for taxed Indians bullpen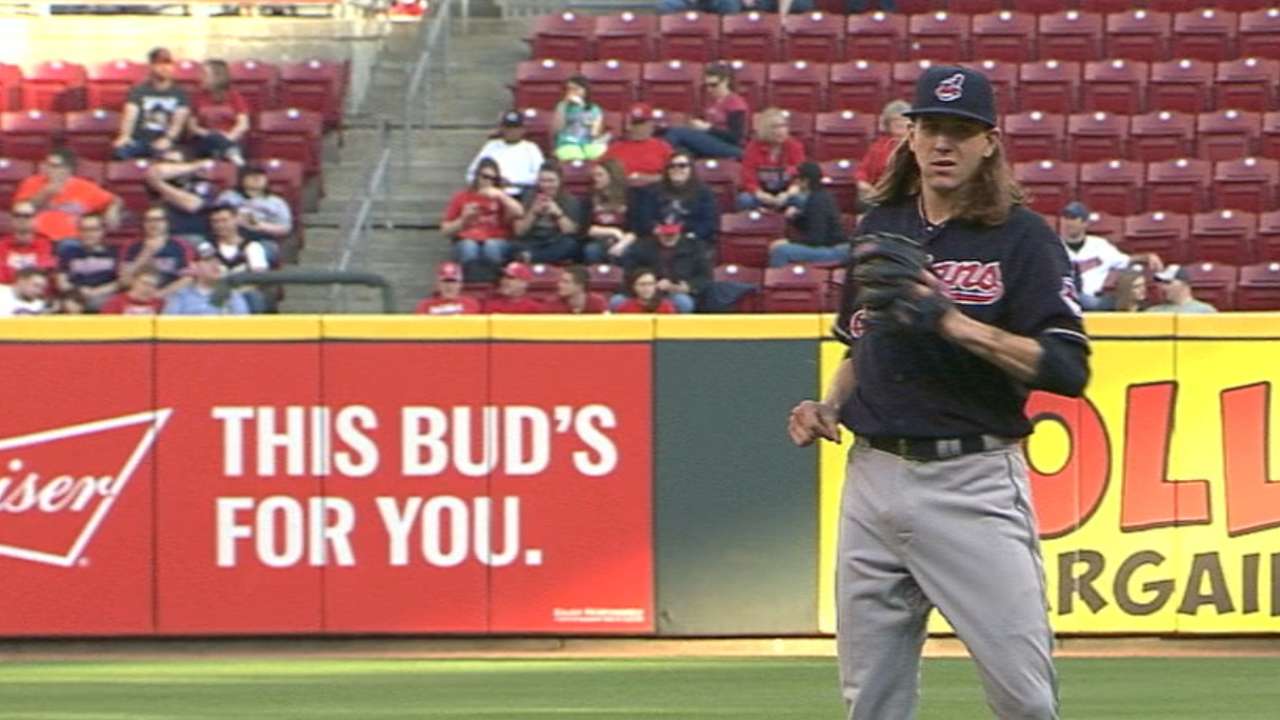 CLEVELAND -- Due to an overworked bullpen, the Indians were forced to make roster moves for a second consecutive day, recalling pitchers Mike Clevinger and Ryan Merritt prior to Thursday's series finale against the Twins. To make room, Cleveland optioned relievers Shawn Armstrong and Cody Anderson to Triple-A Columbus.
"I was telling you guys last night that we have gone through three games where our bullpen has pitched more than our starters," Indians manager Terry Francona said. "As tough it is to lose games, we also don't want to ruin our bullpen. So we are going to make sure we keep it in order."
Clevinger started Thursday's game and will remain in the rotation for the time being in place of Danny Salazar, who went on the disabled list on Tuesday with an inflamed right elbow.
With his start Thursday, Clevinger has made five appearances (four starts) for the Indians this season. The rookie right-hander entered his start vs. Minnesota with an 0-1 record and a 7.71 ERA, striking out 14 in 16 1/3 innings in his rookie campaign. He has posted an 11-1 record with a 3.00 ERA in 17 starts for Columbus, striking out 97 batters in 93 innings.
Merritt joins the club to provide a fresh arm for a taxed bullpen, and he was slated to start Thursday for Columbus. The left-hander has pitched once this year for the Tribe, tossing 4 1/3 scoreless innings in relief on May 30, while allowing just one hit and recording two strikeouts against Texas.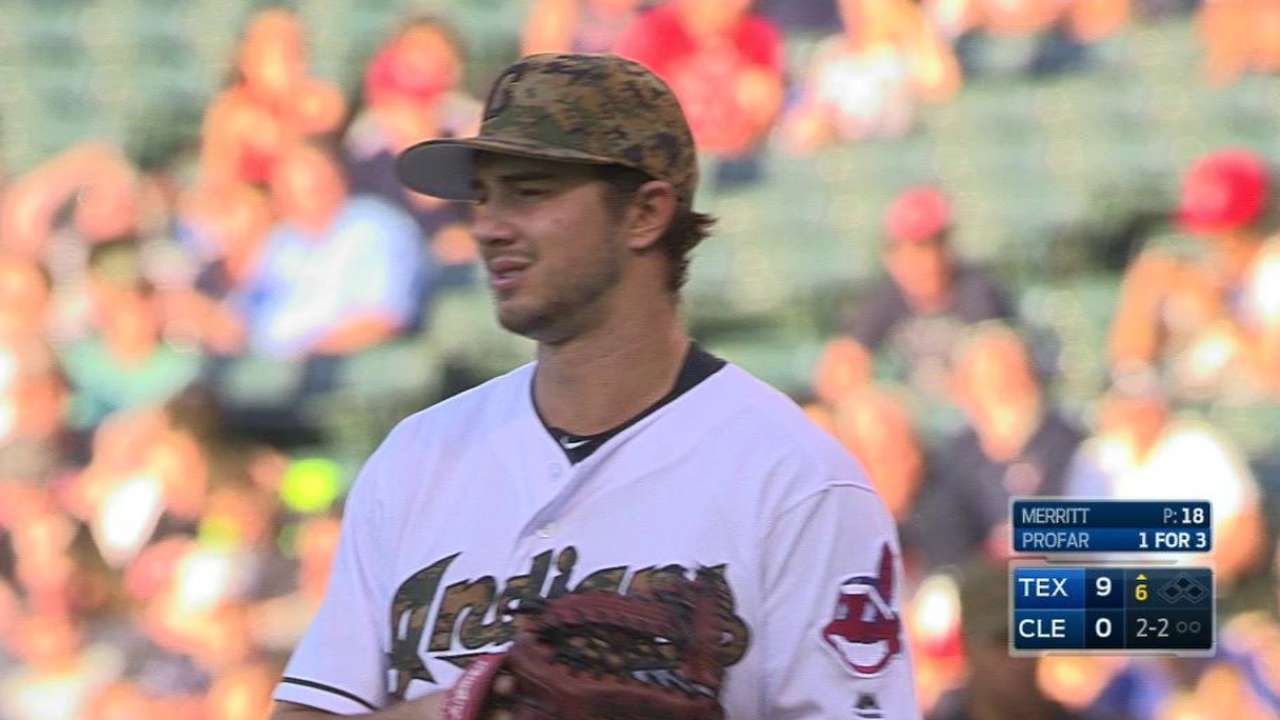 "This is a great place to be, a great clubhouse," Merritt said. "It's exciting and fun to be back up here."
This year, Merritt has a 7-7 record and a 4.06 ERA in 18 starts in Triple-A. He has logged 66 strikeouts and 17 walks over 106 1/3 innings.
Both Anderson and Armstrong were collateral damage for an overused Cleveland bullpen that had pitched 18 2/3 innings in the first three games against Minnesota this series. Anderson and Armstrong each appeared in Wednesday night's 13-5 loss, recording a combined 13 outs.
Cleveland starters allowed 21 earned runs over 8 1/3 innings through the first three games this series after allowing 23 earned runs in the club's previous eight games. All three starters have been unable to complete four innings against the Twins, the first time that has happened in three straight starts since Sept. 7-9, 2012.
Worth noting
• Francona said reliever Joe Colon is slated to make a rehab start for Triple-A Columbus on Saturday. The right-hander threw a 20-pitch simulated game on Wednesday. Colon has been on the disabled list with right shoulder inflammation since July 22.
• Tribe first baseman Mike Napoli had slugged a home run in five consecutive games entering Thursday, matching the longest streak in the Majors this season. Napoli is the first Indians batter to homer in five straight since Travis Hafner did so in September 2005.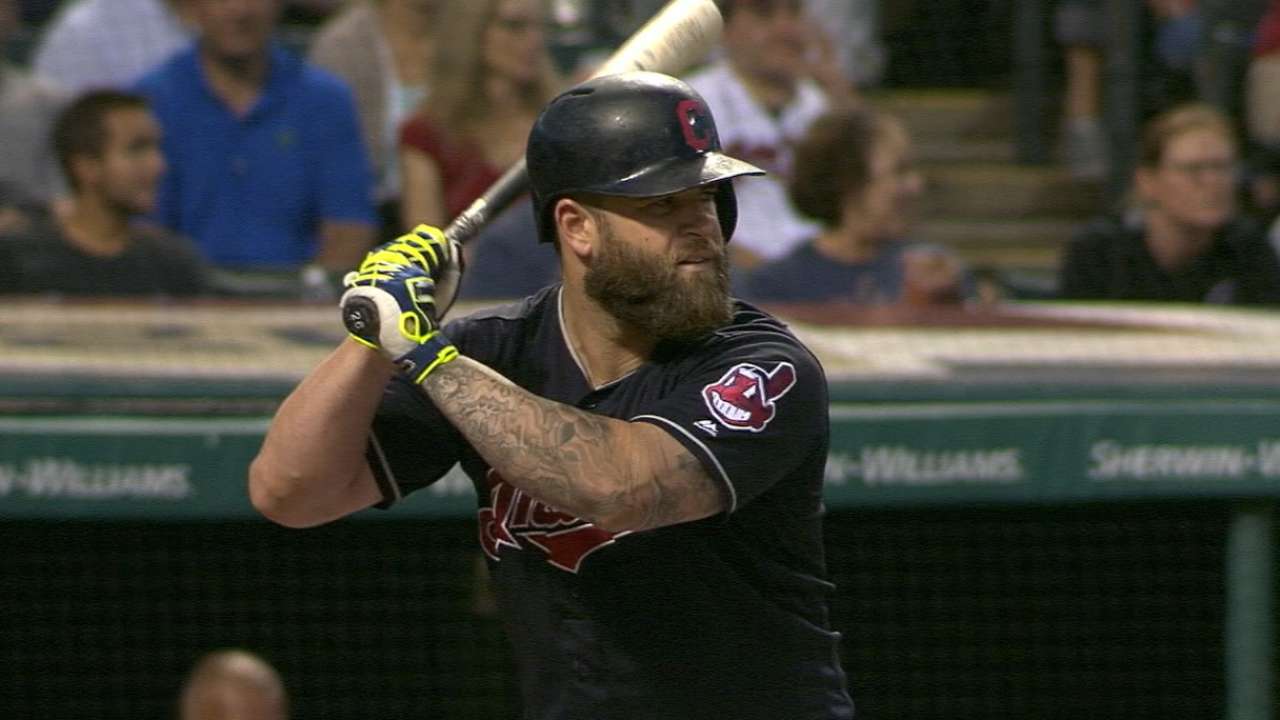 "You take the person that comes with it. Man, he's been a blessing to us," Francona said. "Sometimes in this game, you can't help but get fond of your guys because you are with them so much. Yeah, I get mad at them some nights. We all get aggravated; I'm sure they feel the same way about me. But when you get a guy that's that special and you don't enjoy it, you are crazy. This guy is what you want."
Shane Jackson is a reporter for MLB.com based in Cleveland. This story was not subject to the approval of Major League Baseball or its clubs.