A's comeback cut short by double plays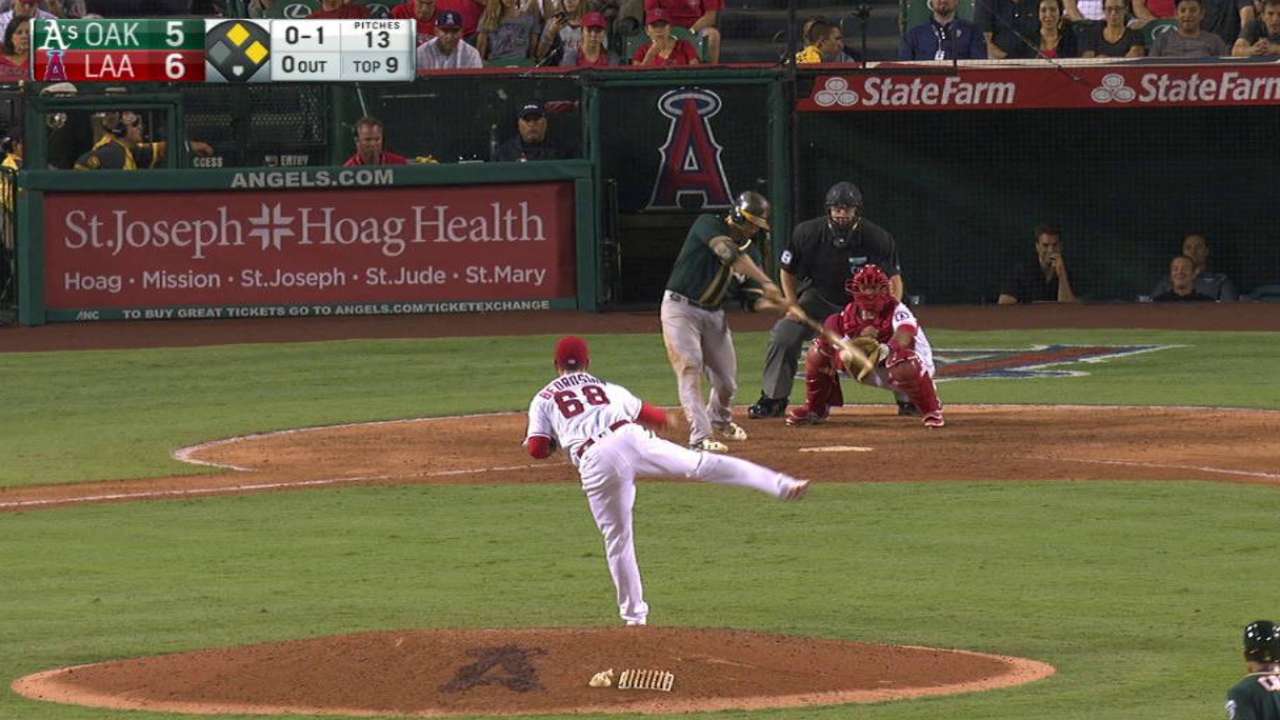 ANAHEIM -- Heartbreak came for the A's in the form of an Albert Pujols walk-off homer, but it's what happened when they were hitting that might haunt them for longer after their 8-6 loss to the Angels on Wednesday.
In both the eighth and ninth innings, the A's had a bases-loaded rally killed by a double play. Ryon Healy hit a grounder to third that Yunel Escobar turned two on to end the eighth, while a pinch-hitting Danny Valencia could only manage a soft comebacker in the ninth. As the game went into the bottom of the ninth tied at 6, Pujols went yard to emphatically end the game and leave Oakland wondering what might have been.
"Those were two key spots where we're talking about situational at-bats, getting an extra run or two in those at-bats," A's manager Bob Melvin said. "You get in late games with runners on, you get two outs in one at-bat, it ends up being a factor."
If Pujols hadn't hit that homer and the A's had managed to muster just one more run, it would have been time to praise the A's for an excellent show of plate discipline to close what was a 6-4 Angels lead going into the eighth inning. With a run in both innings, Oakland was able to force the Halos to hit in the ninth inning and possibly push the game into extras.
The A's snapped a 25-game scoreless streak for new Angels closer Cam Bedrosian when Coco Crisp crossed the plate on a Stephen Vogt single in the ninth inning, handing the right-hander his first blown save of 2016.
In both the eighth and ninth, continuing a trend of similarities between the two frames, Oakland drew three walks to set up a potential rally or two. Jed Lowrie even managed to drive in a run with a bases-loaded walk in the eighth.
"Put together some really good at-bats in the ninth to get us in that position, for sure," Melvin said.
The next at-bat didn't go so well for the A's. JC Ramirez fed Healy two sliders with differing paths to induce a needed grounder.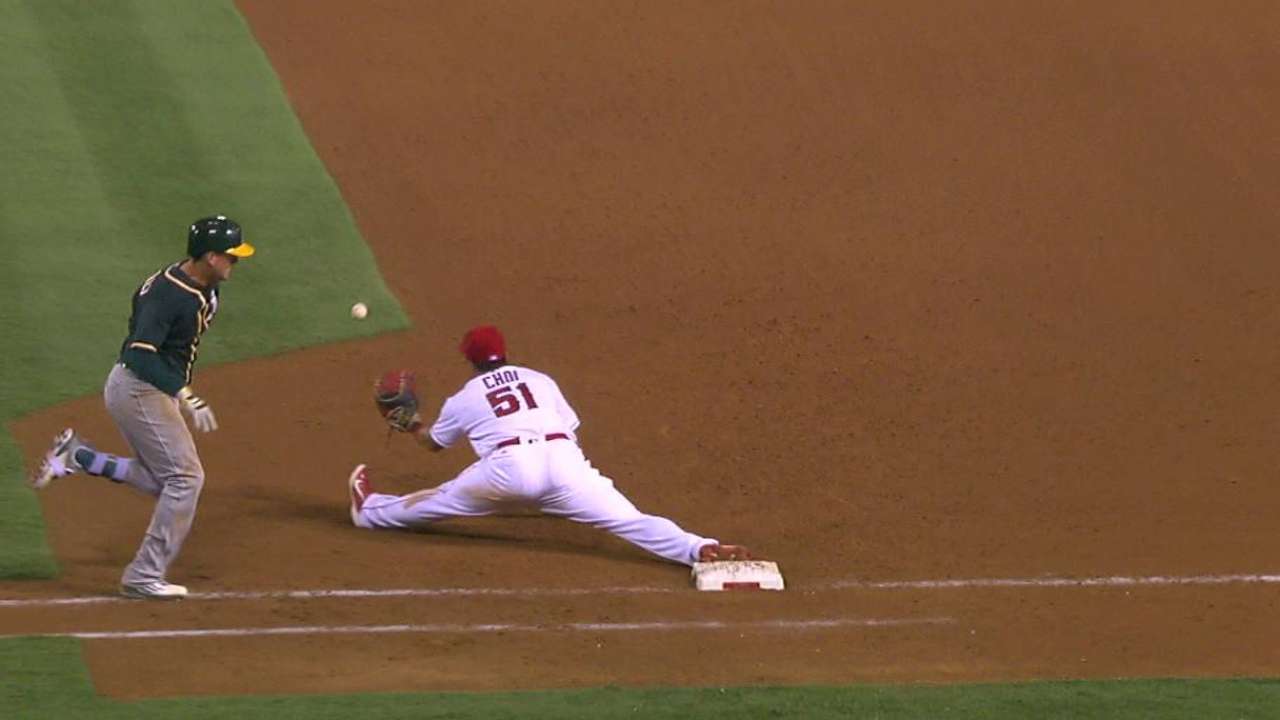 "He made a good pitch," Healy said. "He threw me two different breaking balls, first one was tighter than the second one. Second one fooled me and unfortunately I made contact with it."
Valencia's double play in the ninth came on a noticeably worse pitch, a hung slider that would have easily come in high and inside if he hadn't turned and put a bat on it. Valencia tried to check his swing when he saw where the pitch was headed, but all he could do was put a swinging bunt on the ball.
That left the Athletics with six men left on base in two innings, managing to close a two-run deficit but failing to take a lead they would need when Pujols found a pitch from Ryan Dull he knew he could drive.
Jack Baer is a reporter for MLB.com based in Los Angeles. This story was not subject to the approval of Major League Baseball or its clubs.