Pujols in elite company with 12th walk-off HR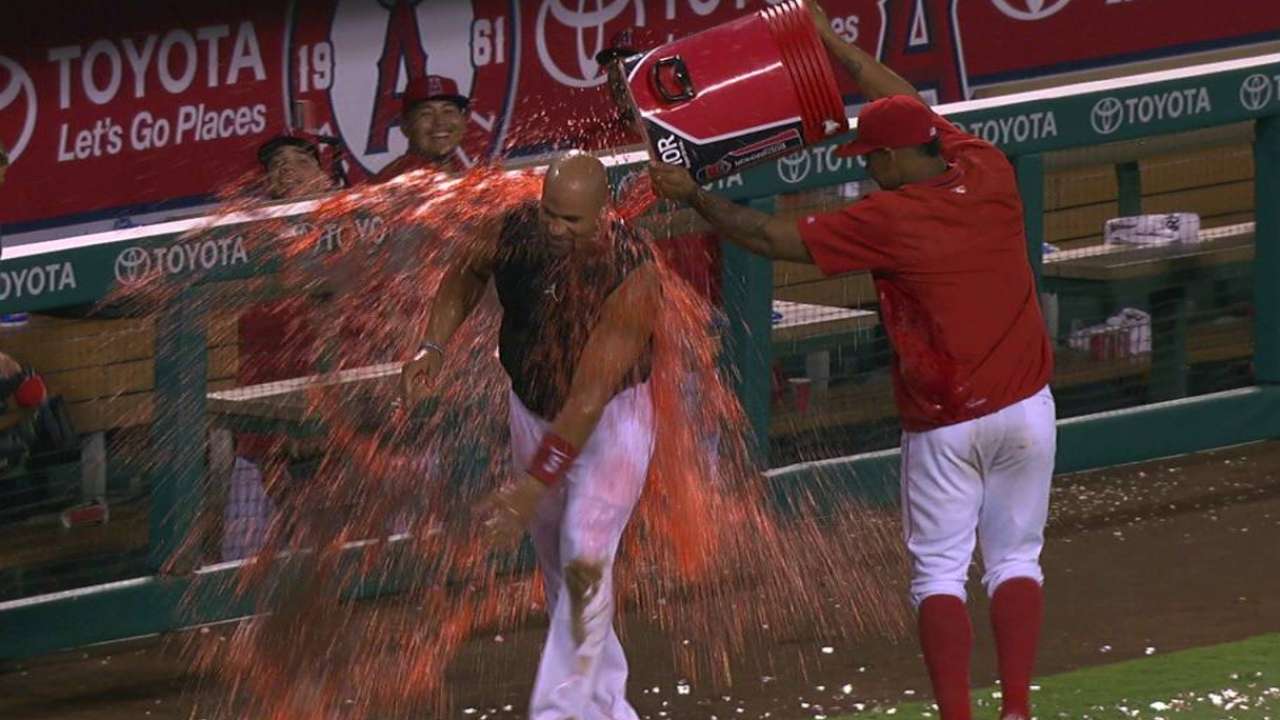 ANAHEIM -- Angels designated hitter Albert Pujols knocked his 12th career walk-off home run -- the most of any active player in the Majors -- giving his club an 8-6 win over Oakland on Wednesday, further notching his reputation as one of the best clutch players of all-time.
It was Pujols' 20th career walk-off hit, tying him with Red Sox designated hitter David Ortiz for the most since 2000 and third most in the Majors since 1969. The all-time leader for walk-off homers is Jim Thome with 13, while Pujols is tied with Babe Ruth, Mickey Mantle, Stan Musial, Frank Robinson and Jimmie Foxx for second.
"You'd have to look at David Ortiz, Albert, those guys," Angels manager Mike Scioscia said when listing off some of the game's best clutch hitters. "It seems like late in the game, they want to be up there and they're going to give you a good at-bat. Obviously, a huge hit for Albert."
The Angels appeared to have the game locked up in the ninth, but reliever Cam Bedrosian's string of 25 consecutive scoreless appearances was snapped when he gave up a game-tying RBI single to Stephen Vogt.
Mike Trout jump-started the game-winning rally by sliding headfirst to avoid the tag at first after an errant throw, and the window of opportunity cracked open again for one of the game's best.
Pujols worked a 3-1 count against A's reliever Ryan Dull, eventually focusing on what a former manager had told him as he swung and drove a 91-mph fastball into the left-field stands to end the night.
Pujols recalled a 2010 game back during his days with the Cardinals against the Mets, a 20-inning bout that his club eventually lost, 2-1. Pujols recounted a particular question from his manager, Hall of Famer Tony La Russa.
"You know how many pop-up outs we've hit and they've hit [in extra innings]?" said La Russa.
"You realize there's a lot of fly balls, because everybody wants to be a hero," Pujols said. "I learned early in my career that in that situation I should just try to put a good swing. Whatever happens, happens.
"I've had so many at-bats in that situation where early in my career I'd try to do too much and try to hit a home run, but as I was getting older and getting experience I've realized that you just go out there and try to put a good swing and start the rally with a base hit. That's the main goal."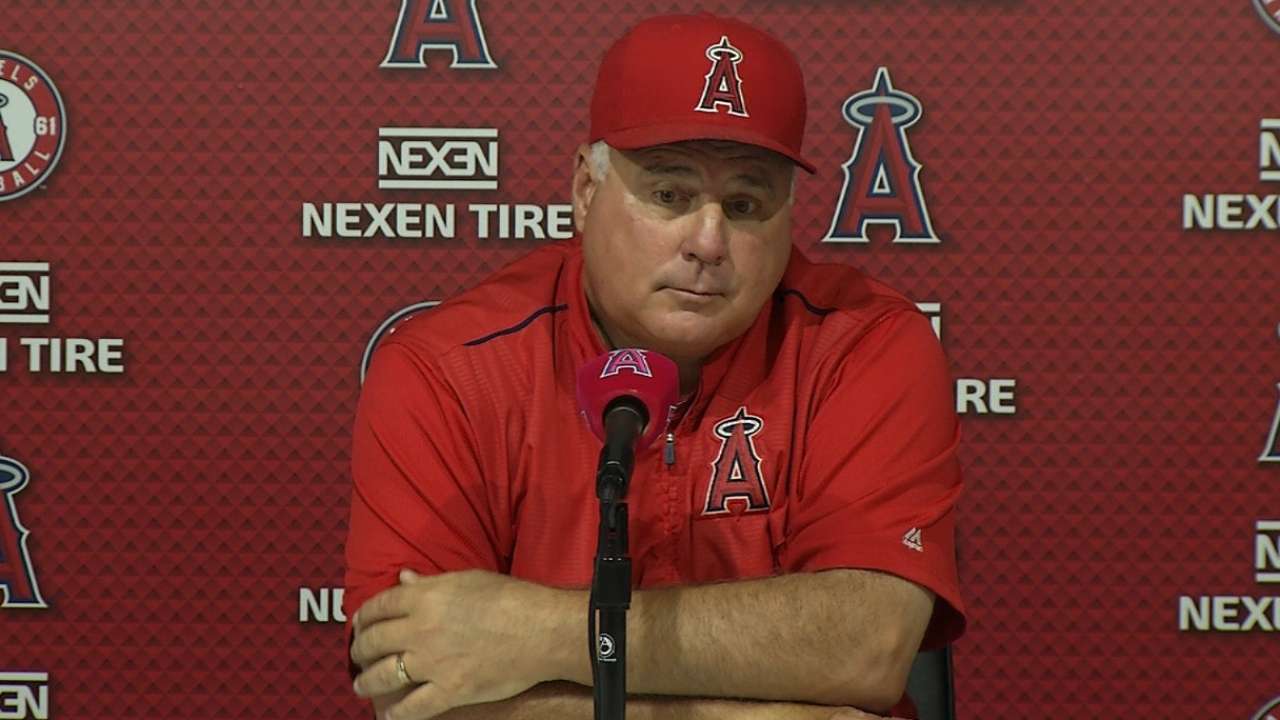 It's also become the main goal of the Angels, whose offense has turned a corner since the calendar turned to the month of July. During that month, the team led the Majors in batting average (.292), batting average with runners in scoring position (.329) and runs per game (5.8) while also ranking third in OPS (.797). They had three individual leaders, with third baseman Yunel Escobar leading the league in hits (37), Trout in runs (26) and Pujols in RBIs (31).
The offensive surge has continued into August thus far. On Tuesday night, it was first baseman Jefry Marte and catcher Jett Bandy going deep to carry the burden. On Wednesday, Marte went deep again along with Cliff Pennington before Pujols' game-sealing homer.
"That's something that we weren't doing early," Pujols said. "We were losing some tough series, but it seems like after the break every night it's been a different guy getting big hits for us. Hopefully we can continue to do it the rest of the year and see where we're at."
Fabian Ardaya is a reporter for MLB.com based in Anaheim. This story was not subject to the approval of Major League Baseball or its clubs.