MLB rules Franco's walk-off drive fielder's choice
After changing scoring of winning RBI to hit, league reverts to original ruling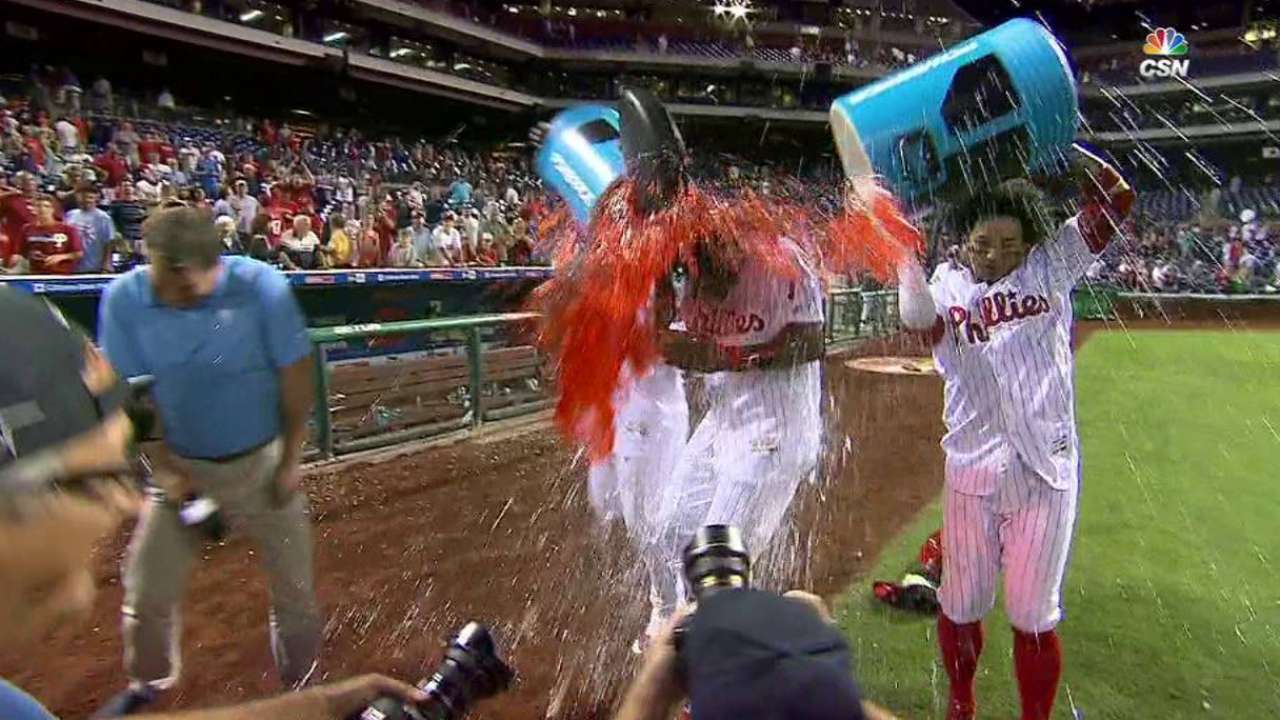 PHILADELPHIA -- Maikel Franco hit a baseball into right-center field in the 12th inning to beat the Giants on Wednesday night at Citizens Bank Park.
He touched first base and sprinted straight into the outfield to avoid a crush of teammates and celebrate the 5-4 victory.
"I get excited," Franco said following the walk-off win.
He had reason to be excited. The Phillies have won the first two games of a three-game series against the Giants, scoring eight runs in five innings against Madison Bumgarner on Tuesday and four runs in 7 2/3 innings against Johnny Cueto on Wednesday. In four starts against the Phillies this season, Cueto and Bumgarner have a 6.12 ERA. They have a 2.10 ERA against everybody else.
"Next time we're going to have to put a limit on how far [Franco] can run," said Tommy Joseph, who scored the winning run from third base. "That was absurd."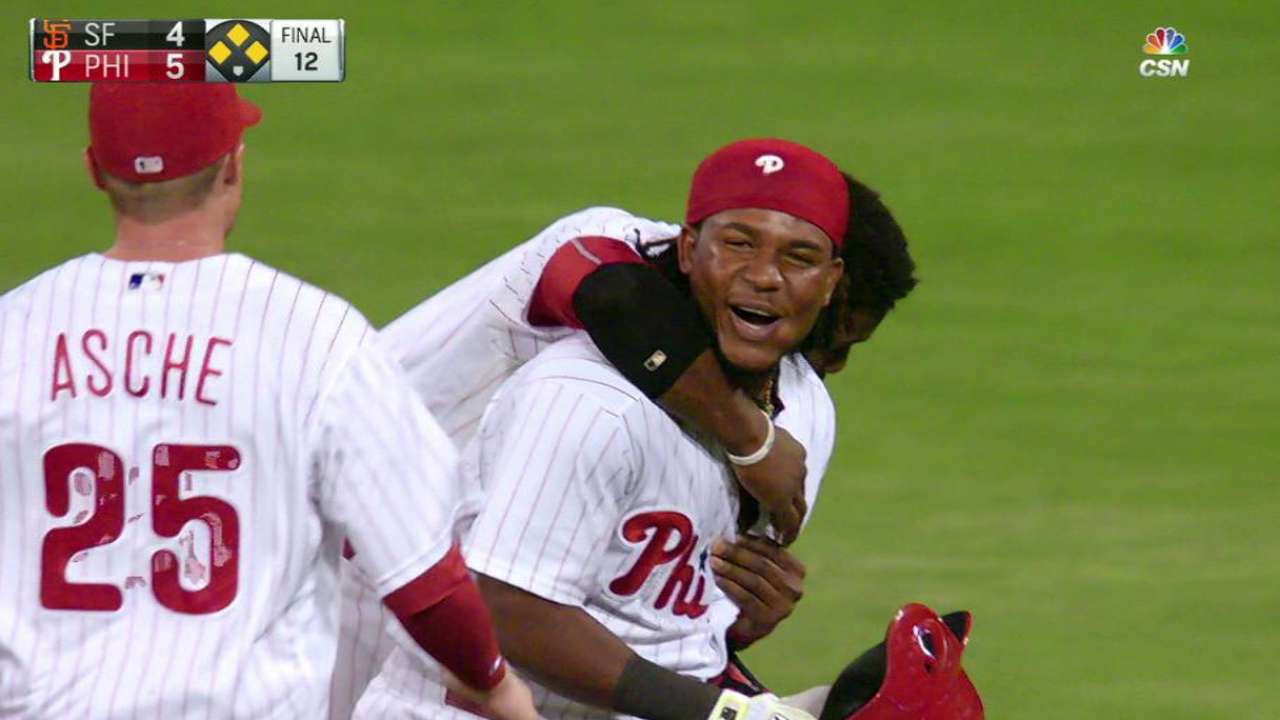 Phillies right fielder Aaron Altherr got caught up in the moment, too. He was on first base when Franco hit the first pitch from Jake Peavy into the outfield. He knew Joseph had scored the game-winning run so he stopped running and never touched second.
He joined the celebration with his teammates instead.
But he soon noticed Giants right fielder Hunter Pence retrieve the baseball in the outfield and hurriedly throw to second where Giants catcher Buster Posey stepped on the bag. Second-base umpire Dale Scott signaled an out.
"I was like, what's going on here?" Altherr said. "Then when I saw him throw to second I was like, 'Oh, crap.'"
The official scorer initially ruled Franco's hit a fielder's choice because Altherr stopped running, taking away Franco's first official walk-off hit.
"I definitely have to buy Maikel some dinner or something," Altherr said.
Franco said he couldn't have cared less.
"Not at all," he said with a big smile. "Not at all. It's more important that we won the ballgame. I got my RBI, we won the ballgame, that's what this game is all about."
Franco was later awarded the walk-off hit, albeit briefly. The official scorer reversed his initial stance upon discovering Rule 5.08 (b), which states that the game is finished once the winning run scores and the batter reaches first base safely. In short, it didn't matter that Altherr never touched second.
But on Thursday, the ruling changed for a third time. MLB officially ruled the play a fielder's choice, again taking away the hit.
Franco will have to wait for his first career walk-off hit after all.
The rally started when Joseph got hit by a pitch to start the inning. Phillies reliever Luis Garcia then dropped a perfect sacrifice bunt in the front of the mound. Garcia joined the team this week after the Phillies designated Andrew Bailey for assignment Tuesday.
Garcia had not held a bat since Spring Training.
"I start Monday," Garcia said about giving the Phillies' pitchers bunting lessons.
Cesar Hernandez walked to put runners on first and second with one out when Altherr reached on an error by third baseman Eduardo Nunez to load the bases.
Franco ended the game on the next pitch.
Todd Zolecki has covered the Phillies since 2003, and for MLB.com since 2009. Read his Phillies blog The Zo Zone, follow him on Twitter and listen to his podcast. This story was not subject to the approval of Major League Baseball or its clubs.