Klein has 'OK' outing in spot start for Phillies
Right-hander sent back to Triple-A after allowing four runs in five innings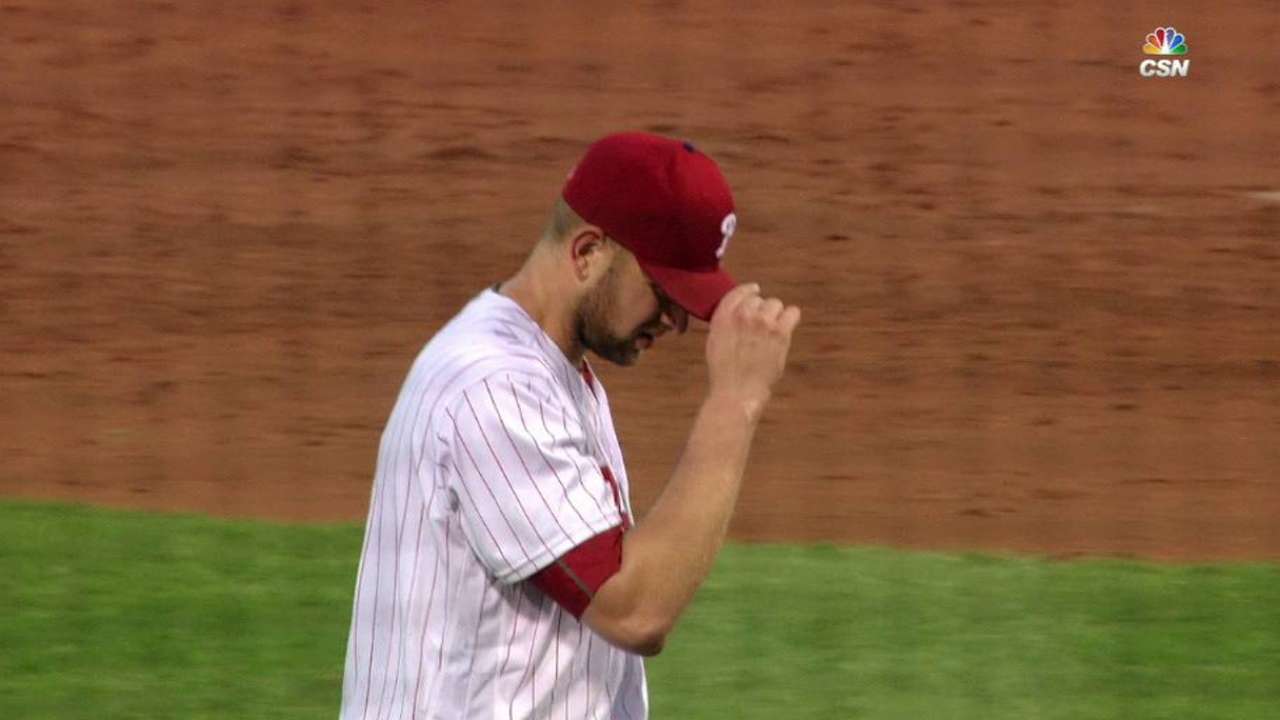 PHILADELPHIA -- It may feel as though Phil Klein spent less time on the Phillies roster than he did on the mound in Wednesday's 5-4 walk-off win over the Giants.
It took the slow-paced Klein more than an hour and a half of game time to finish an unremarkable five innings on 90 pitches, eight of which the Giants connected with for hits. Of course, the game progressed for another seven innings for a season-long 12-inning, four-hour affair. Klein also walked one and allowed four to come around to score.
"He did OK," manager Pete Mackanin said. "He showed some good breaking stuff. He didn't have great command, but he held them down and battled his way through it."
The Phillies optioned Klein back to Triple-A Lehigh Valley following his start, almost certainly clearing way for the organization's top pitching prospect, Jake Thompson, to make his Major League debut in Los Angeles.
Mackanin was noncommital, but he didn't shy away from hinting that Thompson's time was sooner rather than later.
"I think that might be a good solid guess," Mackanin said before the game. "That's probably a probability."
Klein received the call to start after Tuesday's IronPigs game. Mackanin didn't say to Klein if it would be strictly a spot start, but he didn't indicate it would be anything more pregame. He referenced Wei-Yin Chen's eight-inning shutout of the Phillies last season, after which he was optioned.
"They just said, 'Hey, here's the ball, here's the mound. Go for it,'" Klein said.
Klein was making his third career big league start. His second stint in a Major League rotation eerily mirrors his first.
The Rangers, from whom the Phillies claimed Klein off waivers in June, called upon Klein to fill in for the injured Ross Detwiler in May of last year. After a promising starting debut, holding the Red Sox to one run in 5 1/3 innings, Klein imploded in his second start. The Indians scored seven runs (six earned) in two innings off him, and Klein was promptly removed from the rotation.
Although Klein's third career start Wednesday was neither as good as his first nor as bad as his second, it's unlikely he'll get a fourth -- barring an unforeseen injury.
After his ugly outing against Cleveland, the Rangers replaced him with a promising pitching prospect. Chi Chi Gonzalez not only took Klein's spot starts, he stole Detwiler's rotation spot, not allowing a run for his first 14 2/3 innings. Klein made three more bullpen appearances for the Rangers in 2015.
Thompson has given up more than one run just once in his last seven starts at Triple-A.
Evan Webeck is a reporter for MLB.com based in Philadelphia. This story was not subject to the approval of Major League Baseball or its clubs.