Weaver passes Witt for 3rd in innings pitched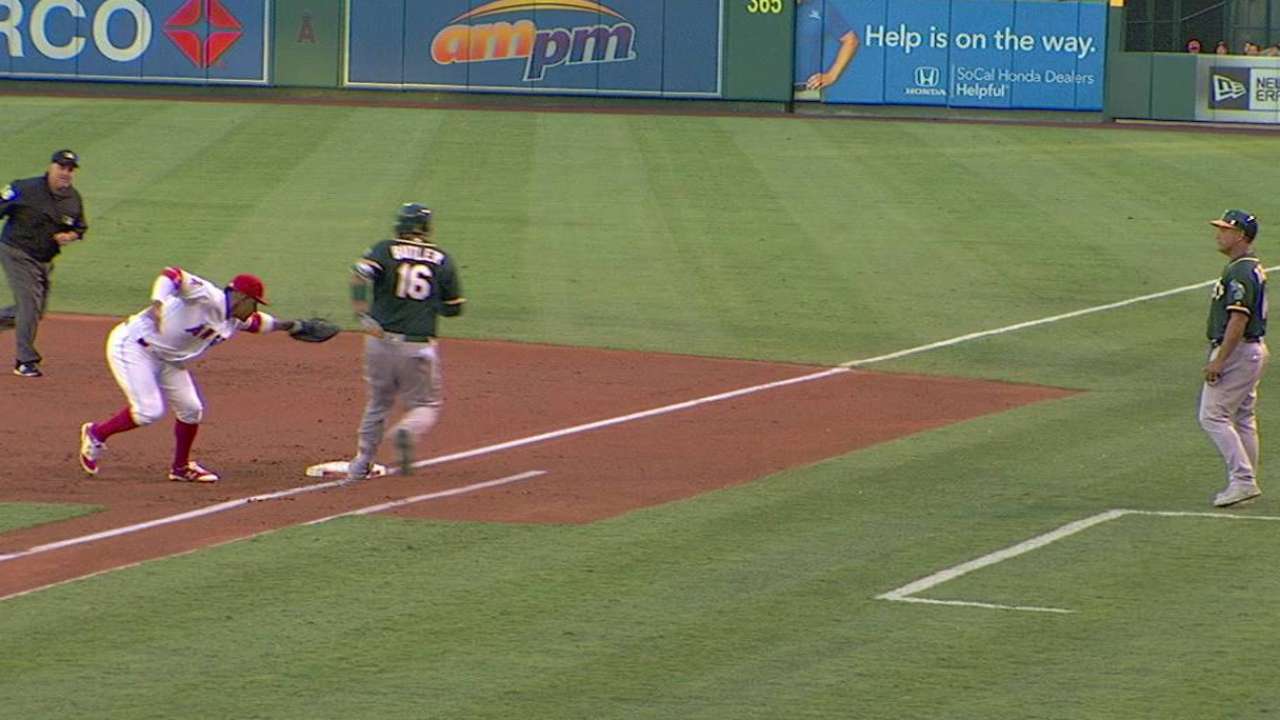 ANAHEIM -- Throughout his career with the Angels, right-hander Jered Weaver has been able to do two things -- log innings, and do so effectively.
While the quality of his outings may be beginning to fade (he now has a 5.11 ERA), Weaver again showed his durability on Wednesday night, passing Mike Witt for third in franchise history in innings pitched. Weaver passed Witt with a double-play ball from Athletics designated hitter Billy Butler for the first two outs of the second inning of Wednesday's 8-6 win against Oakland.
Ahead of Weaver are Chuck Finley, who has 2,675 innings with the club, and Nolan Ryan, with 2,181 1/3 innings pitched.
Weaver once again battled through the performance, slogging through six innings to now sit at 1,970 1/3 for his career and giving up four runs (three earned) while walking none and exiting the game in line for the victory until Cam Bedrosian's blown save in the ninth inning.
"Weav did what he does," Angels manager Mike Scisocia said. "He competes. He didn't give in, had a couple tough situations and made some pitches. He got some big outs and grinds his way through six innings to give us a chance to win."
It wasn't easy, just as it has been for him all season. Weaver's fastball velocity peaked at 85.8 mph in the first inning, and it rarely hovered that high as he continually pitched to contact.
Of the 531 batters that Weaver has faced this season, 430 have managed to put the ball in play. By comparison, only 291 of 527 men who have faced Marlins flamethrower Jose Fernandez have managed to put the ball in play.
"I had to battle," Weaver said. "I felt pretty good for the most part, and there were some balls that just fell in. I just had to battle and I kept us in the game and we were able to pull it out in the end."
Despite this, the innings continue to pile up. Weaver has now thrown 123 1/3 innings this season, third on the club behind right-hander Matt Shoemaker and Ricky Nolasco, who has thrown none of his 124 2/3 innings for the Angels after being acquired in a trade on Monday.
For now, Weaver -- who is a free agent after this season -- will have to make do with what he's got and the progress he can make out of it.
"The fastball command was able to settle in here and there [tonight]," Weaver said. "The changeup was good tonight, which it hasn't been too good in the past. That was a positive. Mechanically, everything felt good, so I just keep working hard and keep grinding."
Fabian Ardaya is a reporter for MLB.com based in Anaheim. This story was not subject to the approval of Major League Baseball or its clubs.