Crowd sourced: Fans carry J.D. to winning HR
Tigers slugger comes through in clutch in first game back from DL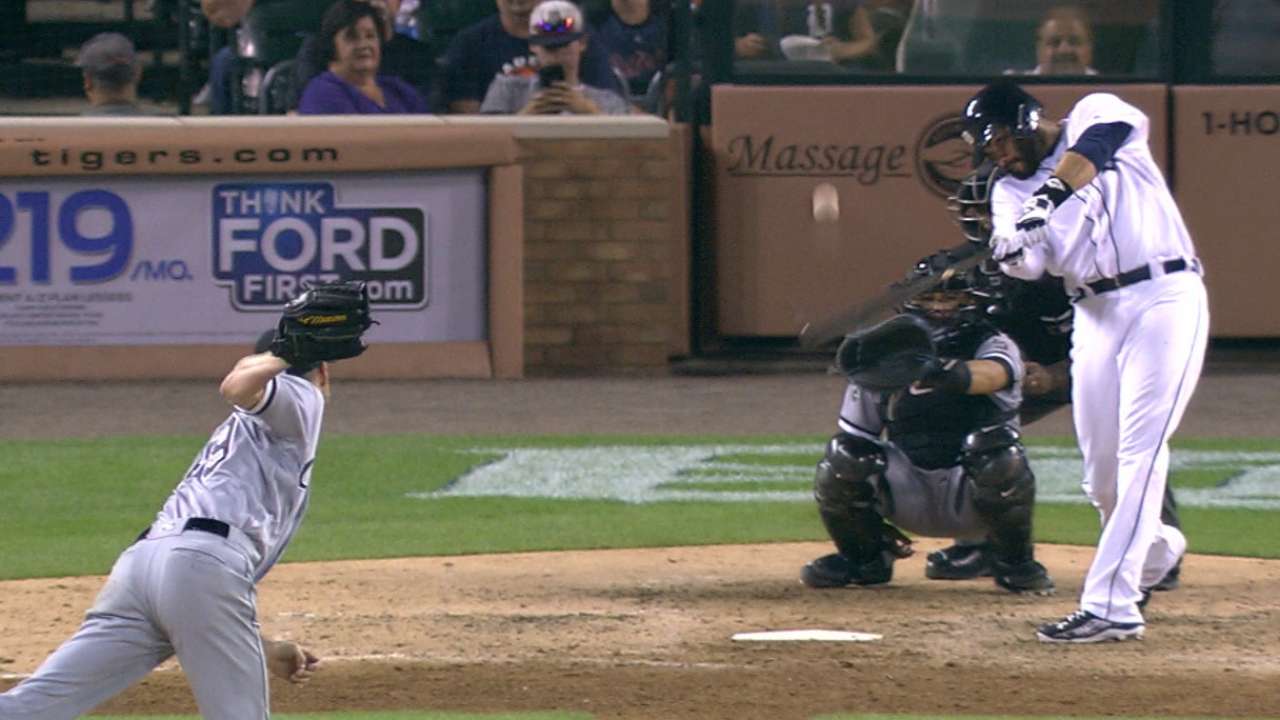 DETROIT -- J.D. Martinez hadn't seen a Major League pitch in about six weeks when he stepped into the on-deck circle heading into the bottom of the eighth inning Wednesday night. He had a week-long Minor League rehab assignment, but he hadn't seen the likes of Chris Sale staring back at him from the mound.
Then came the roar from the crowd.
"I wasn't expecting to get that kind of ovation that they gave me when I was walking in," Martinez said. "That was awesome. If I could thank the fans individually, I would thank them. That was really cool."
Asked how his first big league fastball since June 16 ended up in the shrubs of Comerica Park's center field, turning a pitching duel into a 2-1 Tigers win over the White Sox, he went back to the ovation. He knew his history of success against Sale, including a go-ahead, two-run homer here June 4 -- 12 days before his collision with the fence at Kauffman Stadium broke a bone in his elbow -- but that became secondary for him.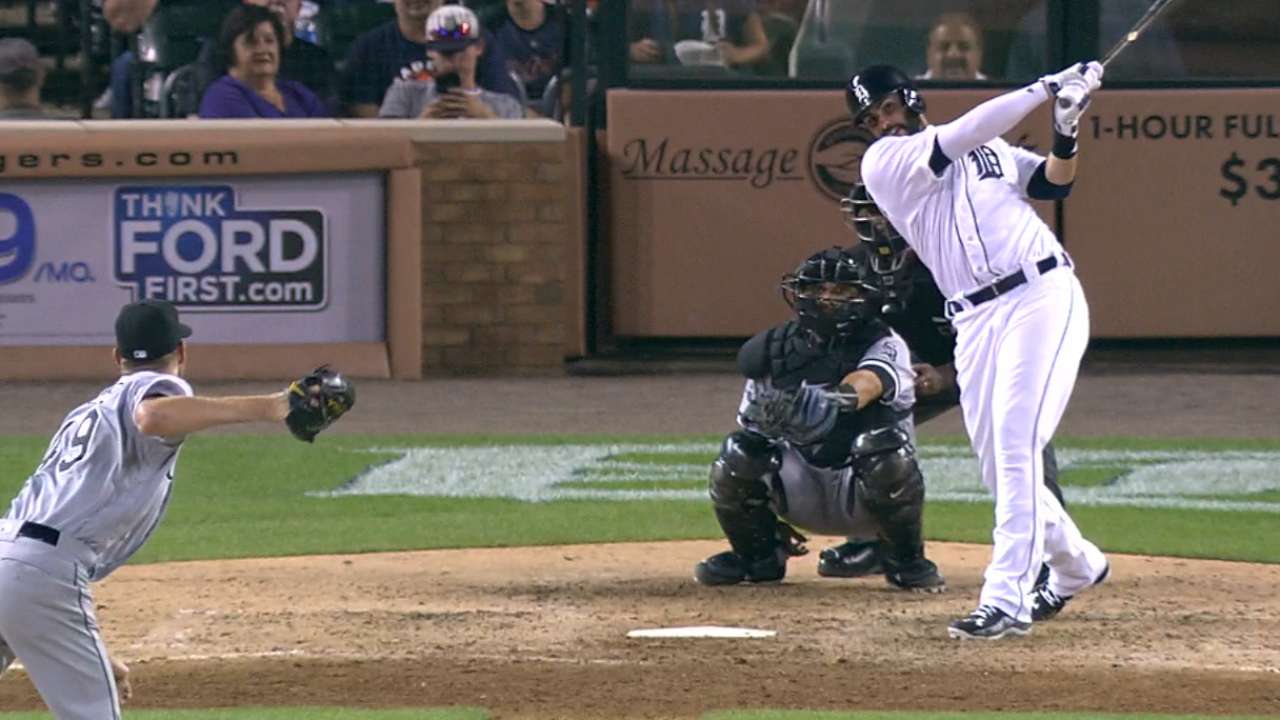 Once he heard the reaction and stepped into the box, he said, he went on reactions.
"I think at that point, your adrenaline takes over," Martinez said. "It's almost like you're not thinking about anything. You're just playing the game. That's the crowd, my first game back, the adrenaline.
"That's something that you can't replicate on a daily basis. I feel like your body would drain, you'd be so exhausted, if you had that much adrenaline every at-bat. You just feed that adrenaline."
Sale let him enjoy the initial ovation for an extra second or two. Then he fired a first-pitch fastball, just like June 4. This one, however, was more over the middle of the plate.
"J.D. got the barrel to it," manager Brad Ausmus said. "It was kind of in his sweet spot, a little bit towards the bottom of the strike zone."
Sale didn't know the exact location, but his reaction as the ball left the bat made it clear it wasn't where he wanted it.
"I haven't looked at it," Sale said, "but obviously not good enough."
Those who saw it as it happened won't soon forget it.
"You don't see many no-doubters to center field here," Ausmus said. "The wind was blowing in, and it was still a no-doubter."
Said Ian Kinsler: "That was like a movie tonight. That was special. That was something I've probably never seen before."
Closer Francisco Rodriguez saw its path to the shrubs, an estimated 434-foot drive according to Statcast™. And then he heard the roar as he scrambled to warm up.
"The crowd was electric," Rodriguez said. "The atmosphere after that, to see the crowd go wild, it took only five pitches to get ready. That was something. Playing for a few months with this club, I had not seen the crowd get into the game like that."
They kept roaring as Martinez rounded the bases and embraced his teammates in the dugout. Once Justin Verlander talked him into a curtain call at the end of the inning, they roared again.
How does that happen? How does someone who hasn't played since June step back into the batter's box in August and create a moment like October?
"When you get the crowd into it, it makes it that much more special," Martinez said. "That's what you play for, when the crowd gets like that. That's why you hear guys in here always stressing about the fans here. We want the fans to be in it, because when they're in it, it makes you kind of live up to it. You feed off that energy, and that's how I felt like it went right there."
Jason Beck has covered the Tigers for MLB.com since 2002. Read Beck's Blog, follow him on Twitter @beckjason and listen to his podcast. This story was not subject to the approval of Major League Baseball or its clubs.