Ramirez to miss remainder of Seattle series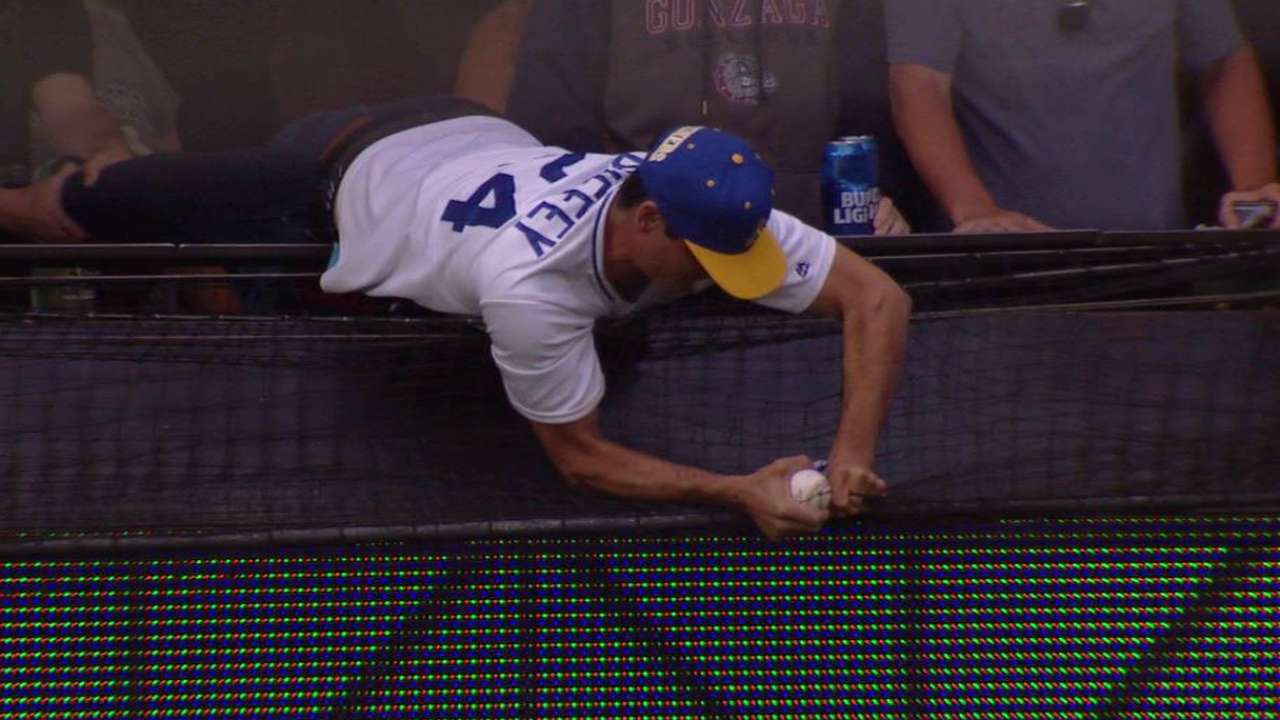 SEATTLE -- The Red Sox will be without Hanley Ramirez for at least the final two games of this four-game series in Seattle, as the first baseman heals up following a freak fall on his way back to the clubhouse after Tuesday's 5-4 loss.
Ramirez suffered an injury to his left wrist when he stumbled going down the dugout steps and then broke his fall.
"I just slipped going down the steps and I don't know what happened," said Ramirez, who had the wrist heavily bandaged after Wednesday's 3-1 loss to the Mariners. " We did an exam and it's a lot of soreness, a lot of sore in there. A little better after treatment. I'll get here early tomorrow and see how I feel. I don't have that much swelling. It's just sore all the way around."
The good news is that an examination performed on Wednesday revealed no structural damage.
"Structurally, he's sound," said Red Sox manager John Farrell. "He's got some soreness in there and he's day to day. We'd expect it to be a couple of days at least but he went down in here pretty hard last night and he broke his fall by reaching back [on a railing]. We wanted to be a sure we had a full exam that included all that imaging before we made any kind of comment."
A team hand specialist back in Boston reviewed the MRI taken in Seattle.
With Ramirez out, Travis Shaw will play first base, with Aaron Hill getting the start at third.
The question is what will happen if Ramirez is unavailable at Dodger Stadium this weekend.
"I want to be back in the lineup. That's what I'm here for. It's no fun when you're watching the game from the bench. It's not me. I'll go back and do whatever it takes to get ready. I mean, we took X-rays, MRI, everything is fine. It made me feel better a little bit. Just wait till the pain goes down a little bit."
Originally, Farrell had planned on not playing David Ortiz at first base at all this season, unless the Red Sox make the World Series. But if Ramirez's potent bat is out of the mix, there could be a change in stance regarding Ortiz.
"That's something I've got to talk further with David now after we've gotten the information on Hanley," said Farrell. "I've yet to have that conversation. We just got the final update on this after Dr. Leibman back in Boston reviewed it really minutes ago."
WORTH NOTING
• Right-hander Koji Uehara will try to initiate some throwing when the Red Sox return from this West Coast trip next week. The reliever has been out since July 20 with a right pectoral strain. There is no guarantee Uehara will pitch again this season, but the club should have a better idea when he sees how his body responds to throwing.
• Outfielder Chris Young continues to make progress from the right hamstring injury he suffered on June 23. If things remain on schedule, Young will go on a Minor League rehab assignment next week. Given how much time he's missed, he will need to play a bit in the Minors before being activated.
Ian Browne has covered the Red Sox for MLB.com since 2002. Follow him on Twitter @IanMBrowne and Facebook. This story was not subject to the approval of Major League Baseball or its clubs.