Richards to begin testing injured elbow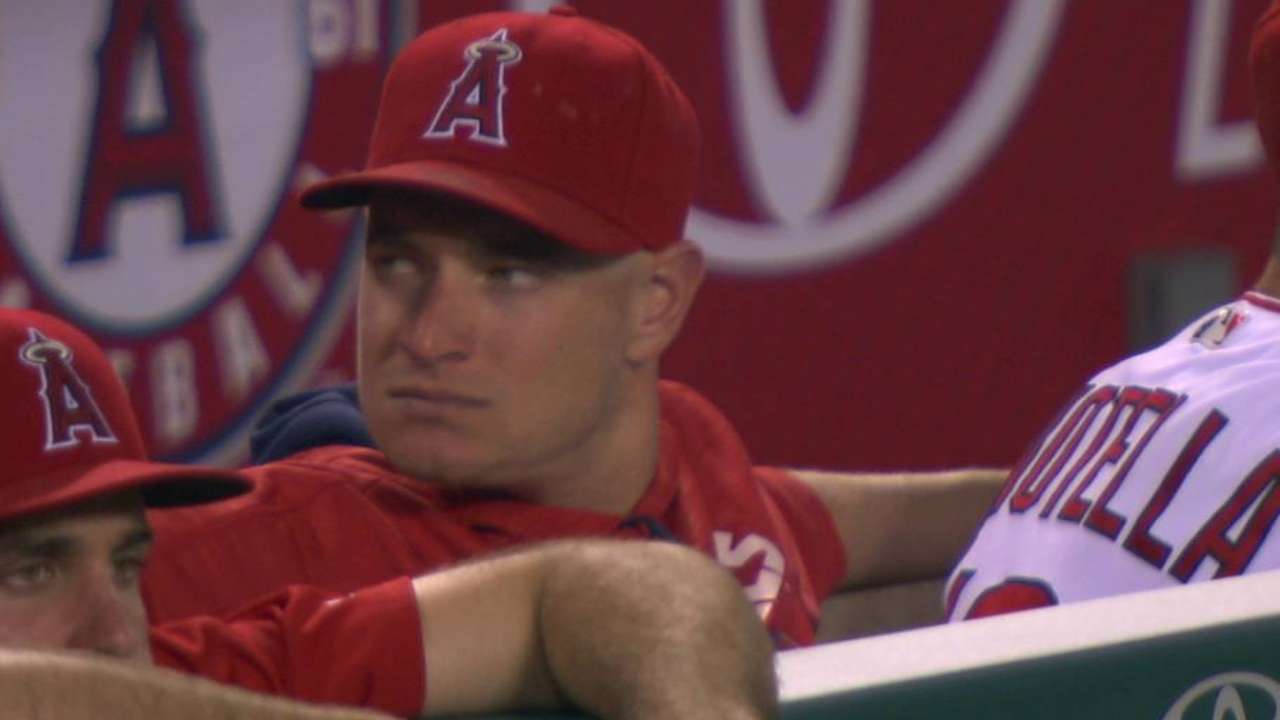 ANAHEIM -- Angels right-hander Garrett Richards' decision to have stem-cell injections continues to yield promising results, as an ultrasound taken Wednesday revealed more progressive healing on the torn ulnar collateral ligament in his right elbow.
Richards, who received the injection as a means of avoiding Tommy John surgery that would knock him out for this season and next year, has been cleared by doctors to begin a series of stress tests on his elbow. He will receive another ultrasound in the next 10-14 days to see if the exercises did any damage, and if all goes well, he will be cleared to throw a baseball for the first time since his May 6 diagnosis. Richards originally opted for the surgery before deciding on the stem-cell injection and undergoing the procedure on May 17.
"In my gut, I felt like I was OK, but again, you don't know anything until you see an image," Richards said. "After having it imaged and having the results, I like where it's at. There's still work to be done, but it is healing and it is moving in the right direction."
Richards said he has continued to lift weights and exercise with the elbow since suffering the injury and has been pain-free. He will now work on exercises that focus on the internal rotation of his elbow, mimicking the action of throwing a baseball and putting the elbow under stress.
Angels general manager Billy Eppler said Dr. Steve Yoon, who performed the stem-cell injection on Richards, suggested that they put the elbow under stress before beginning a throwing program.
"The hope is to pick up a baseball, but we want to test the elbow and stress it first and see before actually picking up the baseball," Eppler said. "I think you can learn a little bit more from testing it and putting the stress on that when you're throwing at 60 feet and throwing at 50 percent or 60 percent of your effort."
If all goes well in two weeks and the ultrasound clears Richards to throw, he said it is a "must" that he be able to throw competitive innings off a mound before closing out the year. Eppler agreed, saying he would like to see Richards pitch in an instructional league or the Arizona Fall League to get a gauge on how he's feeling heading into the offseason.
"I need to be able to get on a mound and throw 90-95 percent for several pitches and not only feel comfortable with myself and feel comfortable going into the offseason with what I have," Richards said.
Richards said he feels optimistic he will not need Tommy John surgery, but he did not rule out having the procedure if he doesn't feel comfortable while throwing. The cutoff date for Richards to have surgery and still be available for the 2018 season is the first week of November, Eppler said.
"At any point, if I feel anything or if I can't do anything off the mound that I could do before I got hurt, there's no point in not having surgery," Richards said. "If I can't be myself, then there's no reason to let this linger."
The Angels are in dire need to reset their rotation heading into 2017, and they hope to have Richards in the mix. With Andrew Heaney and now Nick Tropeano undergoing Tommy John surgery that will knock them out until at least 2018 and others leaving via free agency, the only locks to be members of the rotation should be Matt Shoemaker, Tyler Skaggs and the newly-acquired Ricky Nolasco. Others who could contend for spots would be left-hander Nate Smith and right-hander Alex Meyer, who are both at Triple-A Salt Lake and ranked the club's Nos. 5 and 12 top prospects, respectively.
While there is still no guarantee that Richards' decision to take the conservative route will work, Wednesday's results remain optimistic.
"Stem cell is a pretty remarkable thing," Richards said. "My body healed itself, so that's awesome, but we're not out of the woods yet. We'll see what happens moving forward, but today is a good day."
Fabian Ardaya is a reporter for MLB.com based in Anaheim. This story was not subject to the approval of Major League Baseball or its clubs.