Youth is served with Heredia and Diaz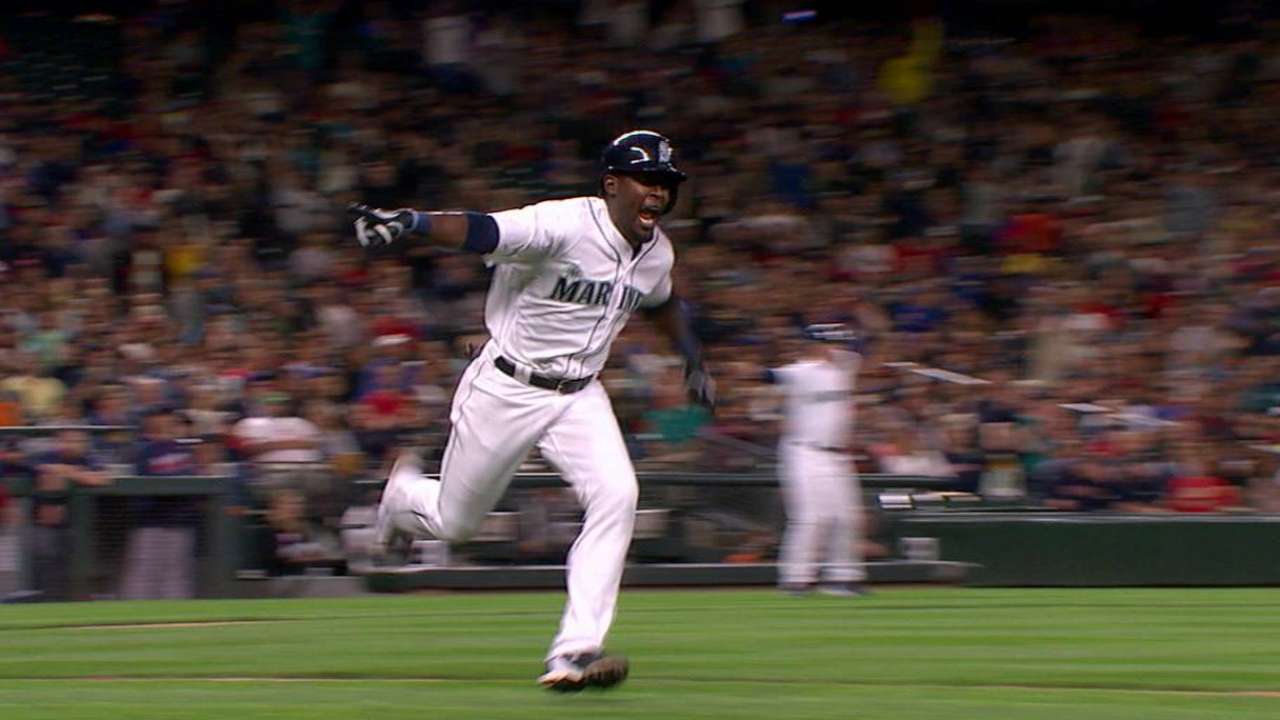 SEATTLE -- The rookies recharged the Mariners on Tuesday after the club suffered consecutive one-run late-inning losses Sunday and Monday.
"We have a veteran team and guys that have a proven track record and all the good things that go with that. But also [there] is the energetic young player that really puts energy into the veteran player," said Mariners manager Scott Servais.
Rookies Guillermo Heredia and Edwin Diaz brought the energy Tuesday by logging a couple of firsts: Heredia's first Major League hit and RBI in the eighth inning, and Diaz's first save. The team rallied behind them for a 5-4 comeback victory against the Red Sox.
Heredia had come close to getting his first hit a couple times before. Earlier in the game, he lined out to third.
"I've never felt so many guys pushing or trying to help a kid get a hit," Servais said. "It meant a lot to everybody."
With runners on first and second in the eighth, Heredia poked a fastball into right field for an RBI single to put the Mariners just two runs behind the Red Sox. He said he could feel the support from his whole team.
"It's really nice," he said through translator Fernando Alcala. "It's encouraging."
Once the Mariners secured a 5-4 lead, Diaz made his first appearance as closer in place of Steve Cishek. He held the Red Sox and struck out three to earn the save. He has 52 strikeouts this season and, according to the Elias Sports Bureau, has reached 50 career strikeouts in fewer innings than any pitcher to have made their debut since 1893.
Cishek and Tom Wilhelmsen showed Diaz their support with a Gatorade bath.
"That's Steve Cishek," Servais said. "That's why you believe in guys and you stick with them. And he is a consummate pro and a team guy. It's great to see. And it's something that he and Wilhelmsen did, which is great. Both those guys have closed here. And it made Eddie feel good too."
Worth Noting:
• Taijuan Walker will return to the rotation this weekend. Servais said Walker could start Saturday, pushing James Paxton to Sunday, depending on how Walker's bullpen session went. Walker has been on the 15-day disabled list since July 5 with tendinitis in his right foot.
• The Mariners will need to clear a spot on the roster for lefty pitcher Ariel Miranda, who will be promoted from Triple-A Tacoma to start Thursday. Seattle could option reliever Donn Roach to Triple-A. The Mariners brought him up to deepen a well-used bullpen following their 12-inning 7-6 loss in Chicago Sunday. Roach got the win Tuesday. He allowed one run on one hit in two innings.
The Mariners also have to decide who they will take out of the rotation. Some of that will depend on Miranda's start. Miranda has shown flexibility as a starter and a reliever, so if he doesn't win a starting role, the Mariners could use him in the bullpen or send him back to Triple-A.
Maddie Lee is a reporter for MLB.com based in Seattle. This story was not subject to the approval of Major League Baseball or its clubs.