Outstanding Odo dishes goose eggs to Royals
Right-hander extends scoreless streak to 20 2/3 innings with 2-hit start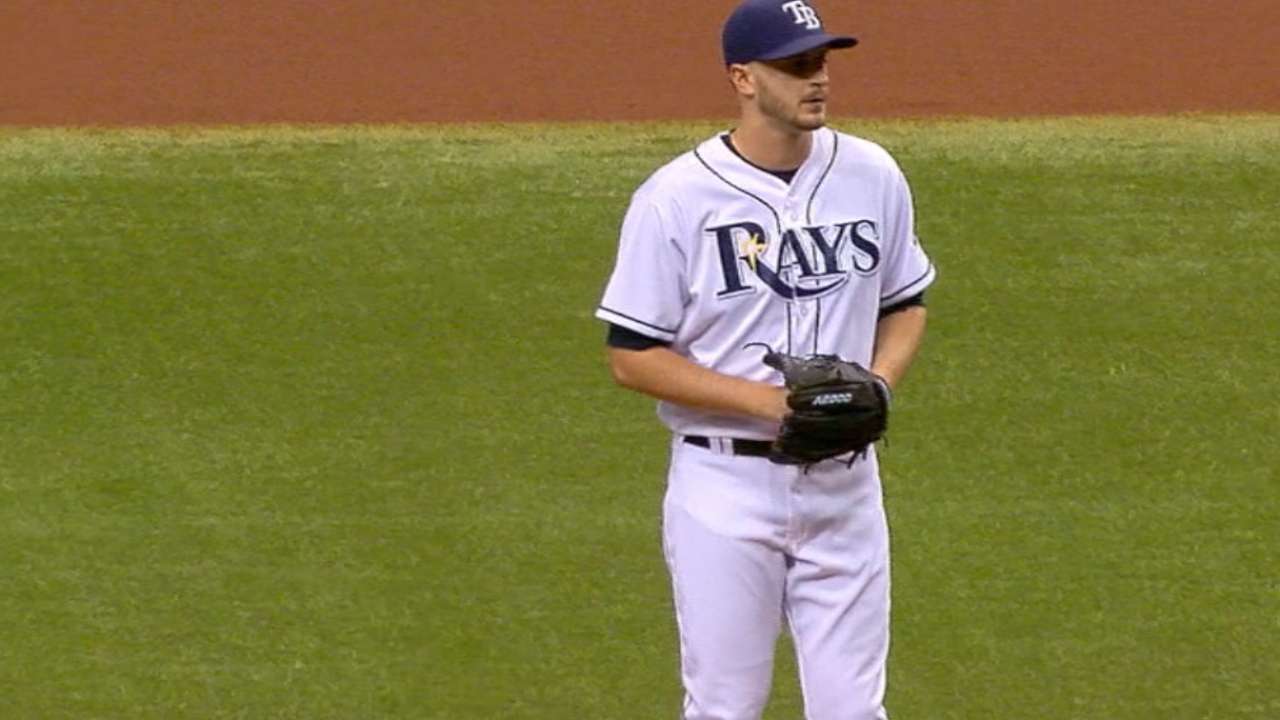 ST. PETERSBURG -- A reporter once told Jake Odorizzi that "Eggs" would be a great nickname for him as in "Eggs Odorizzi."
The Rays right-hander pooh-poohed the idea of sounding like a breakfast order, but now the name might begin to gain some traction given the fact he continues to put goose eggs on the scoreboard.
Odorizzi added six more in the Rays' 12-0 win over the Royals on Wednesday night, extending his scoreless innings streak to 20 2/3 innings.
"I mean I don't really know if there's one certain thing I can put a finger on [that I'm doing differently]," Odorizzi said. "Just getting ahead a little better. Fastball's had some good life. My split's been tremendously better than it was at the beginning of the year.
"Just a culmination of all of those couple of things. I would attribute it to one thing. At the same time, I don't really care. I just want it to keep going."
He has not been scored upon in his last three starts. J.P. Howell set the franchise record with 27 1/3 scoreless frames in 2012, and Alex Cobb holds the record for a starter with 24 2/3 (2014).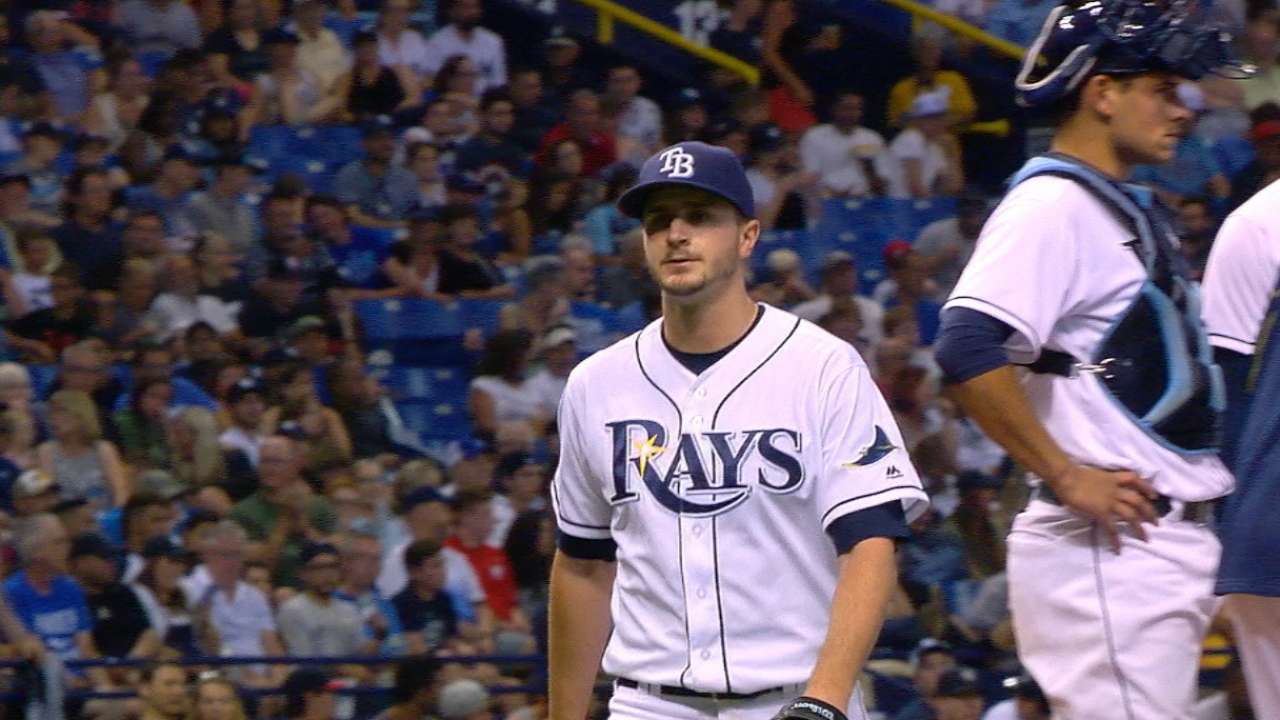 "Odo was outstanding again," Rays manager Kevin Cash said. "He's really gotten on a nice run here, which has been great to see. He had the fastball working at the top of the zone and really threw some good splitters, change, whatever you want to call them, to get some finish at the bottom."
Odorizzi also tied the club record with three consecutive scoreless starts, but he became the first to do it within the same season and uninterrupted by a disabled list stint.
"I just want to go out there and do my best every time out for the rest of the guys in the room," Odorizzi said. "And it was nice to be staked to a lead early on. Obviously it got bigger as the game went on. But things have been going good recently, so just keep going."
In his previous two scoreless starts, Odorizzi did not walk a batter either. When he finally walked Eric Hosmer with two outs in the fourth, it was the first walk he'd allowed since walking Manny Machado in the fifth inning of his July 17 start against the Orioles.
According to the Elias Sports Bureau, Odorizzi is the first Rays pitcher in team history to record consecutive scoreless starts without a walk.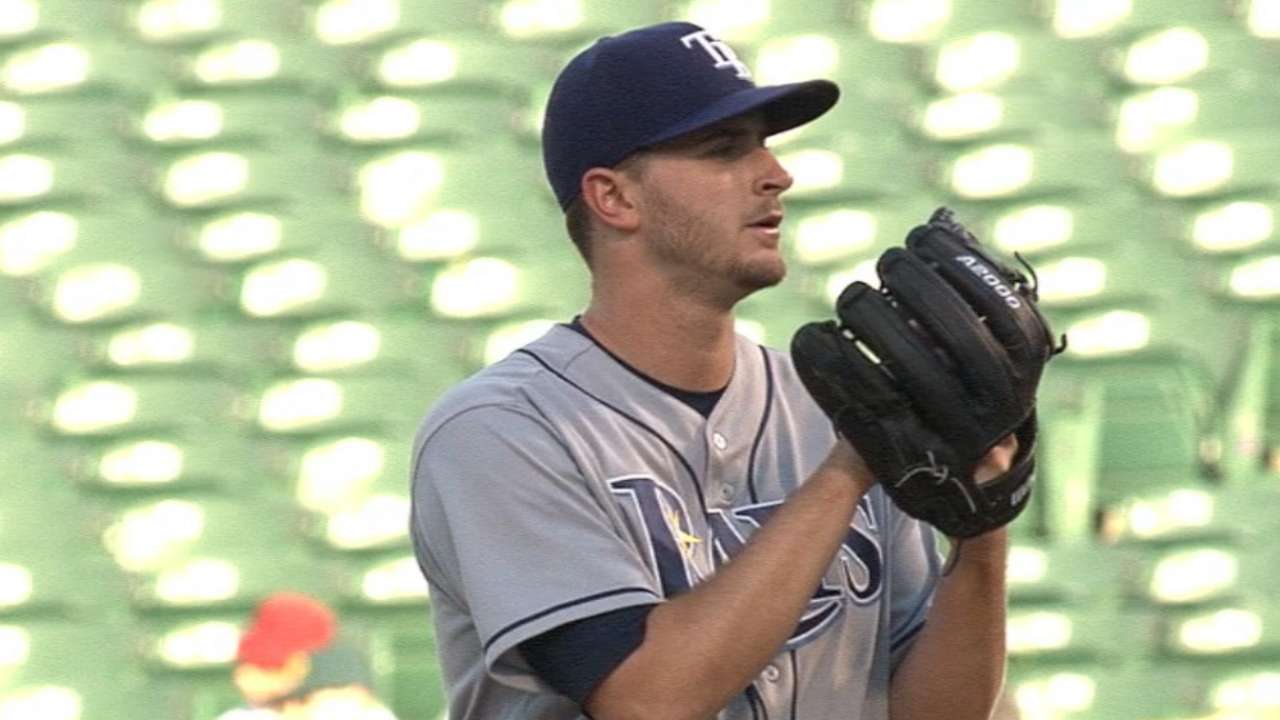 Odorizzi told reporters that he's pretty much the same pitcher he was earlier in the season.
"I've felt good pretty much this whole year," Odorizzi said. "Things were just rough early and now they're starting to even out later on. So I feel good. I feel as good now as I did earlier in the season, just having better results. Just hope it stays this way and my body keeps feeling good."
Odorizzi did allow that he felt a "little bit" of frustration that the good results have not been there all season.
"Obviously we'd all probably like it to be like this from the start of the season to the end," Odorizzi said. "But it's nice to be on [a roll] now. Just keep plugging away. I knew things would get better."
Bill Chastain has covered the Rays for MLB.com since 2005. This story was not subject to the approval of Major League Baseball or its clubs.