Story confident thumb surgery will be success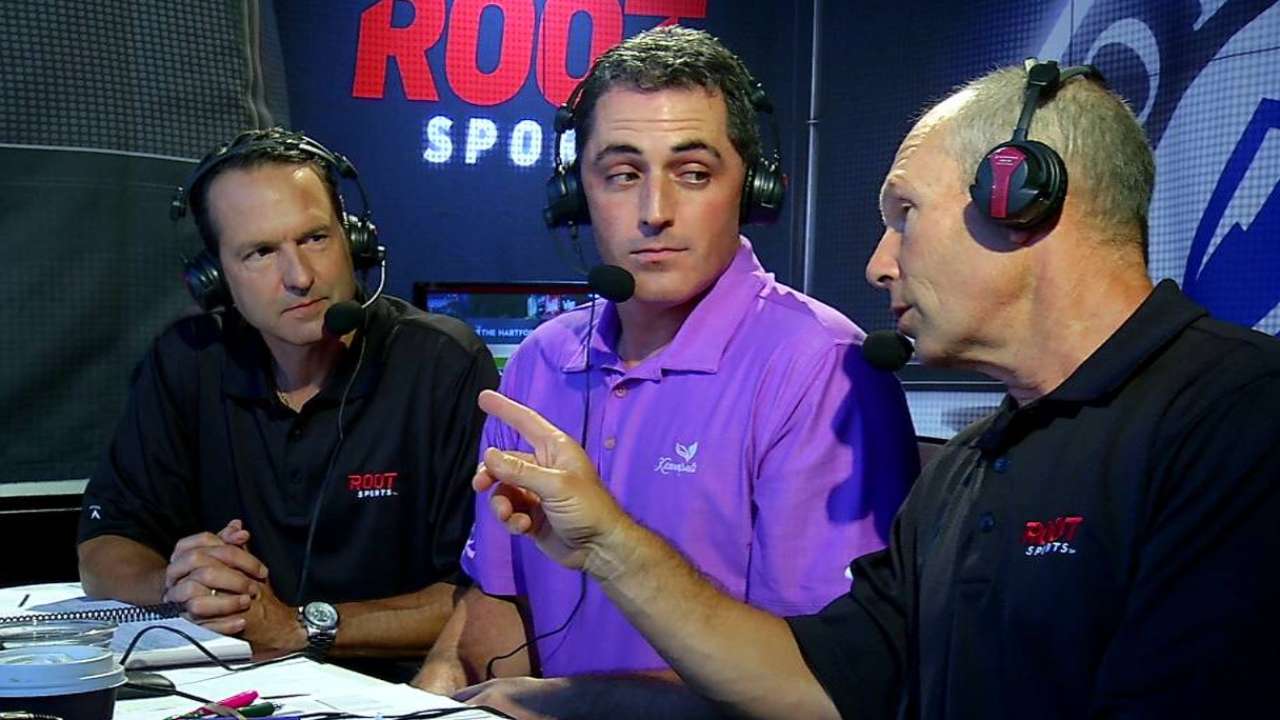 DENVER -- Rockies rookie shortstop Trevor Story will have the ulnar collateral ligament in his left thumb repaired surgically on Thursday, then pull for his team and hope for a chance to play in the playoffs.
Story was hoping to be playing now, with his team surging in the National League Wild Card standings, but the injury he suffered Sunday in New York nixed that. Recovery from Thursday's operation, which will be performed by hand and upper-extremity orthopedic surgeon Dr. Jennifer Kummer, is expected to cost him the rest of the regular season.
But with an eight-week recovery time, Story could return if the Rockies make the playoffs.
"For sure," said Story on Wednesday, still wearing a hard brace on the thumb but appearing more upbeat than the previous day, when he announced that he needed surgery. "That's our whole team's mindset. That's certainly my mindset."
Story, 23, the NL leader in home runs with 27, said he has never undergone surgery, but isn't afraid. But he learned about the operation from Dodgers second baseman Chase Utley, who had the surgery in June 2010 and returned in late August. Also, Rockies first baseman Mark Reynolds told him that Cardinals catcher Yadier Molina had the operation and was back in form when he returned.
"They've had good success with it, so that gives me confidence," Story said.
Story said he is not doing any running exercises because doctors want him to avoid anything that could cause inflammation, but when cleared he will stay in shape until he can perform baseball activities.
"It's going to be tough knowing I can't be out there grinding with the guys, especially right now," he said. "These are the fun games. Every game matters. Every pitch matters. But I can be the best teammate I can be."
Feeling better: Righty reliever Chad Qualls (2-0, 5.61 ERA) has regained his health and his smile after a bout with colitis that forced him to the 15-day disabled list July 23, retroactive to July 16. Qualls threw a full-speed bullpen session on Tuesday and did all pregame activities Wednesday.
"I don't know what I had, if it was viral or bacterial, but it tore me up for 10 days -- it was bad," Qualls said. "It was bad.
"I lost 15 or 16 pounds. I don't know what it was, but it was vicious. My intestines were inflamed and my colon was inflamed, so I had to wait for that to calm down so I could eat some food and get back to some normal digestion."
Long time, no pitch: Left Chris Rusin pitched three solid innings in Tuesday night's 7-3 victory over the Dodgers. The two runs off him came on Justin Turner's two-run double in the eighth, Rusin's final inning after he replaced Jon Gray.
Rusin last pitched on July 24, in his final appearance for Triple-A Albuquerque while rehabbing a left shoulder strain.
"If felt good to get back out there and I was obviously a little antsy, and the adrenaline was going," Rusin said. "I made one bad pitch to Turner and walked Corey Seager. Other than that, I was pleased."
Thomas Harding has covered the Rockies since 2000, and for MLB.com since 2002. Follow him on Twitter @harding_at_mlb, listen to podcasts and like his Facebook page. This story was not subject to the approval of Major League Baseball or its clubs.