MLB.com Columnist
Barry M. Bloom
Yankees feel ready to see their future now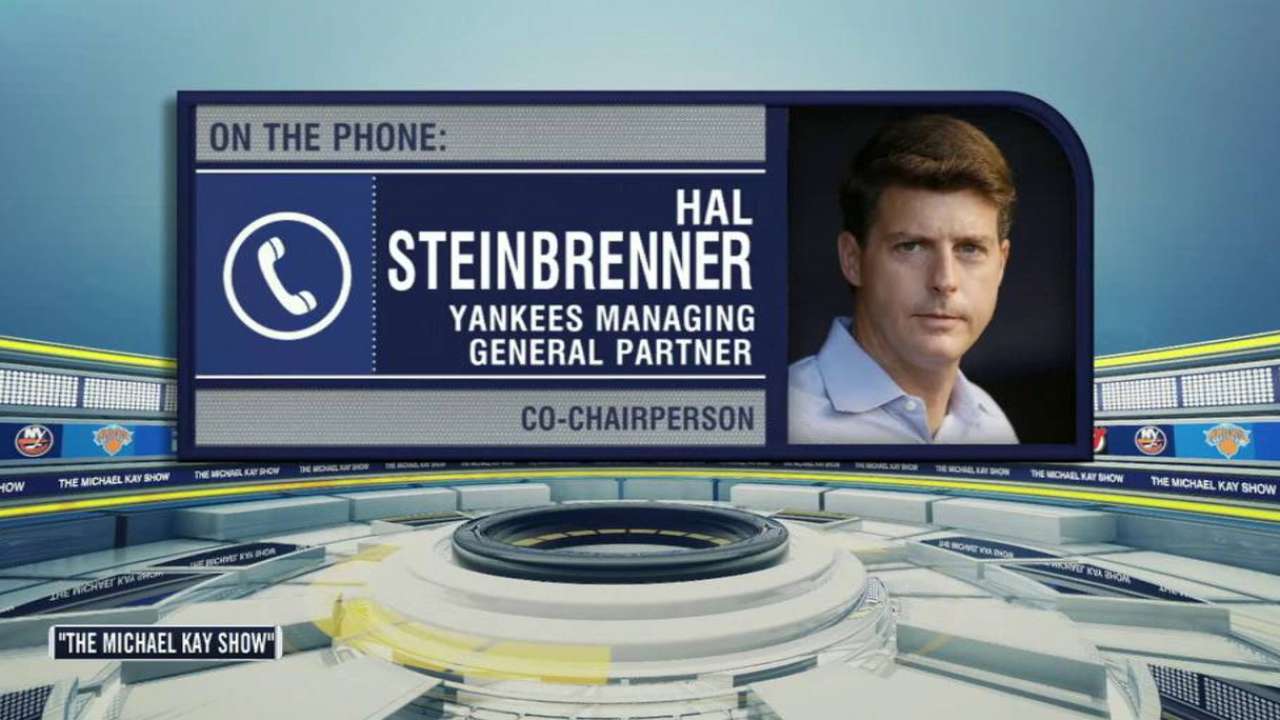 NEW YORK -- Yankees catcher Gary Sanchez was brought up from the Minor Leagues on Wednesday and inserted into the starting lineup as the designated hitter against the Mets at Yankee Stadium.
The move by manager Joe Girardi to play the right-handed Sanchez rather than Alex Rodriguez as the DH against Mets left-hander Steven Matz signaled a sharp turn for the Bronx Bombers toward the future.
And that's a good thing.
With two months left in the season, the Yankees are still trying to win in the short term, Girardi said, but they definitely are in a rare development mode, eyeing what kids might be a good fit on the Major League club for the near future. And more youngsters are coming.
"I think that's a possibility. It definitely is," Girardi said.
This era of uncommon Yanks success is finally over. It happened in dribs and drabs. Jorge Posada, Mariano Rivera, Andy Pettitte and Derek Jeter all retired from 2011-14. A-Rod and Mark Teixeira are also near the end of their tenures in the Bronx, with CC Sabathia not too far behind. It's the normal aging process.
The vaunted Yankees haven't won the World Series since 2009 and haven't won in the postseason since Game 5 of the 2012 American League Division Series against the Orioles.
That's a blink of an eye in baseball history, but a serious drought for a franchise that has won a record 40 pennants and a 27 World Series titles. None of the other 29 teams is even close.
Thus, with the Yanks mired around .500 for most of the season, it was time to move on. The door swung open before Monday's 4 p.m. ET non-waiver Trade Deadline and Aroldis Chapman, Andrew Miller, Ivan Nova and Carlos Beltran went to other teams.
The young nucleus is solid, with general manager Brian Cashman having engineered terrific trades to shore up the middle infield by obtaining excellent young players in shortstop Didi Gregorius from the D-backs and second baseman Starlin Castro from the Cubs. Now he has to keep it going.
"I expect us to do everything we can to try and win games," Cashman said. "Clearly, I lost some great talent, especially on the bullpen side. But you get excited when you see some of these guys coming. You have a Sanchez or Aaron Judge come up and show they can contribute as early as 2016 then maybe we can surprise some people. You can dream on it."
Sanchez, Rob Refsnyder, Luis Severino and Wednesday night's starter Chad Green already have been brought up from the Minors. Adam Warren has returned from the Cubs and Tyler Clippard was obtained from the D-backs.
Judge, a 24-year-old right-handed power hitter, has recovered from spraining his left knee and could be here when Major League rosters expand from 25 to 40 on Sept. 1. He has 16 homers, 17 doubles, 54 RBIs and an .827 OPS in 84 games at Triple A Scranton/Wilkes-Barre. And with Beltran gone, right field is wide open.
"If he comes on and knocks the rust off and looks well enough, he'd be a strong consideration for coming up this year," Cashman said about Judge.
Greg Bird will be back next season after recovering from pre-Spring Training surgery to repair a torn labrum in his right shoulder. Bird, a 23-year-old left-handed hitter, filled in well last September when Teixeira was out with a broken leg, hitting 11 homers and driving in 31 runs in 46 games.
His loss hit the Yankees hard and was a harbinger of tough times to come. Now the other good kids from Scranton/Wilkes-Barre are being woven into the big league picture.
"Part of that [development] is that we believe these guys can help us," Girardi said. "I mean, that's part of it. We believe Sanchez can help us. The reason we called up [Refsnyder] is that we believe he can help us and he already has offensively. And we've been able to move him around [the field].
"In saying that, we're still trying to win. And we figure that these guys are going to give us an opportunity."
To be sure, the Dellin Betances era as closer has finally begun, much like the onset of the Rivera era when John Wetteland left as a free agent after saving all four victories and winning MVP honors as the Yanks beat the Braves in the 1996 World Series.
And with the grace of hindsight, we know how well that worked out. Rivera played 19 seasons, saved a record 652 regular-season games and 42 more in the postseason and is a certain first-ballot electee to the National Baseball Hall of Fame in 2019.
No one knows how Betances will turn out, but his ungodly strikeout number of 14.2 per nine innings is a pretty good indication. He's 28, 6-foot-8 and arbitration-eligible for the next three seasons.
Warren and Clippard will take over the seventh- and eighth-inning roles, but not necessarily in that order, Girardi said, adding that he'll determine their use by the matchups. Girardi used those two relievers to set up Betances on Monday night in a 6-5 victory over the Mets at Citi Field, and it worked out well.
"Maybe you look at it as this inning is a better matchup for this guy, not the other," Girardi said. "But I could see myself using those guys there."
It's a constantly evolving situation and the rest of the season will garner a lot of attention. The pieces of the puzzle are already in motion.
"There's growing pains with all these guys, but we look forward to our fan base seeing these guys trickle in and impact us in a positive way," Cashman said.
Barry M. Bloom is a national reporter for MLB.com and writes an MLBlog, Boomskie on Baseball. Follow @boomskie on Twitter. This story was not subject to the approval of Major League Baseball or its clubs.