Francona ejected after arguing replay review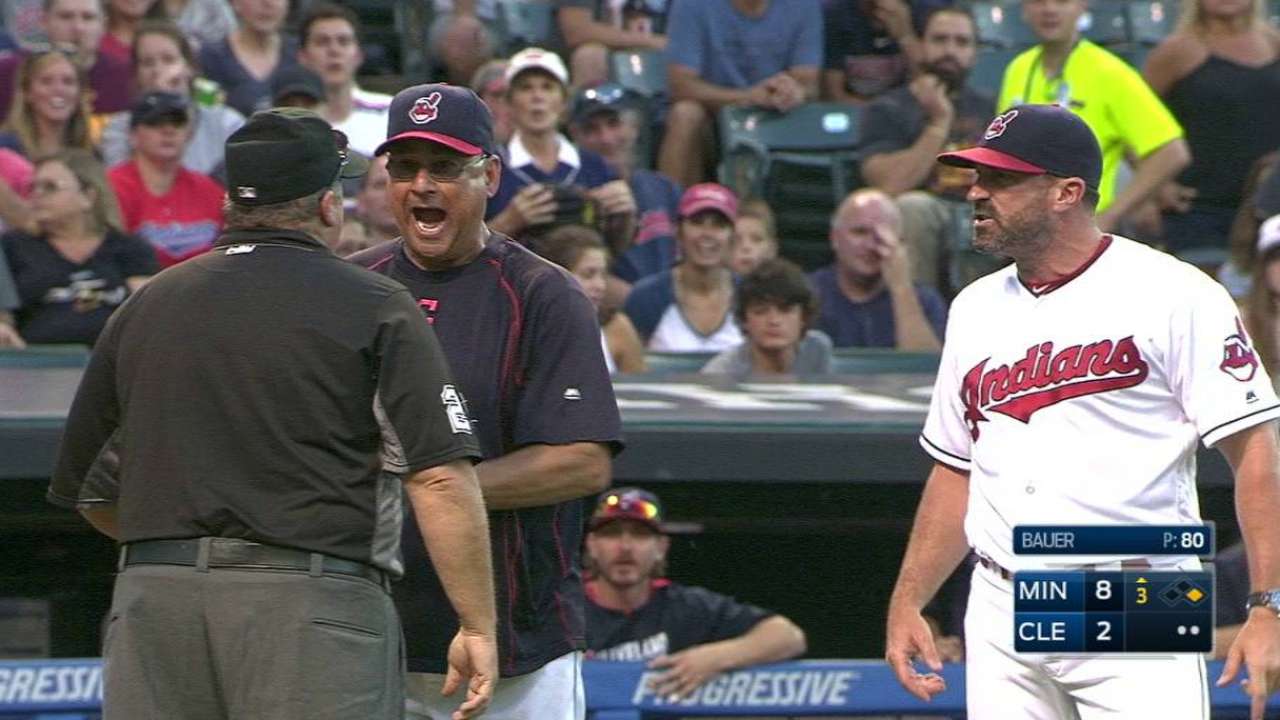 CLEVELAND -- Indians manager Terry Francona was ejected for the second time this season after arguing over a controversial replay review in the third inning of Wednesday's 13-5 loss to the Twins at Progressive Field.
With two on and two out, Minnesota right fielder Max Kepler flared an offering from Trevor Bauer into right field. Lonnie Chisenhall came charging and made a diving play that appeared to be a catch for the final out. Instead, first-base umpire Jim Reynolds ruled the ball was trapped, giving Kepler a two-run single that extended the Twins' lead to 8-2.
"Obviously, I thought it was a catch," Bauer said. "I think there were a lot of people who thought it was a catch. The right people didn't think it was a catch."
Francona elected to challenge the ruling, and after one minute and 45 seconds, the call was upheld. Both Francona and pitching coach Mickey Callaway held their arms up in disbelief and stormed onto the field to argue with home-plate umpire Manny Gonzalez.
"I knew I was going to get thrown out because you can't go out there and argue those," Francona said. "And I also know what he told me. I already knew, too. Once they make the call, it goes to New York, and then they just listen. And I knew that. I just needed to express my frustration."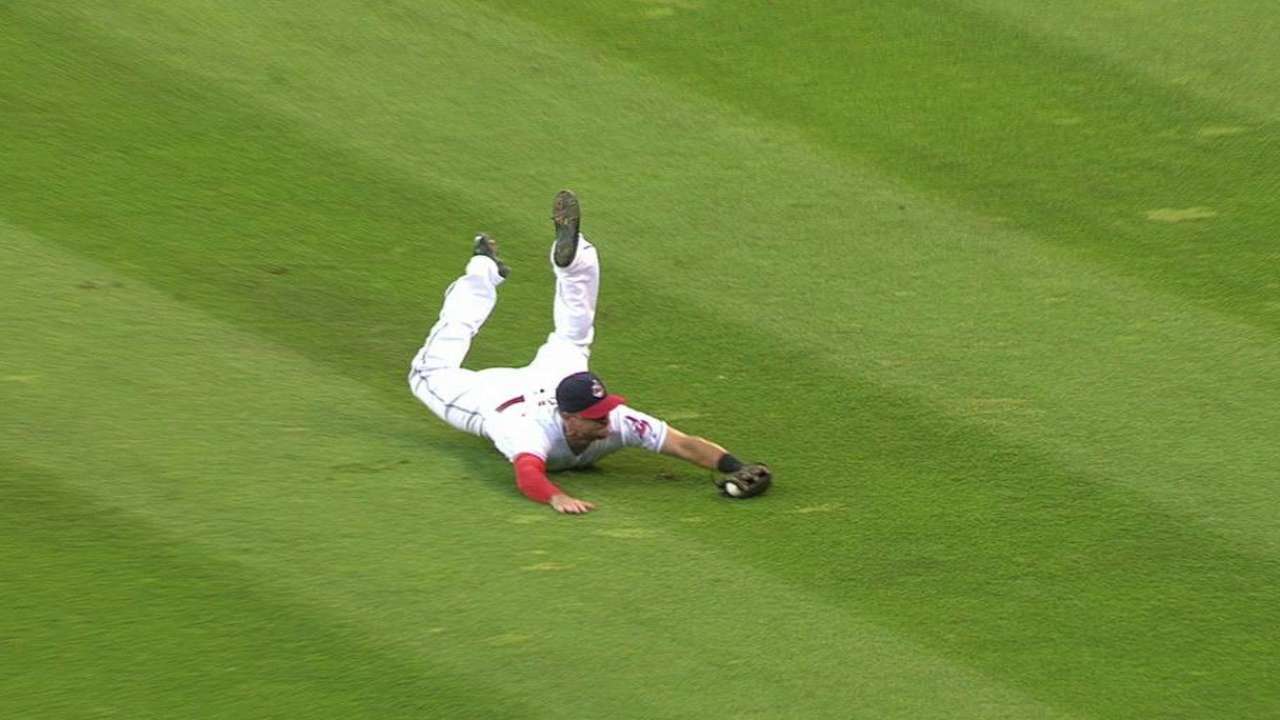 The two were ejected after a brief argument on the infield at Progressive Field. It was Callaway's first ejection of the season.
Bauer was pulled from the contest having allowed eight runs (seven earned) in 2 2/3 innings. Cleveland starters have allowed 21 earned runs in 8 1/3 frames against Minnesota this series.
"We have a lot of really good pitchers on our team," Bauer said. "It just so happens that we stacked three of those in line. But that's not to say we are worried about it. We are going to come out and pitch better than that and get back to doing what got us to this point as a team."
Tribe right-hander Corey Kluber was also ejected by Reynolds in the fifth frame after voicing his displeasure from the dugout on a putout at first base. It was his first career ejection.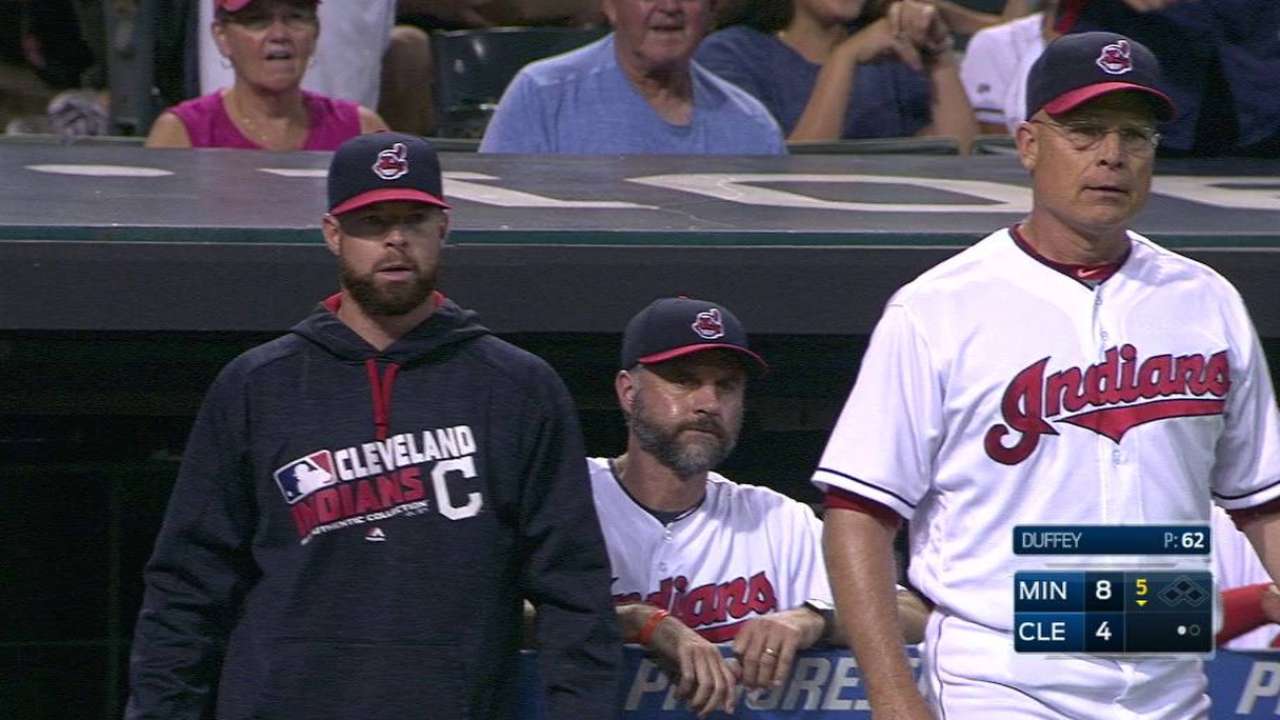 Shane Jackson is a reporter for MLB.com based in Cleveland. This story was not subject to the approval of Major League Baseball or its clubs.