Glasnow progressing with side sessions
Prospect expected to pitch simulated game soon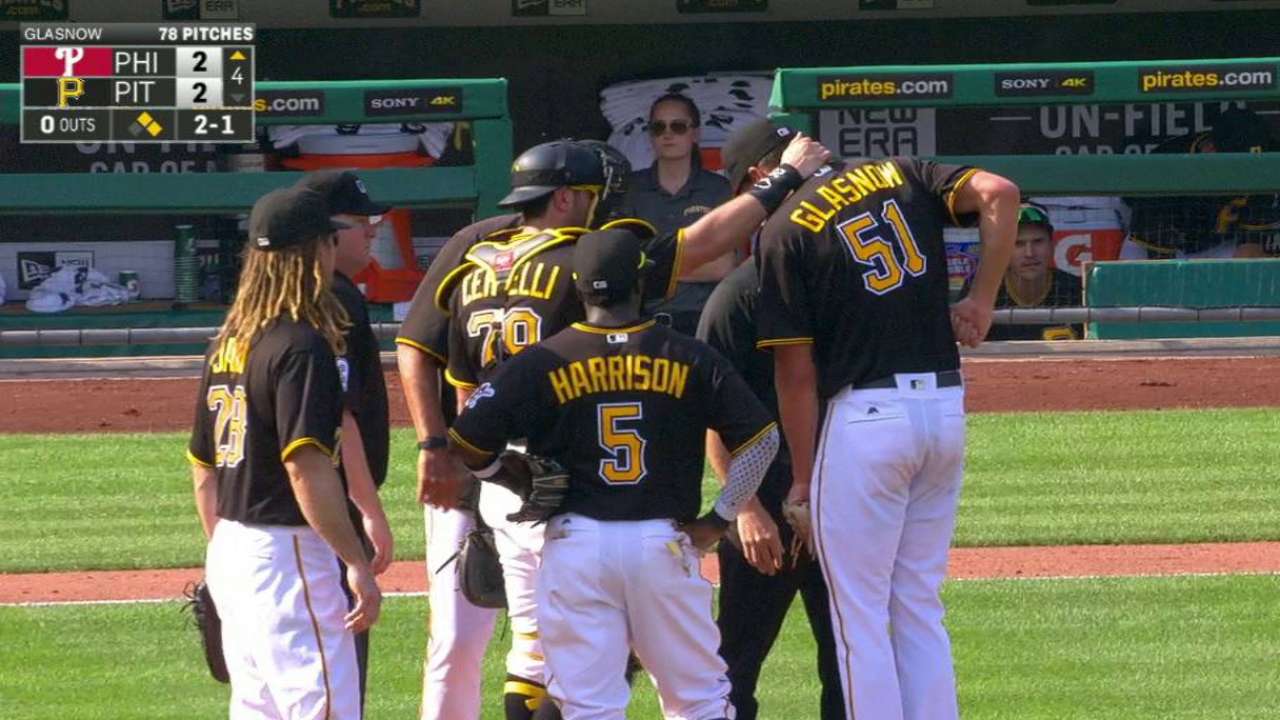 ATLANTA -- After landing on the disabled list with right shoulder discomfort on July 24, Pirates pitcher Tyler Glasnow threw a side session without any issues before Tuesday's game against the Braves.
Glasnow, ranked by MLBPipeline.com as the No. 10 overall prospect, is scheduled to throw another session before appearing in a simulated game, said head athletic trainer Todd Tomczyk on Wednesday.
Before landing on the DL, Glasnow made two starts with the big league club, going 0-1 with a 5.40 ERA.
With Pittsburgh's rotation still in flux, Glasnow would likely receive some starts down the stretch if he were fully healthy.
Worth mentioning
• The Pirates training staff continues to monitor Francisco Cervelli after he was plunked in the head by an 82.8-mph changeup from Mike Foltynewicz in the fourth inning of Tuesday night's game. The catcher exited the contest shortly after taking his base.
Cervelli has a history of concussion issues, and his status is still TBD at this time, according to Tomczyk.
While Cervelli was still active for Wednesday's game, Pittsburgh brought up Elias Diaz from Triple-A Indianapolis for the taxi squad.
• Chris Stewart was running the bases before Wednesday's game and continues to hit and catch bullpens as he recovers from left knee discomfort. Tomczyk said Stewart, who has been on the DL since July 4, will catch Glasnow's simulated game.
Pat James is a reporter for MLB.com based in Atlanta. This story was not subject to the approval of Major League Baseball or its clubs.