Blue Jays not committing to Sanchez plan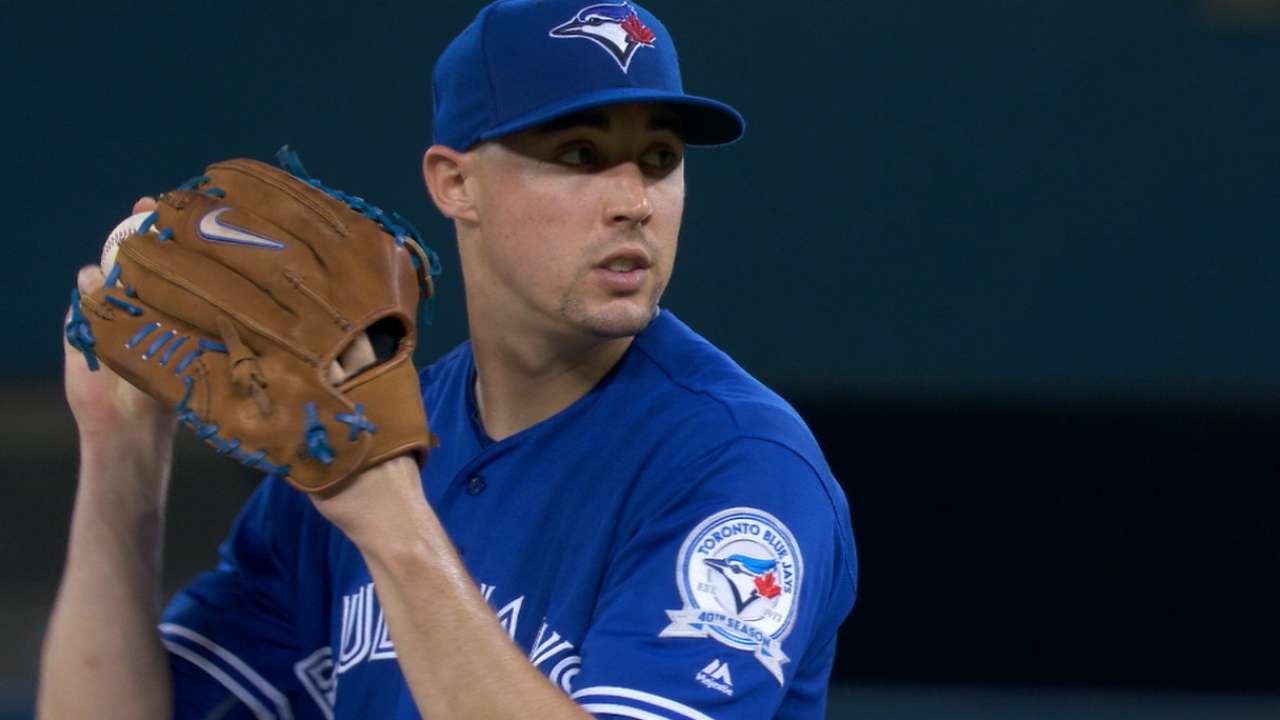 HOUSTON -- Another day, another twist in the ongoing saga of Aaron Sanchez's role with the Blue Jays.
Blue Jays manager John Gibbons added another layer to the story on Wednesday afternoon when he said, "Truthfully, we're still debating what's actually going to happen. You know?"
Sanchez's transition to the bullpen seemed a foregone conclusion earlier this week, when the Blue Jays acquired veteran starter Francisco Liriano from the Pirates. Gibbons' latest remarks caught a group of reporters off guard, and he was asked if Toronto was just simply debating the timing of Sanchez's move to the bullpen.
Said Gibbons: "Nothing's locked in stone yet."
There was a pause, then a follow-up question was asked: "He's not definitely going to the bullpen?"
"I have no info for you right at this moment," Gibbons replied of Sanchez, who has tossed a career-high 139 1/3 innings this season while posting a league-best 2.71 ERA among qualified starters.
Gibbons' latest comments seem to contradict what general manager Ross Atkins said earlier this week when announcing the acquisition of Liriano. At the time, Atkins began his opening remarks by explicitly stating, "We feel like ... transitioning [Sanchez] to a relief role will be the best thing for us being in Game 7 of the World Series."
Then, on Tuesday evening, team president Mark Shapiro made an appearance on the Sportsnet 590 The Fan and was emphatic in talking about Sanchez's workload.
"We haven't determined yet what the right time is, what the right approach is," Shapiro said of removing Sanchez from the rotation. "At some point he's not going to start anymore this year. He will not run 230 innings and pitch through October. That's not going to happen. That can't happen. No one in their right mind, including him, would suggest that can happen."
The only thing that appears to be 100 percent certain is that Sanchez will be making his next scheduled start, on Saturday afternoon against the Royals. After that, everything appears to be up in the air. If the Blue Jays know their exact plan, they aren't revealing it.
All this could come down to semantics. Sanchez could still be going to the bullpen, and the Blue Jays just aren't sure of the timeline. It's also possible, although unlikely, the club could be having a change of heart.
Confused yet?
"Well, you should [be], I am, too," Gibbons said.
Gregor Chisholm has covered the Blue Jays for MLB.com since 2011. Follow him on Twitter @gregorMLB and Facebook, and listen to his podcast. This story was not subject to the approval of Major League Baseball or its clubs.