Cardinals reach new heights in pinch power
Club sets franchise record with 11 home runs off bench with Pham's Tuesday blast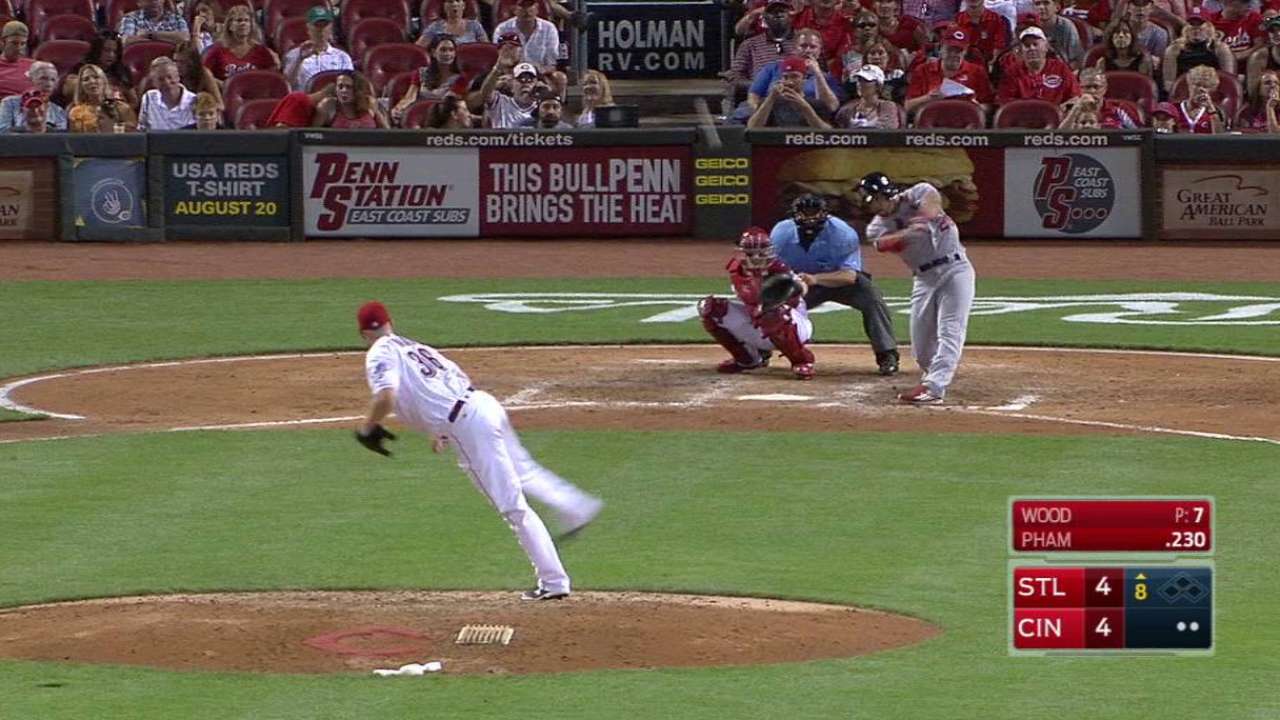 CINCINNATI -- Those offseason efforts to build a more formidable bench than the one that posted a .218/.280/.305 slash line a year ago has yielded the sort of success that even its architect, general manager John Mozeliak, likely couldn't have envisioned.
Tommy Pham's eighth-inning home run in Tuesday's 7-5 loss to the Reds supplied the Cardinals with a short-lived lead but a more lasting place in the franchise record books. It was the team's 11th pinch-hit blast of the season, most in the Majors and surpassing the previous Cardinals high set back in 1998.
Six different players have hit at least one pinch-hit home run; Jeremy Hazelbaker and Brandon Moss leading the list with three apiece.
"Getting a pinch-hit is difficult, let alone a home run," Moss said. "I think pinch-hitting, this is the best team I've ever seen. Guys go up there, we don't change a thing. We all stick with who we are and our approach. You see a lot of guys that if they're in a pinch-hit role, they will change their approach just because you're trying to get a hit and you only have one at-bat to do it. Here, we know we're being put in a certain position in a certain spot for a certain reason, and most of it is to drive the ball."
Since pinch-hitting stats were first tracked in 1974, six teams have hit more pinch-hit homers in a season than this year's Cardinals club. The all-time high is 14, reached by the Giants and D-backs, both in 2001.
The pinch-hit power, of course, is part of a broader power surge the Cardinals have enjoyed. They lead the National League with 147 homers, putting the club on pace for a season total of 227. That would finish as second most in a season in franchise history.
"I know a lot of things are said that you can't live and die by the home run," said Moss, who has hit a team-leading 18. "I don't think anybody wants to, but it's a really, really nice weapon to have. It's a lot easier to score runs that way than to get a guy on, over and in. To have that with so many of us off the bench is a huge luxury."
It's not just the power the bench has flaunted that has been so impressive, either. Over 152 pinch-hit at-bats, the Cardinals have a .355 team batting average. That would rank as the second-highest club pinch-hit average since '74, trailing only the '94 Twins, who hit .363 over 80 at-bats in a strike-shortened '94 season.
"We've had dangerous pinch-hitters," manager Mike Matheny said. "[Matt] Adams on the bench or Moss on the bench. Tommy, it's just impressive how the ball jumps off his bat, and he's been able to do it in big situations. Hazelbaker was a complete surprise. You're just talking about different pieces than we've had before. I'm excited about having that potential late in a game."
Jenifer Langosch has covered the Cardinals for MLB.com since 2012, and previously covered the Pirates from 2007-11. Read her blog, follow her on Twitter, like her Facebook page and listen to her podcast. This story was not subject to the approval of Major League Baseball or its clubs.