Zobrist's patience key to game-winning rally
Bases-loaded walk ties ballgame before Cubs walk off on wild pitch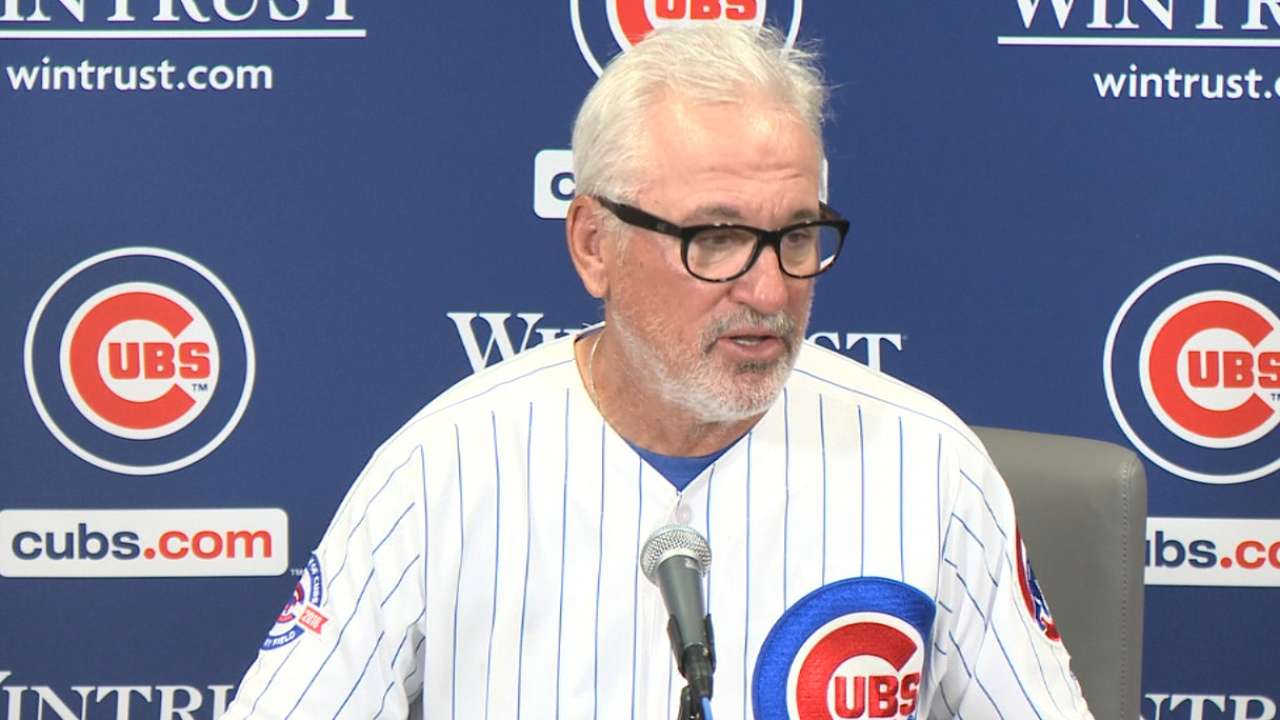 CHICAGO -- Marlins manager Don Mattingly had to chose between pitching to Anthony Rizzo or Ben Zobrist in the ninth inning with two on, two outs and Miami holding onto a one-run lead on Wednesday.
"It's a tough one, because you fear both guys," Mattingly said. "You don't really want to get to Zobrist, but Rizzo has been their top guy. He sets up a force for us. It's one of those, you don't really want to get to Zobrist, but you don't really want to let Rizzo beat you either. You take your shot."
The Marlins opted to have closer A.J. Ramos intentionally walk Rizzo to load the bases, and Ramos then walked Zobrist to force in the tying run. Ramos' second pitch to Willson Contreras skipped away, and Matt Szczur, who was on third, scored the game-winner on a walk-off wild pitch to give the Cubs a 5-4 victory.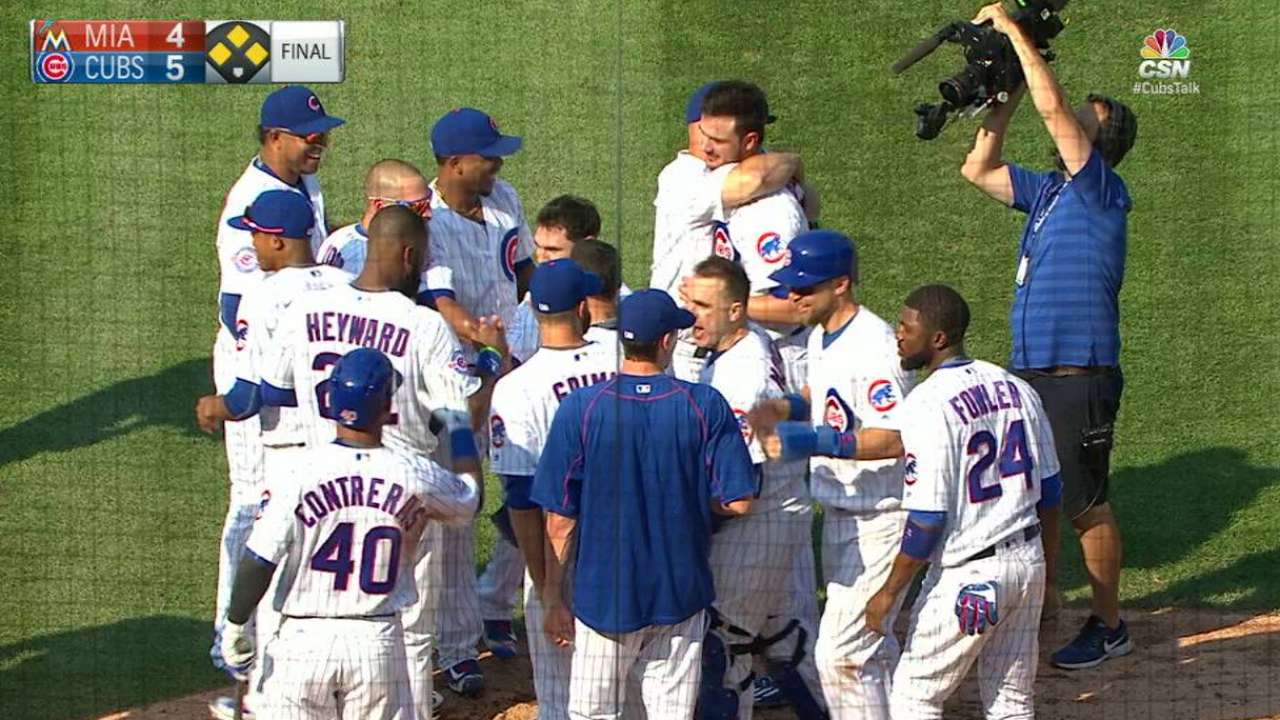 Szczur was ready.
"I knew to look for it because of the way he pitches," Szczur said. "He throws a lot of sliders. I think it was a fastball he threw away. I was ready for it. I know [Javier Baez] was ready for it when he was on third base. We were on the bases talking to each other. [Baez] was letting me know to be ready."
It was the Cubs' third walk-off win this season and second in their past four games. On Sunday night, pitcher Jon Lester delivered a pinch-hit bunt to score the game-winning run against the Mariners. This was the Chicago's first walk-off win on a wild pitch since June 20, 2009, against the Indians, and also completed a sweep.
Miguel Montero, who started the inning with a double, said he might have managed differently if he was in the visitors' dugout in the ninth.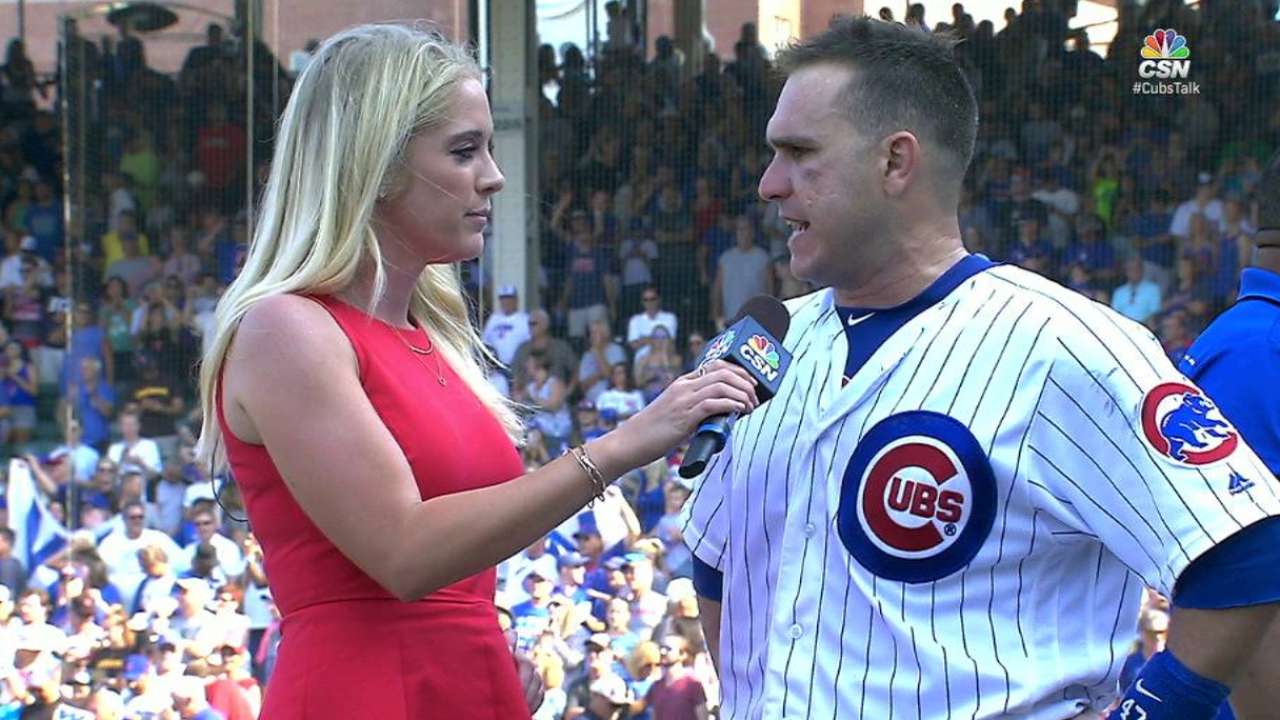 "Today, their closer was a little rattled," Montero said. "As a manager, I think they did the right thing to walk Rizzo, but on the other hand, it's tough. You've got a guy who is disciplined at the plate [in Zobrist]. You take your chances.
"When they walked [Rizzo], I was pretty comfortable with Zobrist at the plate. Zobrist isn't going to swing to swing, he's going to wait for a good pitch. [Ramos] didn't give him anything to hit, and he took his walk. He takes professional at-bats all year."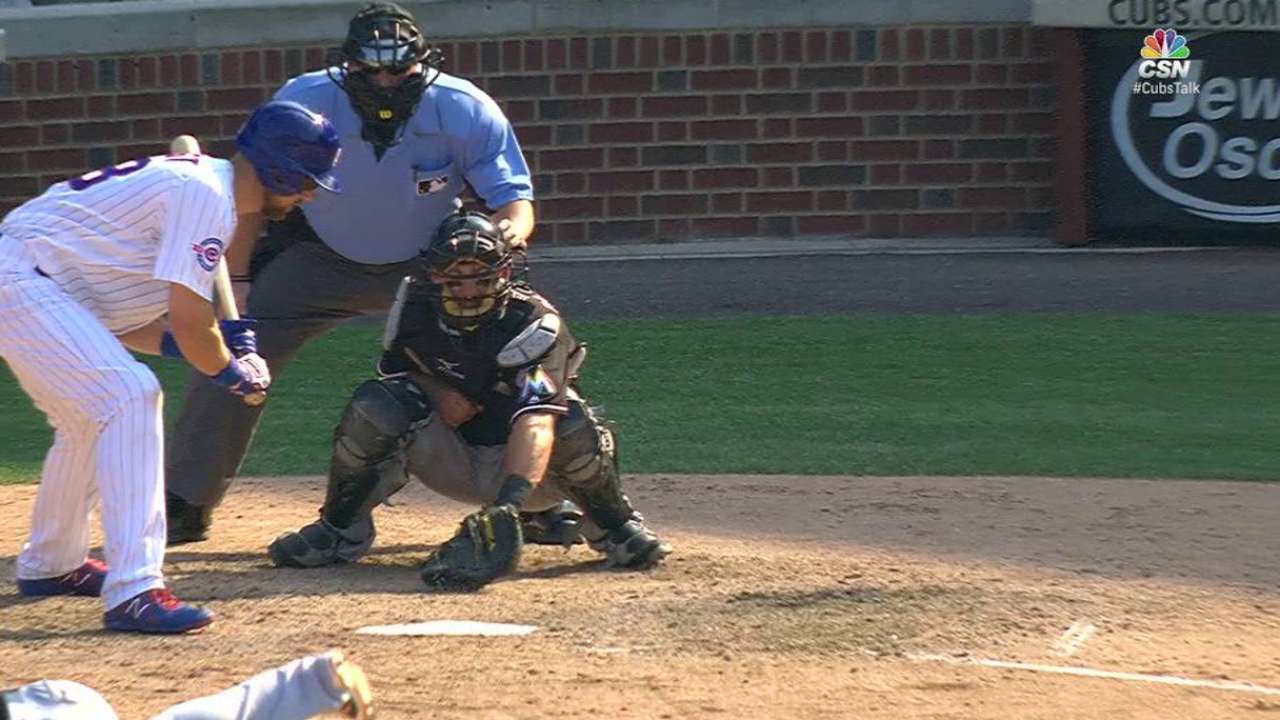 Zobrist also had a key at-bat in the eighth that led to the Cubs' second run. With runners at first and second and nobody out against Fernando Rodney, Zobrist sacrificed to advance both runners. Chicago manager Joe Maddon had called for the bunt initially in the at-bat, but then took it off and left it up to Zobrist to decide.
"Give Zo a lot of credit for being a great teammate," Maddon said.
"I knew with Fernando Rodney, he's tough for me to see," Zobrist said. "I knew once I got one strike on me, I got the bunt. After that, I didn't have to. I knew that was what the team needed. We didn't get all those runs in, but I ended up feeling good about that one."
The Cubs are feeling good after finishing the homestand 7-1.
"Those kind of crazy games can carry over into positive energy," said starter John Lackey, who struck out eight over seven innings.
Carrie Muskat has covered the Cubs since 1987, and for MLB.com since 2001. She writes a blog, Muskat Ramblings. You can follow her on Twitter @CarrieMuskat and listen to her podcast. This story was not subject to the approval of Major League Baseball or its clubs.