For Marlins' bullpen, first time for everything
Miami was 53-0 with a lead heading into 9th before walk-off loss to Cubs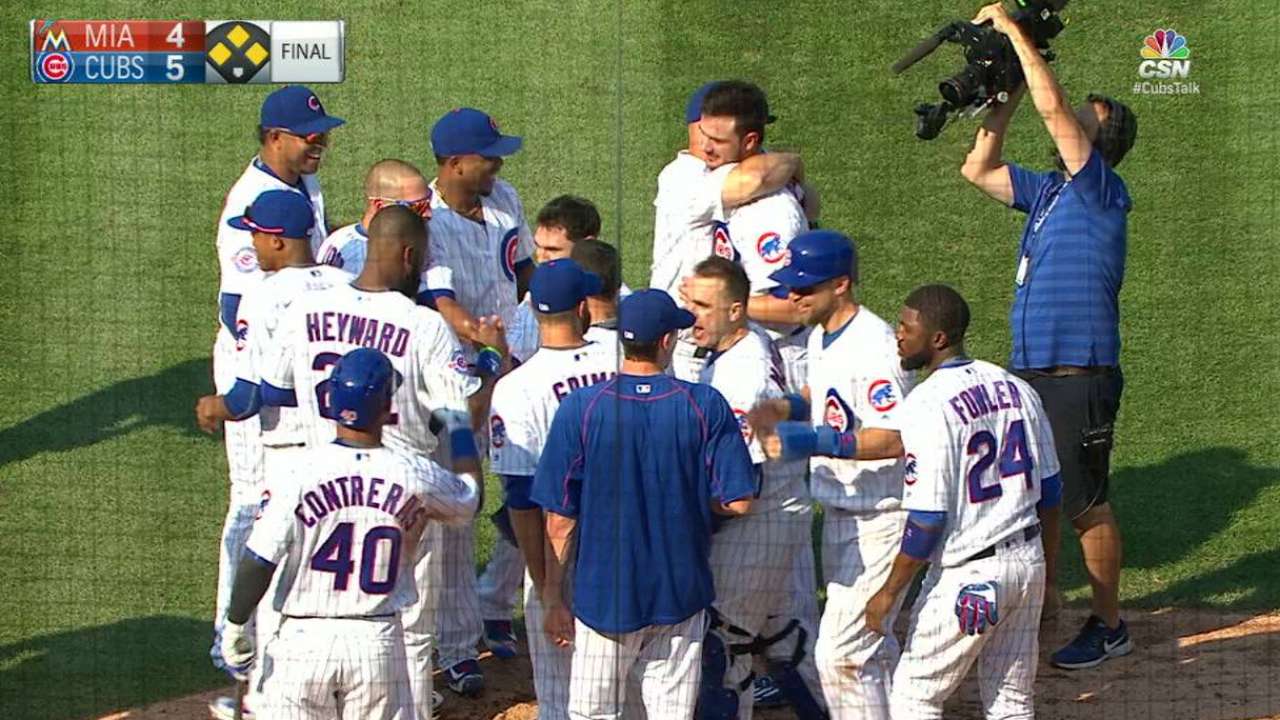 CHICAGO -- It may have been the 93.5-mph fastball that got away, ricocheted off the backstop and allowed Matt Szczur to score the decisive run in the Marlins' 5-4 walk-off loss to the Cubs on Wednesday afternoon at Wrigley Field.
But for All-Star closer A.J. Ramos, the tone for the ninth inning was set on his very first pitch, which Cubs catcher Miguel Montero lined into right field for a double. From there, Ramos struggled finding the strike zone, and for just the second time in 33 opportunities, he was unable to convert a save.
"A.J. is a top-stepper, for the most part," manager Don Mattingly said, referring to his penchant to make save chances interesting. "He keeps you on your toes. Not exactly pinpoint command all the time, but it seems like he always gets the strikes that he needs."
Miami had been 53-0 when leading going into the ninth inning until Ramos was unable to execute that close-out pitch.
As bumpy as the ninth inning was in the series finale at Wrigley, Ramos almost found a way to escape again.
But with second and third and two outs, following his full-count strikeout of Kris Bryant, Mattingly had to make an uncomfortable decision: face Anthony Rizzo or Ben Zobrist?
Rizzo paces the Cubs with 79 RBIs, but Zobrist is never an easy out. So with two outs and a base open, Mattingly decided to issue a free pass to Rizzo.
"You don't really want to get to Zobrist, but Rizzo has been their top guy," Mattingly said. "He sets up a force for us. It's one of those, you don't really want to get to Zobrist, but you don't really want to let Rizzo beat you either. You take your shot."
With no margin for error, Ramos fell behind in the count, 3-0, and after a take for a strike, Zobrist tracked ball four to force in the tying run. Two pitches later, Ramos overthrew a 93.5 mph fastball, the wild pitch plated Szczur and the Cubs celebrated a sweep, while the Marlins took one of their tougher losses.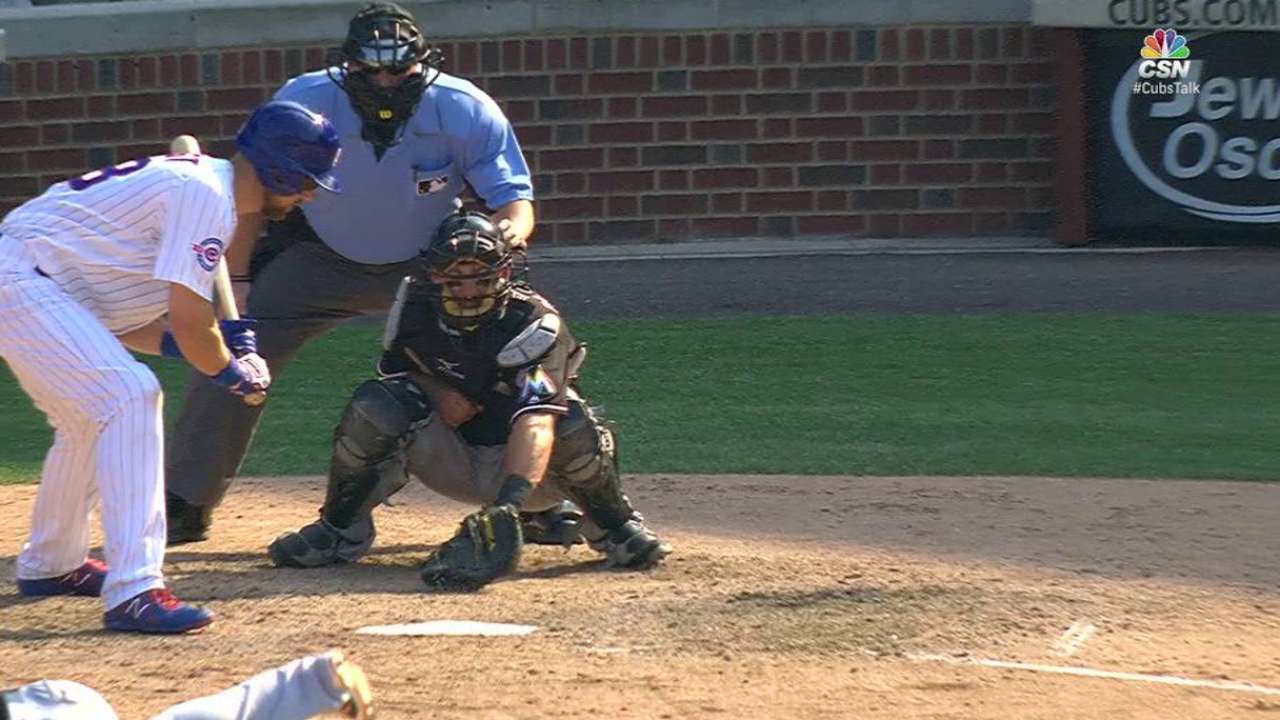 "That's one of the reasons I didn't want to walk Rizzo, because I felt I was all over the place," Ramos said. "With Zobrist up, he knows the zone really well. He's seeing the ball really well. So I'd rather have faced Rizzo, even though he is a guy who can hurt you. Any day, I'll face Rizzo. That's one of the reasons I didn't want to walk him there.
"But I had to do that. My job was to get Zobrist out right there. I just couldn't execute."
The whole inning was a struggle for Ramos, who faced seven batters and had three ball counts on five of them as Chicago scored three runs.
"Go with what they say," catcher Jeff Mathis said. "We have faith in A.J. to get anybody out; righty, lefty, no matter what the situation is. It just didn't work out today."
Joe Frisaro has covered the Marlins for MLB.com since 2002. He writes a blog, called The Fish Pond. Follow him on Twitter @JoeFrisaro and listen to his podcast. This story was not subject to the approval of Major League Baseball or its clubs.