Chernoff on Lucroy as backup: 'Crazy to us'
Catcher vetoed deal to Indians prior to Trade Deadline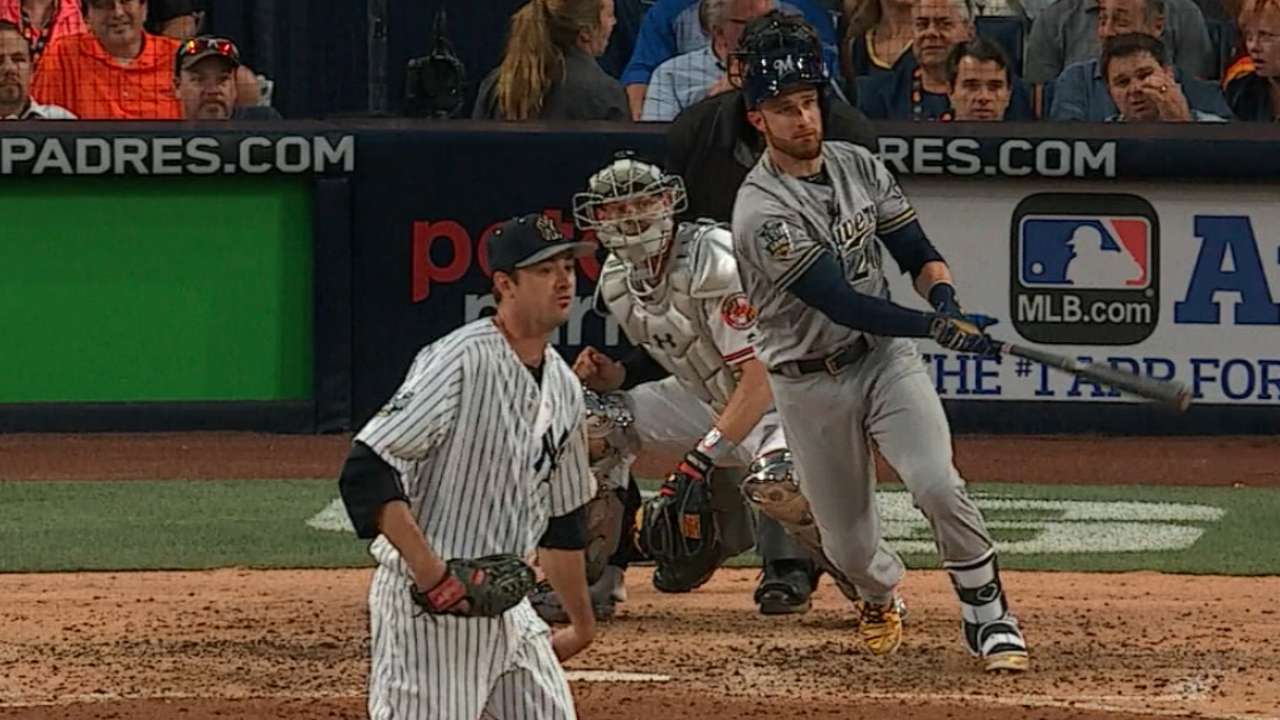 CLEVELAND -- For a brief moment, it looked like the Indians were going to beef up their backstop with a premier catcher at the Trade Deadline. And then, the moment was gone.
Over the weekend, the Indians and Brewers reportedly agreed to a trade to bring in Jonathan Lucroy to the first-place Tribe. Lucroy then exercised his no-trade clause and vetoed the deal before getting sent to Texas the following day.
"I mean, it was his decision," Indians general manager Mike Chernoff said in an interview on MLB Network Radio. "We made the trade at two in the morning on late Saturday night/Sunday morning. I guess he made the decision on Sunday morning that he didn't want to accept the trade. I couldn't tell you why he made that decision."
Many reports stated that the reason Lucroy vetoed the move was due to the uncertainty regarding playing time in the 2017 season. However, Chernoff told MLB Network Radio that they never spoke with Lucroy as it was against the rules to speak with another team's player, and he believed the notion that he'd be a backup seemed "crazy."
"Look, we were giving up a boat load of prospects," Chernoff told MLB Network Radio. "Everyone saw it was reported, unfortunately. We love those guys. Those are really, really good players, that it was painful to give up just like we gave up in the [Andrew] Miller deal. To think that we were thinking of him as a backup seems crazy to us. But he had to make the decision he had to make."
Chernoff said in the interview that the Indians were disappointed that they were unable to add Lucroy given the injuries that the club has had at that position with Yan Gomes, who is currently on the disabled list, and Roberto Perez, who spent time this summer on the DL. However, Chernoff did note the Indians' potential at that position moving forward.
Cleveland manager Terry Francona said Gomes (right shoulder) is in the water a lot and trying to get his full range of motion. Though he is not quite there yet, Gomes is getting to the ballpark early and putting in the effort in his progression.
"He's got obviously a long way to go," Francona said. "He has good range of motion. I don't think he has range of motion yet where you can just go do something, like he has to get loose and all the normal things that you do. I will say, I get here early, and he's here every day. That's not a surprise. He'll be raring to go as quick as you can, but this thing, he can only do so much because he has to heal."
Shane Jackson is a reporter for MLB.com based in Cleveland. This story was not subject to the approval of Major League Baseball or its clubs.