'Right' fit? Schebler robs HR in position shift
Night after hitting walk-off homer, Reds prospect also records assist in move to RF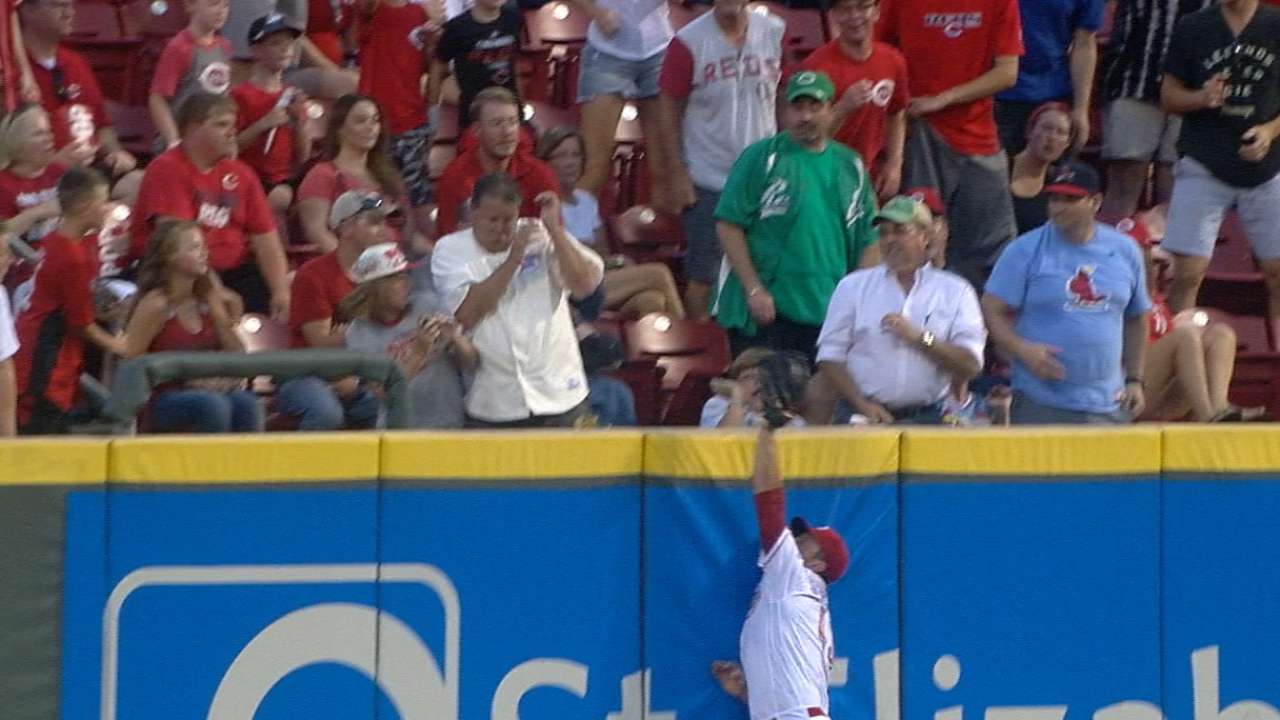 CINCINNATI -- Scott Schebler on Wednesday was still trying to absorb the past couple of days -- from the time he was called up from Triple-A Louisville to take the roster spot of Jay Bruce after Bruce was traded to the Mets, to when he hit a three-run, walk-off home run Tuesday night against the Cardinals.
And yet, one day later, when Cincinnati opted to shift Schebler from left field to right field in an effort to find ways to keep him in the lineup, he delivered an encore performance on defense, even if the Reds dropped the second of their three-game series vs. the Cards, 5-4.
Schebler first threw out Matt Holliday at second base when he tried to stretch a single into a double leading off the third inning, and he topped that two innings later by making an impressive leaping catch at the wall to rob Jedd Gyorko of a home run.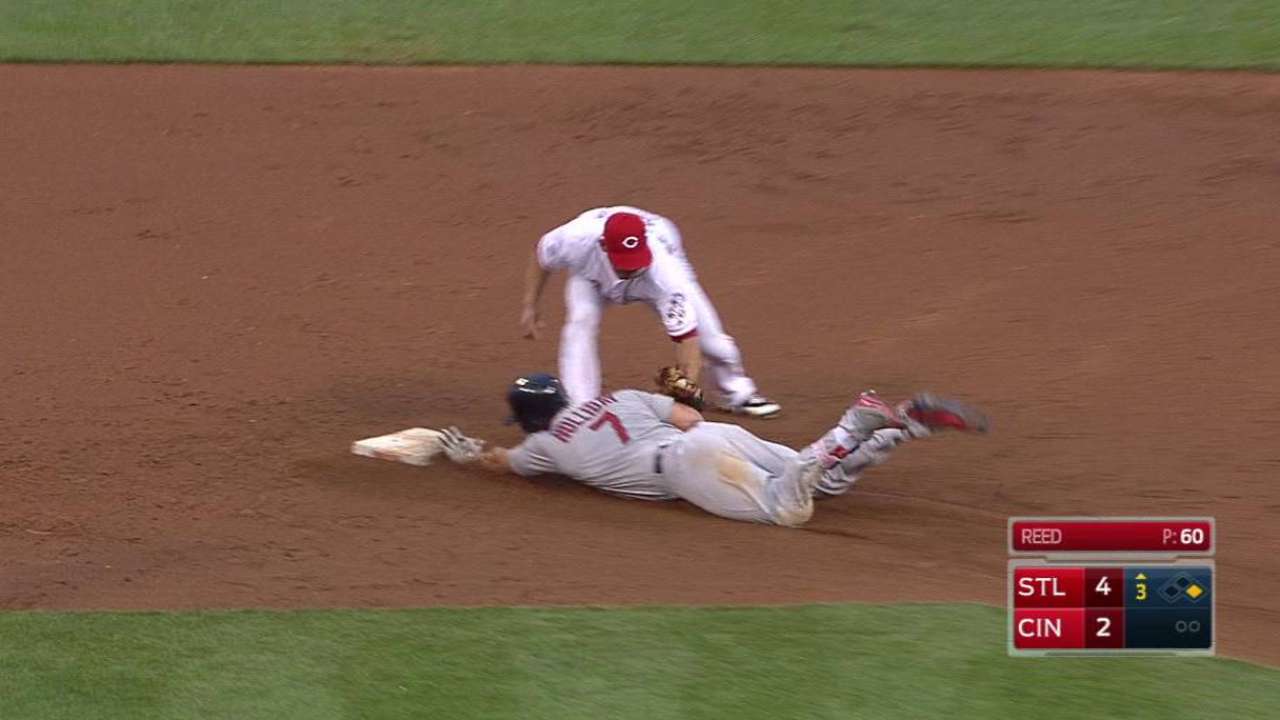 "It's trying to gauge Schebler as a right fielder," said manager Bryan Price before the game. "It's just a chance to take a look at him in right field."
It's safe to say the first impression made by Schebler was a good one.
Schebler -- ranked by MLBPipeline.com as the Reds' No. 18 prospect -- started in left field Tuesday, but he and Adam Duvall flipped corner-outfield positions for Wednesday's game. Schebler played six games in right field in limited time with the Dodgers last season. He played nine games at the position after being optioned to Louisville on May 8, but he spent most of the last couple of months playing center field for the Bats.
"They've always said I have an average arm, but going to my left, when you do that reverse pivot, you can get a little extra behind your throw," said Schebler of his laser to nab Holliday. "That's kind of what happened. I got a little momentum and just made a good throw. Put it right on the money."
Schebler spent as much time as possible shagging fly balls in right field with coach Billy Hatcher during batting practice. While he was out there, he also practiced leaping for balls at the wall.
"A lot of the walls in the Minor Leagues, you have no chance of robbing it. Usually in the Minor Leagues, they raise the wall so high it's hard to go get one. But with a wall like that, I've seen Jay do it a million times, jump up on the wall and grab one," said Schebler. "It just kept going. [Gyorko] must have back-spun it pretty good, because normally on a ball like that, I try to get back there, and if it's like that, I climb the wall. I just kept going back."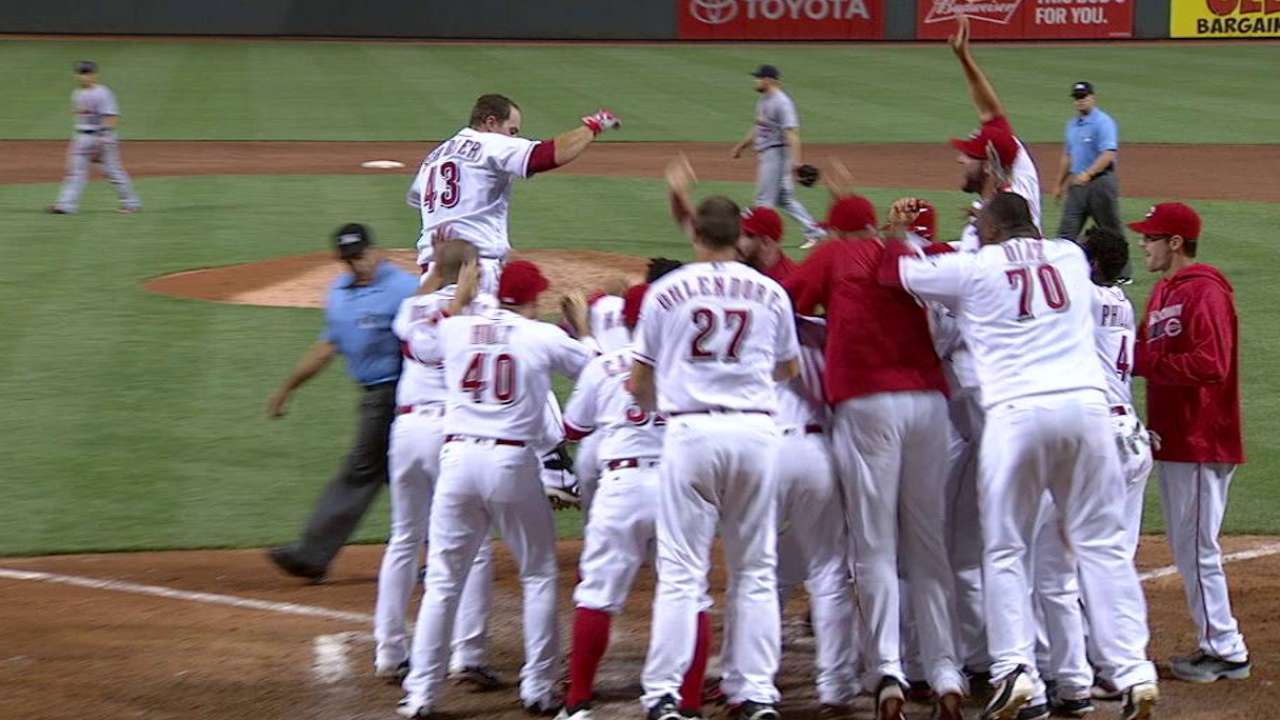 The day began with Schebler meeting former Reds manager Lou Piniella, who is now a senior advisor to the club's baseball operations. Piniella greeted him in the dugout before the game, congratulating him on his home run the night before. It was a moment Schebler called "surreal."
Schebler said he never played the outfield until starting his professional career in 2010. He could never remember stealing a home run away before. He had a couple of chances, he said, earlier this season, when he was with the Reds. One time came at Great American Ball Park, the other time in St. Louis.
"Two times in a row, fans have taken it away from me, either clipped it or caught it before me, so I was happy to bring one in," said Schebler. "I think it was a Cubs fan that took it away from me here. He probably had incentive to grab it. That happens."
Kevin Goheen is a contributor to MLB.com based in Cincinnati. This story was not subject to the approval of Major League Baseball or its clubs.