Mesoraco expects to be fully healthy by spring
Cozart dealing with lingering finger bruise; Simon improving in rehab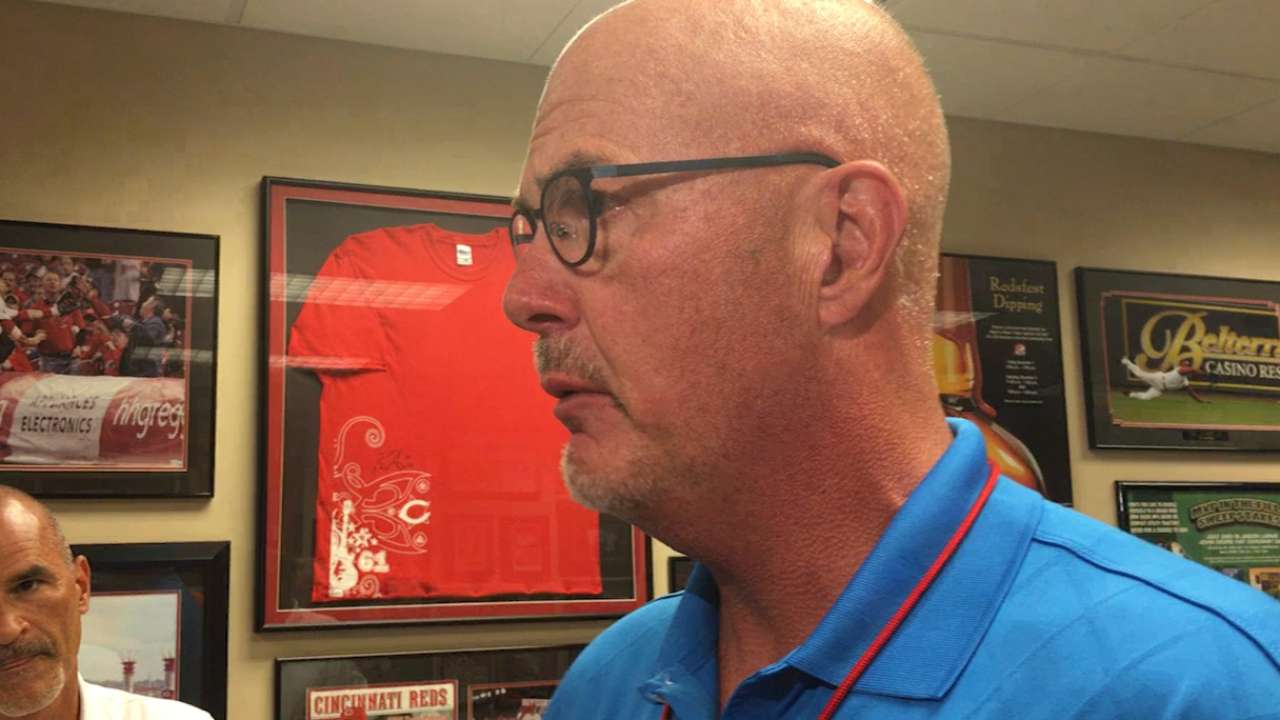 CINCINNATI -- Reds catcher Devin Mesoraco is optimistic that come next Spring Training he'll be better than ever. After three major surgeries in 13 months, at least he knows what to expect when it comes to the rehab process.
Mesoraco spoke with reporters Wednesday as he and a single crutch sat at his locker in the Reds' clubhouse inside Great American Ball Park.
He underwent surgery on June 29, 2015, to correct an impingement in his left hip. This season ended for him after just 16 games due to a torn labrum in his right shoulder that required surgery. Following that surgery, both Reds team medical director Dr. Timothy Kremchek and Dr. Bryan Kelly, who performed the surgery on Mesoraco's left hip last year, recommended he have a similar preventative procedure performed on his right hip.
"In theory, I'm going to have more range of motion than I ever had, and it will sync up on both sides," said Mesoraco. "It'll be the same. I should be able to get into a better position than what I ever have, just because I'll have better range of motion. But, that's theory."
Mesoraco has appeared in just 39 games the past two seasons, with 95 at-bats. He's hit .158/.225/.200 without a home run and just three RBIs after having an All-Star season in 2014, in which he hit .273/.359/.534 with 25 home runs and 80 RBIs. The Reds signed Mesoraco to a four-year extension prior to the 2015 season.
"I miss playing. I'll go through any rehab that they want as long as it's in the offseason from now on, not during the season," said Mesoraco. "Not only [is it frustrating] for me, but the Reds signed me to a contract expecting me to be out there contributing and being part of the team and helping these young pitchers. That just hadn't happened."
Cozart remains out
Zack Cozart was out of the starting lineup for the second straight game with a bruised right ring finger, injured during fielding practice Tuesday, but manager Bryan Price is hopeful he'll be able to play in Thursday's series finale against the Cardinals.
"Not a great deal of improvement, so we're hoping a lot of treatment today will allow him to play [Thursday]," said Price. "It's still day by day, but he didn't make great improvement overnight."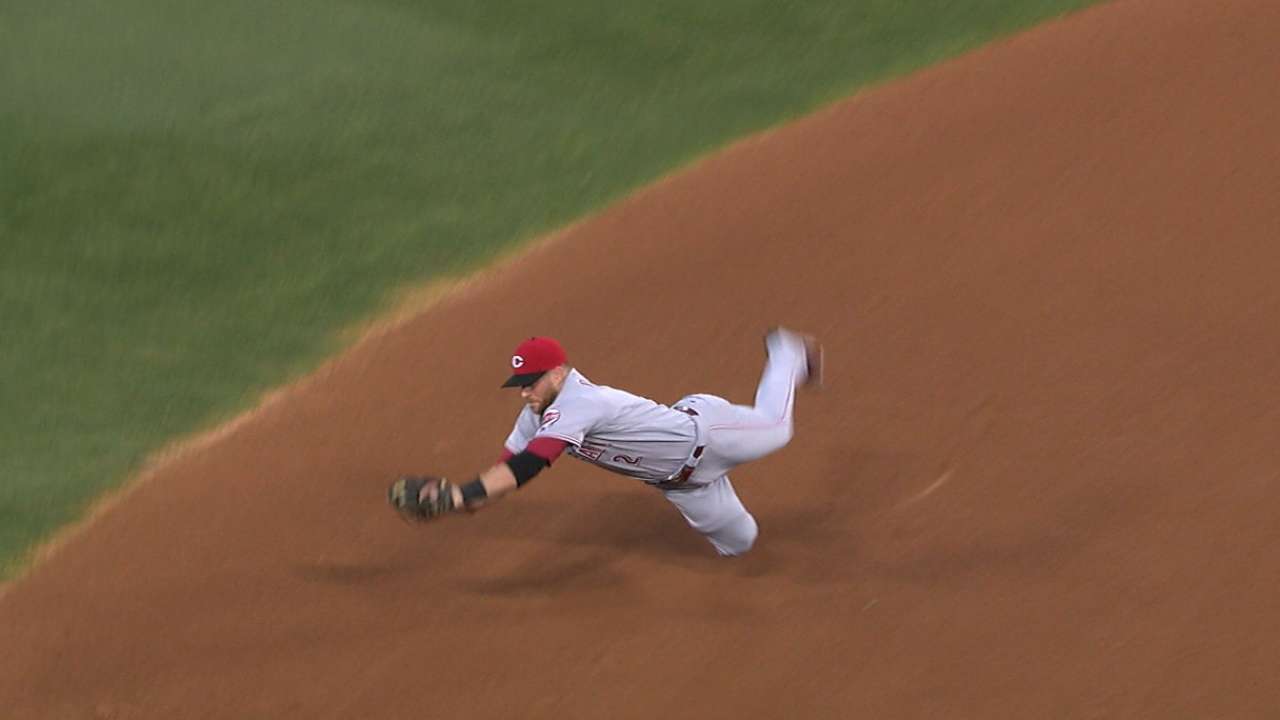 Simon improving
Alfredo Simon threw a simulated game Wednesday afternoon and drew cautious praise from Price.
"The two times I've seen him throw, which were his initial bullpen before we left on this last road trip and this simulated game, looked much better than, really, he did at any point of time during the season when he was active," said Price. "I don't want to suggest anything other than he's probably in a better place right now."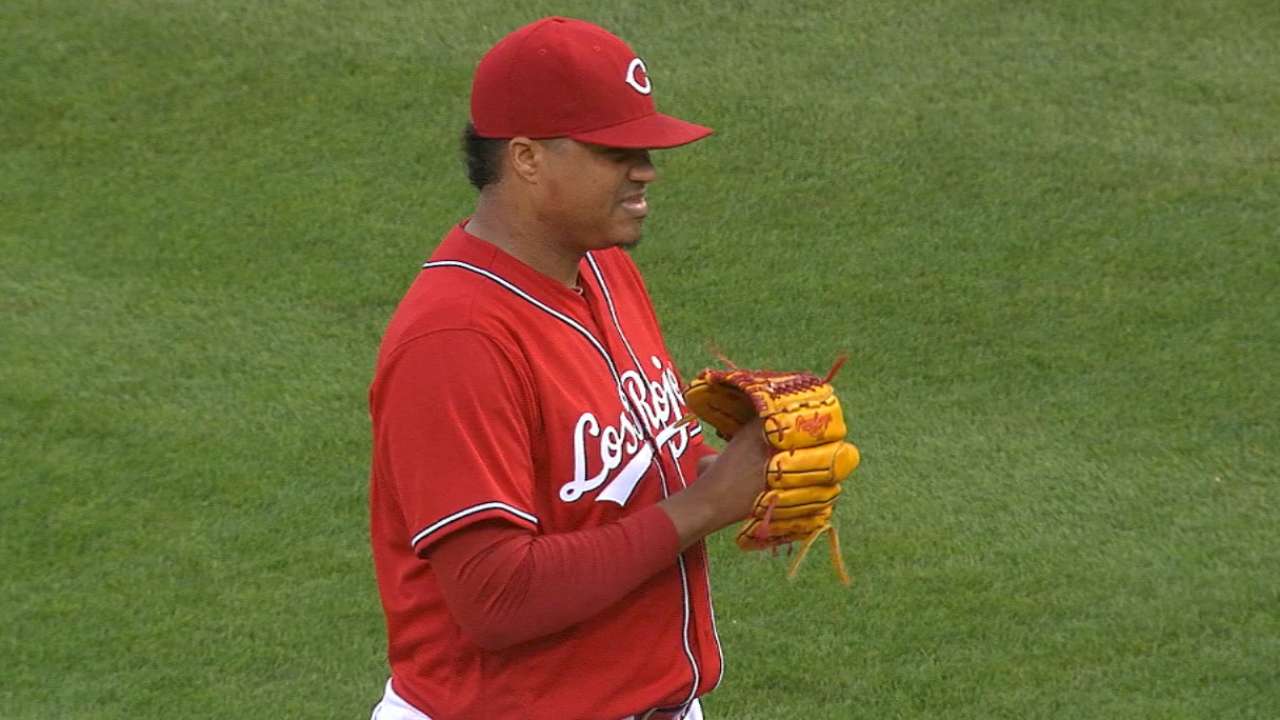 Simon went on the disabled list on June 22 with a right trapezius injury. He was 2-7 with a 9.45 ERA in 13 appearances this season. Price indicated he could be used out of the bullpen or as a starter after he returns, depending on any innings restrictions that could affect other pitchers.
Kevin Goheen is a contributor to MLB.com based in Cincinnati. This story was not subject to the approval of Major League Baseball or its clubs.