Mets pitching prospect Szapucki on rapid rise
BROOKLYN -- Thomas Szapucki had a big decision to make in June 2015 -- play for a college powerhouse or sign a Major League contract.
Szapucki opted to pass on the University of Florida, as he was selected by the New York Mets in the fifth round of the '15 MLB Draft, just days before his 19th birthday. A little over a year later, Szapucki is lighting up the Minors, making his decision look like it was the right one.
Szapucki, a hard-throwing left-hander, has been breezing by batters with his mid-90's fastball, impressing coaches and scouts in the process.
In MLB Pipeline's preseason rankings, Szapucki was listed as the No. 17 prospect in the Mets' farm system. After stringing together a series of strong performances with the Rookie-level Kingsport Mets, which included a 0.62 ERA with 47 strikeouts across 29 innings, Szapucki was promoted to the Class A Short-Season Brooklyn Cyclones on July 21.
In the updated midseason prospect rankings, Szapucki climbed up to the Mets' No. 8 on the list.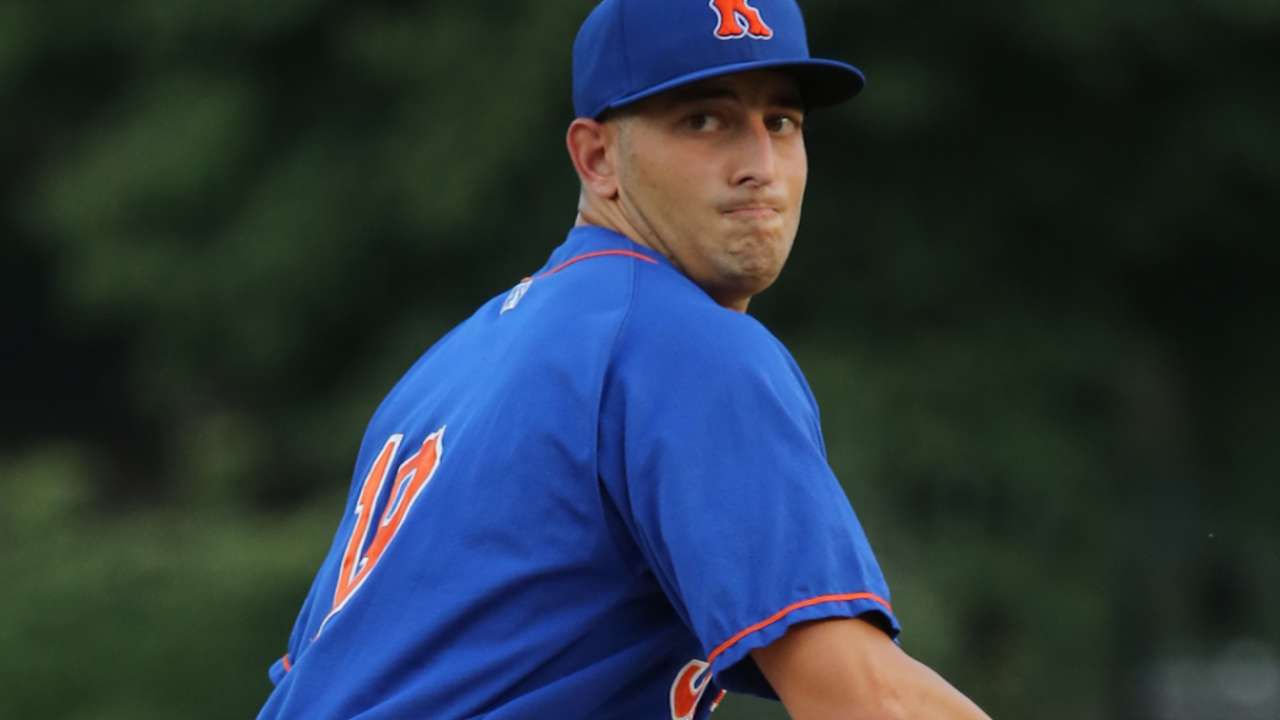 "[Szapucki] has an electric arm speed. God gave him a gift," said Brooklyn Cyclones pitching coach Bill Bryk, Jr. "I tell my pitchers, 'I can't teach you that part, but the rest I can teach'. Thanks to God for giving him that lightning bolt for an arm."
After pitching 5 1/3 scoreless innings with eight strikeouts in his Cyclones debut on July 24, Szapucki got his second start for Brooklyn on Sunday as the team faced Aberdeen. Despite a stellar performance from the left-hander, who struck out 10 batters and allowed only two hits (both were singles) across seven innings, the Cyclones lost 1-0 on an unearned run that came in the fifth.
Though Szapucki has been dominant in 2016, yielding an impressive 0.44 ERA with 65 strikeouts in 41 1/3 innings pitched between his time in Kingsport and Brooklyn, he is still working hard to improve on his game -- and the progress has been evident.
When Szapucki played at Dwyer High School in Palm Beach Gardens, Fla., he relied on his two strongest pitches: fastball and curveball. Since then, he's been developing a changeup to add to his repertoire, and the three-pitch mix has proven to be devastating.
"When you throw 95 [mph], a hitter has to gear his bat so much to catch up to 95, that if a guy has a decent change, it makes him almost unhittable. And that's what we saw happen today," said Cyclones manager Tom Gamboa on Szapucki's performance on Sunday.
"I'm definitely very happy with how my changeup is progressing," said Szapucki. "Earlier in the year, I didn't really have a changeup. I mostly just used it for effect and to change the batter's bat speed. But now, I consider it to be an out pitch."
The 20-year-old lefty's development is quickly coming along in the Mets' farm system, as he's also improved the mechanics of his pitch delivery with the help of Bryk. By stepping further back at an angle from the wind-up, Szapucki has been able to generate even more force from the mound.
Needless to say, Mets fans should be on the lookout for Szapucki to head up to the big leagues within the next few years if he continues to develop and work at the rate he's going.
"For a young kid, [Szapucki] gets right after it and he's got a good future ahead of him," said Gamboa. "I'm glad he's here, he's fun to watch."
Daniel Chin is a reporter for MLB.com based in New York. This story was not subject to the approval of Major League Baseball or its clubs.