Patience pays off for Brewers' Pina
After Lucroy traded to Rangers, catcher back in bigs for first time since '12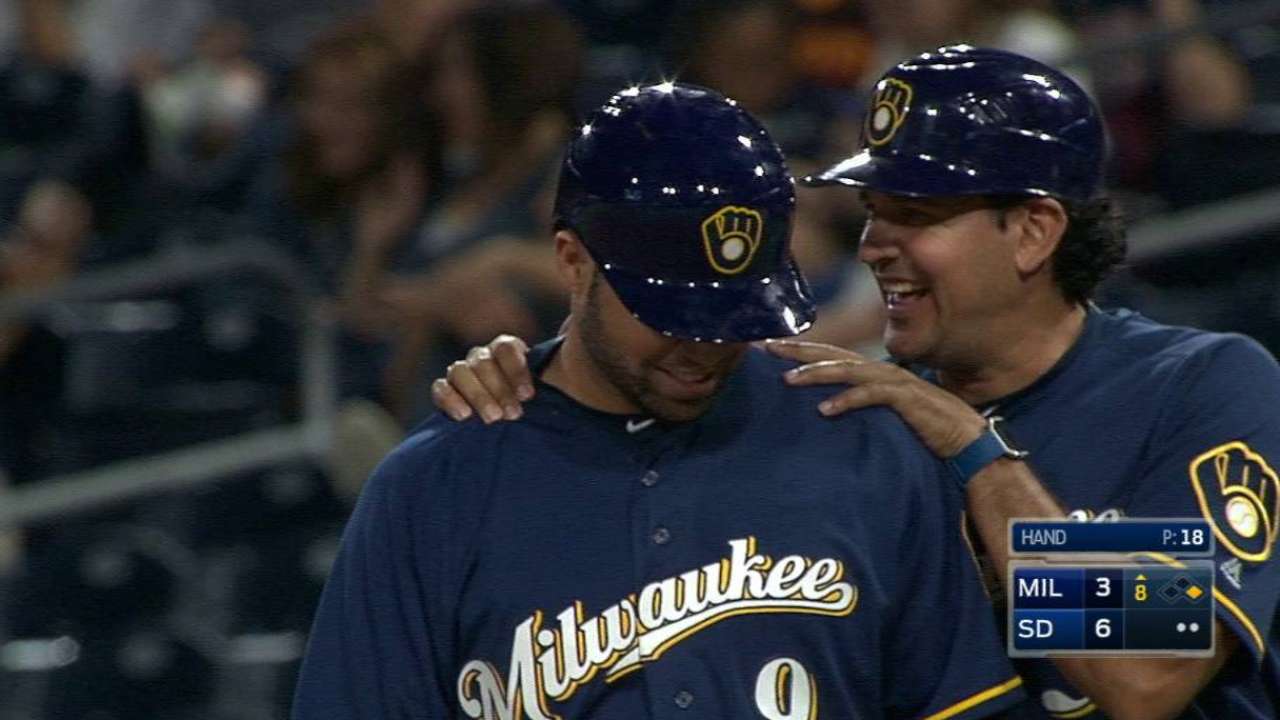 SAN DIEGO -- The only player more closely tuned in for news of a Jonathan Lucroy trade this season than Lucroy himself was journeyman catcher Manny Pina, who waited in limbo between Triple-A and the Major Leagues for two long days before Lucroy was finally sent to the Rangers at Monday's non-waiver Trade Deadline.
With that, Pina was back in the big leagues for the first time since 2012 with the Royals. On Wednesday, he made his first big league start since 2011, going 1-for-4 in the Brewers' 12-3 loss to the Padres.
"I never put my head down. I was always thinking I had the ability to come back to the big leagues," said Pina, who formed a pitcher-catcher battery Wednesday with longtime friend Junior Guerra, a fellow Venezuelan whom he's known for 15 years.
The 29-year-old Pina arrived in Milwaukee on Sunday morning, when it appeared Lucroy would be headed to the Indians for four prospects. When Lucroy vetoed that trade, Pina was a man without a team. He traveled with the Brewers to San Diego on Sunday night, then watched Trade Deadline coverage on MLB Network on Monday to see whether Lucroy was on the move.
"I saw Lucroy traded to Texas, so I came to the field and the manager gave me the welcome," Pina said.
He smacked a pinch-hit single on Monday night in his Brewers debut, and he saw his first action behind the plate in Wednesday's series finale. He started four games for the Royals in 2011, played one game off their bench in '12, then began a frustrating hiatus during which he at times considered giving up the game.
The 2014 season was his low point, he said. He suffered an oblique injury in Spring Training, was demoted to Double-A, then was traded to the Tigers' organization. It was just as hard on his wife and child.
"You see that happen and you think, 'OK, that might be it.'" Pina said. "You think maybe you won't get back to the big leagues. But I'm here, man."
What convinced him to stick with it?
"It's my family," Pina said. "My family always gave me the support, my wife and my kid. They always trust me. It's a little thing when you call our family and they say, 'You're good. You are a real good player. You will be in the big leagues soon.' That makes you feel more strong to keep going."
The Brewers acquired Pina with infield prospect Javier Betancourt from the Tigers in November for closer Francisco Rodriguez. Part of a Triple-A Colorado Springs catching tandem with Josmil Pinto, Pina hit .329 with five home runs and 43 RBIs while making the Pacific Coast League All-Star team.
"Manny Pina is going to play, and he's going to play quite a bit," Brewers manager Craig Counsell said. "I want to see Manny Pina play. He was having a great season at Colorado Springs."
His family is still in Colorado Springs, closing out its personal business there. They travel to Milwaukee on Friday and will be at Miller Park on Monday when Pina and the Brewers begin the first post-Deadline homestand.
Adam McCalvy has covered the Brewers for MLB.com since 2001. Follow him on Twitter @AdamMcCalvy, like him on Facebook and listen to his podcast. This story was not subject to the approval of Major League Baseball or its clubs.