MLB.com Columnist
Mike Petriello
Seager making case for NL MVP Award
Dodgers rookie shortstop's 139 wRC+ is best at position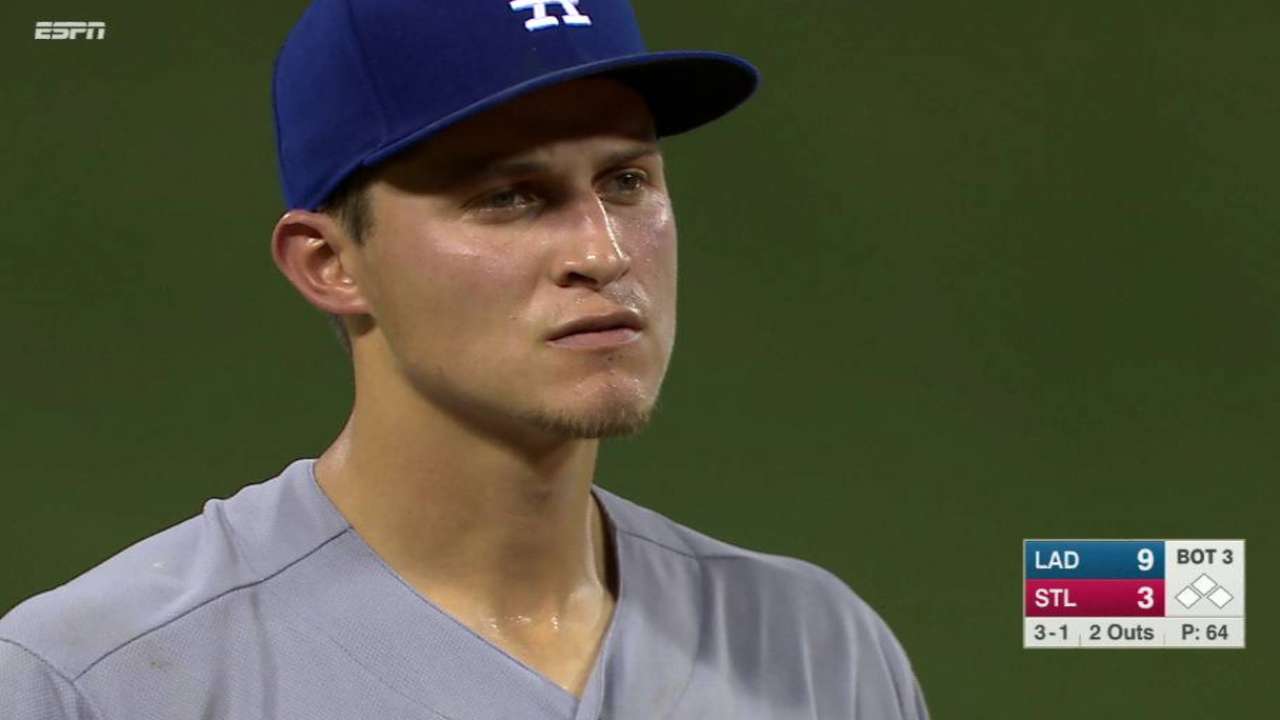 For most of the summer, the question around Corey Seager would be whether he could hold off fellow standout first-year shortstops Trevor Story and Aledmys Diaz (among other players, including Seung Hwan Oh and Jon Gray) to win the National League Rookie of the Year Award. Now that both Story and Diaz are sidelined with thumb injuries, Seager's path to the NL ROY Award seems to be something of a foregone conclusion, assuming his own health.
So let's ask a more important question: Might Seager, who is expected to face David Price and the Red Sox on Sunday night's free MLB Plus broadcast, be building a case for the NL Most Valuable Player Award? Could he be just the third player in history, joining Fred Lynn in 1975 and Ichiro Suzuki in 2001, to win both the Rookie of the Year Award and the MVP Award in the same season?
It's been an unusual season in the NL, as far as MVP arguments go. For most of the year, the unthinkable brilliance of Clayton Kershaw had him squarely in the lead, but he's now missed so much time due to injury (and without a clear return date) that he's probably out of the discussion. You might have argued for Matt Carpenter, before he was injured. Early in the year, Bryce Harper's outstanding April put him into the spotlight, but he's struggled for months since. Good players on likely non-playoff teams like Nolan Arenado, Starling Marte, Wil Myers, Paul Goldschmidt and Joey Votto won't have a chance, as unfair and infuriating as that is.
So at the moment, with all due respect to Brandon Crawford and Marcell Ozuna, the NL MVP Award race seems to come down to four names: Seager, Anthony Rizzo, Kris Bryant and Daniel Murphy. That's a rookie shortstop, two hitting stars on the same team, and the most unlikely over-30 superstar we've seen in years. A traditional race, it is most certainly not.
All four are worthy, without question, and if the vote were due today, your ballot might come down to simply what you value. On hitting alone, Seager is about 40 percentage points better than average, which is simultaneously very good and slightly behind each of the other three. That said, as a surprisingly good defensive shortstop, Seager adds more fielding value than the others, which is why he's sitting in second in Wins Above Replacement among the group.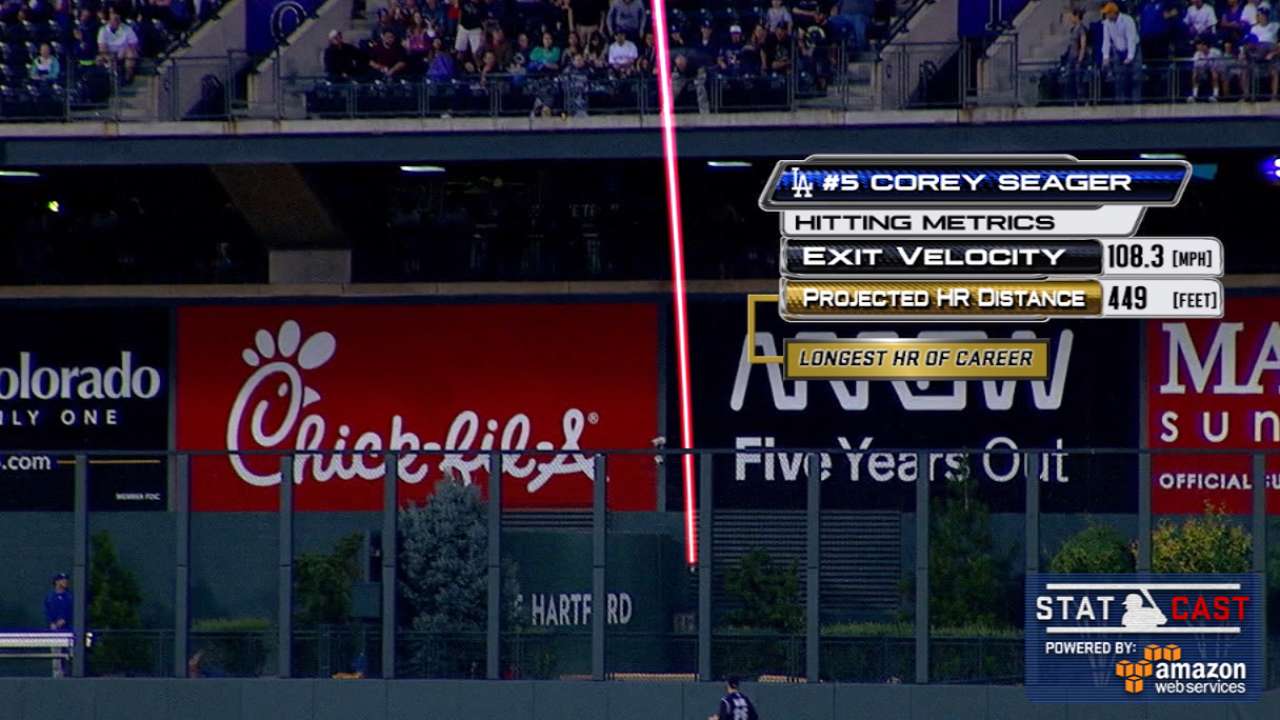 There's probably not a wrong answer, at least as things stand today. But if you did want to support Seager's candidacy, here's three very good reasons to work with:
1. He might be the best shortstop right now.
We can already hear the cries for Francisco Lindor or Carlos Correa or Xander Bogaerts or Crawford and on and on, because yes, baseball is absolutely loaded with elite shortstop talent right now. There's a million cases for a million shortstops. So let's go to the numbers, which say that Seager is first with the bat, with a 139 Weighted Runs Created Plus. He's fifth of 24 in FanGraphs' "Defense" metric, but since some of the glovesmen ahead of him can't really hit, he's first in shortstop WAR. Yes, WAR isn't perfect. No, you can't really fake your way to the top. It's hard to beat an elite bat paired with a plus glove.
2. He's having the best offensive season ever by a Dodgers shortstop.
The Dodgers, you might know, have been around for a really, really long time, dating back to 1884. In that time, there have been 92 qualified player seasons by a Dodgers shortstop. Let's go back to wRC+, which is a lot simpler than it sounds -- it sets "100" as league average, and accounts for the often big differences in ballpark and historical environment, which is important when comparing across different eras. The best:
1. 139 -- Seager, 2016
2. (tie) 135 -- Hanley Ramirez, 2014 / Billy Grabarkewitz, 1970
4. 126-- Pee Wee Reese, 1947
5. 125 -- Arky Vaughan, 1943
3. He may end up with the best season ever by a rookie shortstop.
Nomar Garciaparra's record for homers by a rookie shortstop (30, 1997) is probably safe, but his standing as the most valuable rookie shortstop might not be. As a star on both sides of the ball that year, Garciaparra ended up with 6.4 WAR, the best ever. Seager already has 5.0 WAR. That's a level that has been reached only three times in integrated baseball, adding Troy Tulowitzki (2007) and Bobby Grich (1972) to Garciaparra -- and that was the only year Grich played even 80 games at short, spending most of his career at second base.
With nearly two months of the season remaining, Garciaparra's target is more than attainable, if Seager keeps up what he's been doing. It'd make him historically valuable. One might even say, the "most valuable."
Mike Petriello is an analyst for MLB.com and the host of the Statcast podcast. He has previously written for ESPN Insider and FanGraphs. This story was not subject to the approval of Major League Baseball or its clubs.