Nola goes on DL; Thompson to debut soon?
Phillies top pitching prospect 'probably a probability' to join rotation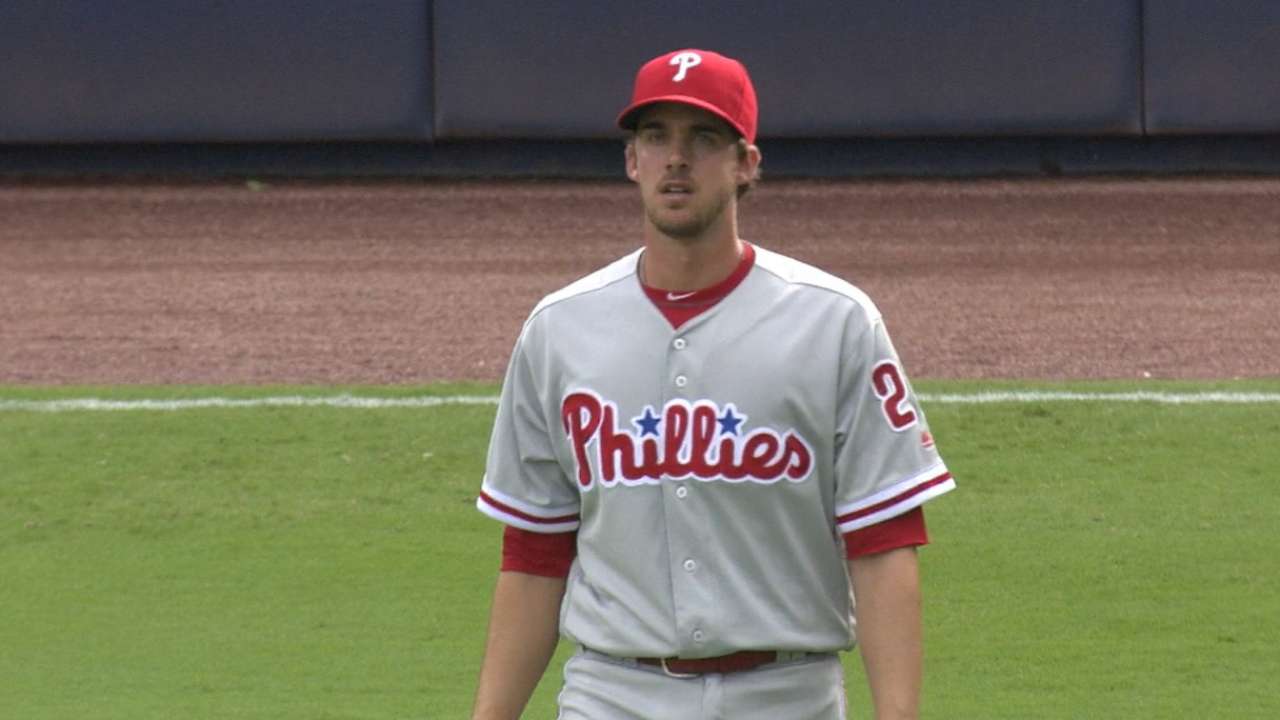 PHILADELPHIA -- Aaron Nola's season might be finished.
The Phillies announced Wednesday that Nola has been placed on the 15-day disabled list with a strained right elbow. Nola received a MRI exam in the morning, but Phillies manager Pete Mackanin said the injury is not serious.
"I was kind of relieved," Nola said. "After hearing that, I do not need anything big time done to it or anything like that. I can just go forward, let it heal and do the rehab I need to do."
The Phillies recalled Triple-A right-hander Phil Klein to pitch in Nola's place Wednesday night against the Giants at Citizens Bank Park, but Triple-A right-hander Jake Thompson is a very smart bet to join the rotation and make his Major League debut next week. Thompson is the organization's top pitching prospect and the No. 71 prospect in baseball, according to MLBPipeline.com.
Nola's injury at least offers a potential explanation for his recent struggles. He posted a 2.65 ERA with a 0.99 WHIP and 5.67 strikeout-to-walk ratio in 12 starts through June 5. He ranked 18th, eighth and fourth among 90 pitchers with 60 or more innings pitched in those categories in that stretch, respectively. He seemed like a legitimate candidate to make the National League All-Star team.
But Nola has a 9.82 ERA, 2.06 WHIP and 2.57 strikeout-to-walk ratio in eight starts since.
"[Pitching coach Bob] McClure's been saying that for a while, he said there's something there," Mackanin said. "You don't know if it's mechanical or what, but with the fact that he wasn't complaining about his arm, never even brought it up, never even asked for treatment, you've got to figure nothing is wrong with his arm."
Nola said throughout his struggles he felt healthy. He said he first felt soreness in his elbow Thursday in his start against the Braves at Turner Field. The soreness remained through a bullpen session Sunday in Atlanta.
He told the team about his elbow concerns on the bus on the way to the airport Sunday.
"I hope this isn't the end," Nola said about his season. "I'm going to try everything I can to be back by the end of the year."
But the Phillies will have to gauge the risk and reward of Nola pitching again this season. Generally, the rule of thumb for injured pitchers is they need the same amount of time to recover from the time they missed. So if Nola rests three weeks, he will need three weeks to get ready to pitch again.
If that is the case, he would not be ready to pitch again until mid-September.
"He might be shut down for the season," Mackanin said. "That will be determined after these next two weeks."
Mackanin said he does not believe the Phillies did not trade right-hander Jeremy Hellickson before Monday's non-waiver Trade Deadline because of concerns about Nola's elbow.
"I don't think they put a stop on anything," Mackanin said about the Phillies' front office. "That's the thing, if they had a real good deal for Hellickson, I'm sure they would have made it. We didn't want to lose him. But if you have the deal you can't say no to, then they would've done it. We've got pitchers we would've used."
Thompson will be used next week. He certainly has earned a promotion. He is 8-0 with a 1.21 ERA in 11 starts since early June.
"That's probably a probability," Mackanin said about Thompson's chances of making his big league debut next week. "Can I say that? A good, solid guess."
Todd Zolecki has covered the Phillies since 2003, and for MLB.com since 2009. Read his Phillies blog The Zo Zone, follow him on Twitter and listen to his podcast. This story was not subject to the approval of Major League Baseball or its clubs.