Jeffress joins Rangers; Dyson still the closer
Former Brewers 9th-inning man surprised by trade, but glad to join longtime teammate Lucroy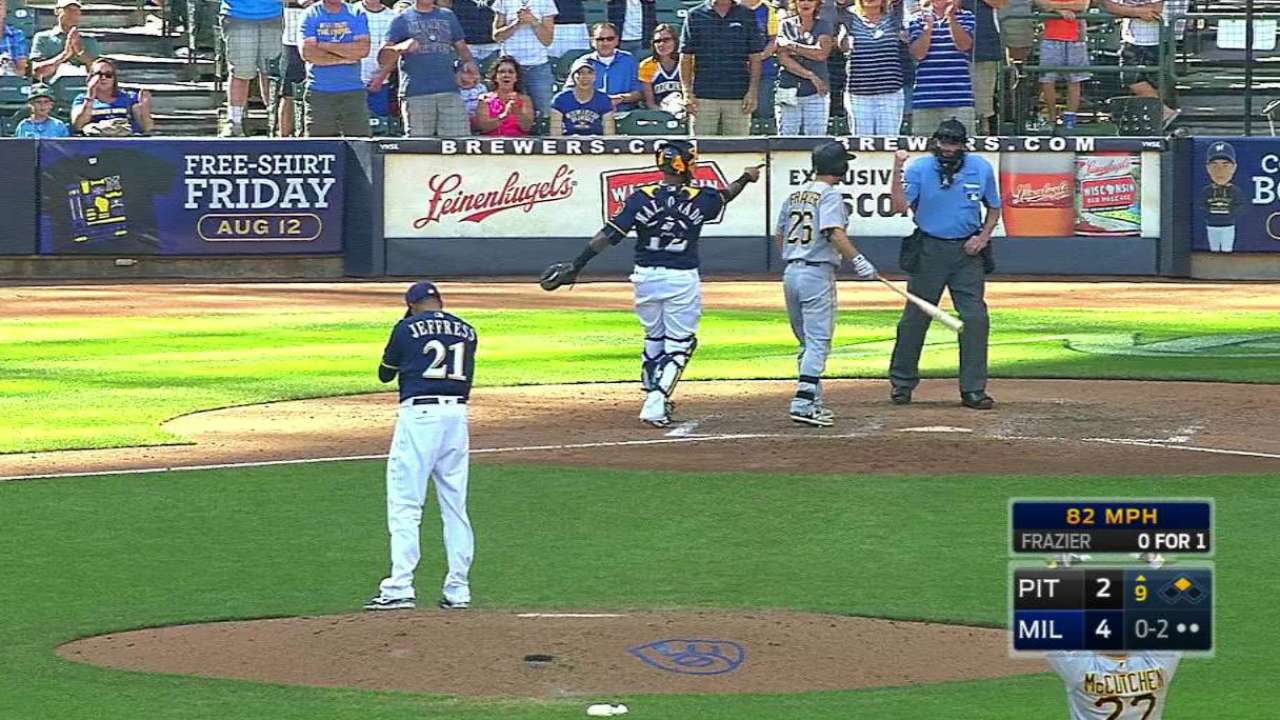 BALTIMORE -- Rangers manager Jeff Banister made it clear Wednesday: Sam Dyson is still the team's closer even after right-hander Jeremy Jeffress was activated. The Rangers acquired Jeffress, who has 27 saves this season, from the Brewers in the deal that brought Jonathan Lucroy to Texas.
The acquisition provides Banister with additional depth at the back end of his bullpen, which entering Wednesday, ranked last in the American League with a 4.81 ERA.
"It stretches our bullpen out," Banister said. "It allows us to stay away from some of those three-day-in-a-row-type scenarios with Dyson. It also allows us to have a guy in the seventh, eighth inning on that knows how to face the heart of the order and get the job done. It also gives us a guy that can get some of those four-run situations."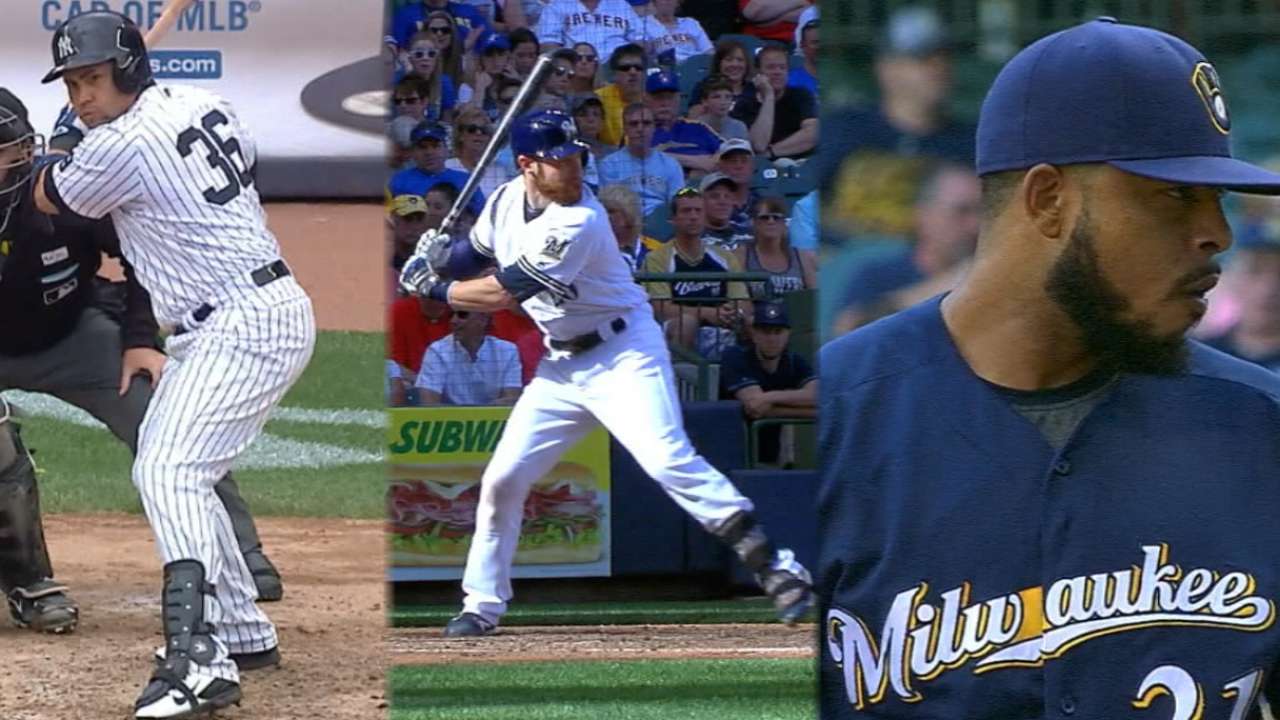 This season marked the first time Jeffress, 28, had been used as a closer in the Majors. But he doesn't envision there being an adjustment period transitioning back out of the role.
"I have the same mentality every time I go out there," said Jeffress, who has a 2.22 ERA over 47 appearances. "I always treat it like it is the ninth inning. There is no such thing as getting work in. I'm just going to go out there and treat it like it's the ninth inning and go right at hitters all day long."
Jeffress said the trade was a "complete surprise," but he's glad he's making the move alongside Lucroy. The two have known each other since they played together for Class A Brevard County in 2008.
"He's a good friend of mine," Lucroy said. "It's kind of crazy and ironic that he's with me now, because we kind of came up together and now we got traded away together. It's kind of ironic. I've literally known him longer in that organization, player-wise."
While Lucroy has to adjust to a new pitching staff, he already knows what Jeffress brings on the mound. When Jeffress was with Toronto in 2013, he lowered his arm slot and developed a hard sinker that reaches the upper 90s. It's the pitch Lucroy has raved about.
"Whenever he's down in the zone -- I don't care who's hitting -- it's nasty," Lucroy said. "It's going to blow you out. You have to have a perfect swing to get a hit off him whenever he's down in the zone and he's right."
Worth noting
• Texas optioned infielder Hanser Alberto to Triple-A Round Rock on Wednesday to clear room for Jeffress. Alberto hit .175 in 40 at-bats with the Rangers, making 11 starts for the club.
• The Rangers announced Double-A Frisco RoughRiders infielder Ronald Guzman and pitchers Yohander Mendez, John Fasola and Jose Valdespina have been promoted to Round Rock. Mendez is the Rangers' top pitching prospect, according to MLB Pipeline, after they dealt other top prospects away at the non-waiver Trade Deadline.
Guzman is the club's No. 5 prospect and has hit .288 with 16 doubles, five triples, 15 home runs and 56 RBIs in the Minors this season.
• Outfielder Shin-Soo Choo, who is on the disabled list with lower back inflammation and is eligible to return Thursday, was scheduled to do baserunning drills during batting practice Wednesday. He took live batting practice and fielded fly balls Tuesday.
"We are going to let him get through the work, see where he's at," Banister said. "Make a decision on how he feels, whether or not he's good to go tomorrow or the next day."
Ryan Baillargeon is a reporter for MLB.com based in Baltimore and covered the Rangers on Wednesday. This story was not subject to the approval of Major League Baseball or its clubs.