Armstrong recalled, pitches two scoreless innings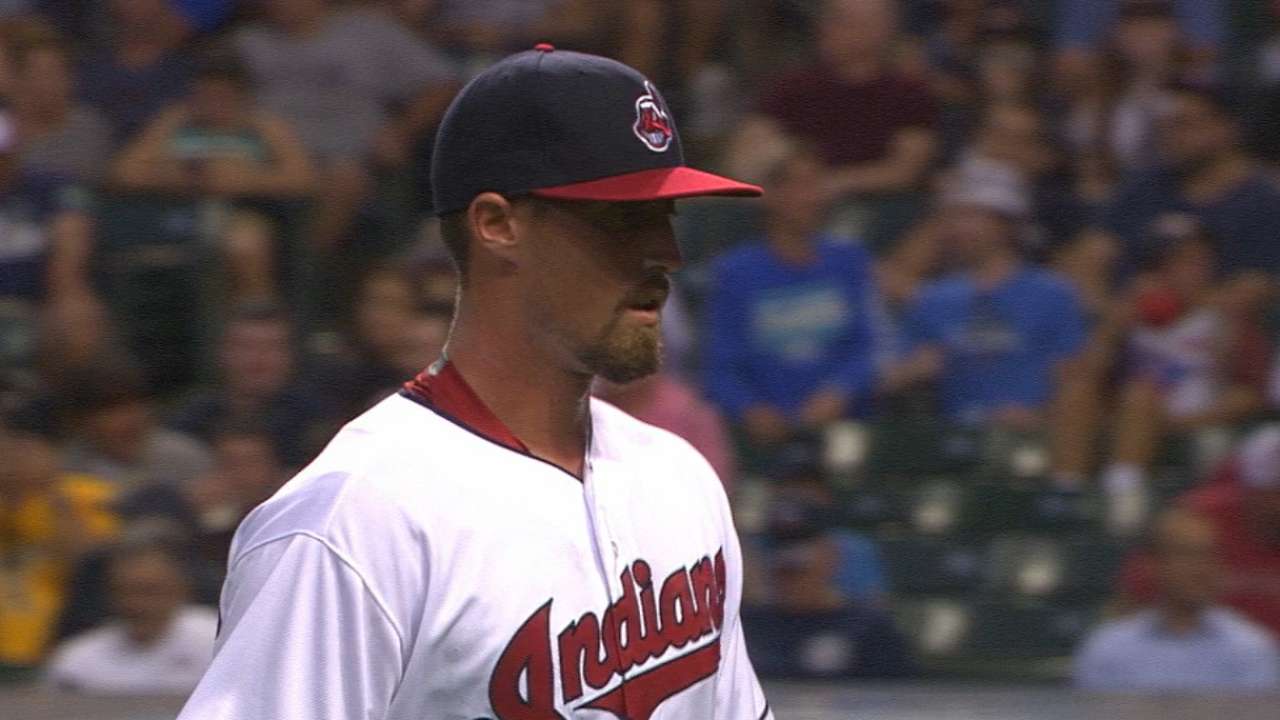 CLEVELAND -- The Indians shuffled around their bullpen on Wednesday prior to their 13-5 loss to the Twins by recalling right-hander Shawn Armstrong from Triple-A Columbus and optioning right-hander Austin Adams.
"It's awesome to come up here and be a part of a first-place team," Armstrong said . "I'm excited to have this opportunity, and I'm going to do whatever I can to help this team win."
Armstrong was the first pitcher out of the bullpen at Progressive Field on Wednesday. He relieved starter Trevor Bauer in the third, spinning two scoreless innings and recording a pair of strikeouts.
After the game, Indians manager Terry Francona said Armstrong would be going back to Columbus in order to keep fresh options in the bullpen.
"I thought Shawn actually threw the ball really, really well tonight," Francona said. "We've had to log what, 21 innings or something the last three nights? We've got to get some help here."
Both Armstrong and Cody Anderson will go down to Triple-A, according to Francona. Right-hander Mike Clevinger is expected to be added to the roster as he is slated to start in Thursday's series finale. Clevinger will remain in the rotation for the time being, while Danny Salazar remains on the disabled list.
To make room for Armstrong, the Indians optioned Adams. He posted a 7.04 ERA in 15 relief big league outings this year with 15 strikeouts in 15 1/3 innings. In Tuesday's 10-6 loss, Adams surrendered a two-run homer to Minnesota shortstop Eduardo Escobar in the ninth.
Prior to Wedesday night, Armstong's only other appearance for the Tribe this season was one inning in relief on May 31, in which he gave up one run on two hits to the Rangers. With Columbus, he compiled a 3-1 record and a 2.18 ERA in 40 games. The righty recorded 62 strikeouts across 41 1/3 frames.
"He's been pretty good lately," Francona said earlier in the day. "A lot of times with relievers, especially young relievers, they go through ups and downs. I think Triple-A, especially, when you think you are going to be the guy called up, and you are not. I think there are a lot of guys that have nights like that in Triple-A, which I understand."
But in his brief stint, Armstrong was able to learn something. He said before the game he was excited for the opportunity to sit in the bullpen and learn from the Tribe's talented relief corps, especially with newly acquired reliever Andrew Miller lingering in the back end.
"It's more about watching these guys pitch," Armstrong said. "I think we have -- if not the best -- then one of the best bullpens in the game. Everybody is saying it now. When you have so many names that can throw 7-8-9 day in and day out, it's a humbling experience to come up and see. It's also very exciting because if we got the lead seventh, eighth or ninth, then the game is over for the most part."
Worth noting
• Reliever Joe Colon threw a simulated game on Wednesday afternoon at Progressive Field. Francona said he threw 20 pitches to a pair of batters, including outfielder Michael Brantley, who had previously been hitting off the machine.
"First of all, Joe did well, so that was good," Francona said. "Brant and Erik Gonzalez were the hitters. By all accounts, Brant is feeling really good. I'll visit with him a little bit later on tonight and see what he wants to do in his next step."
• Outfielder Tyler Naquin was named the American League Rookie of the Month for July on Wednesday. He became the first Indians' player to win Rookie of the Month twice in the same season after capturing it in June. He batted .348 for the Tribe in July and has a .328 season average.
Shane Jackson is a reporter for MLB.com. This story was not subject to the approval of Major League Baseball or its clubs.