Hand to rotation next year 'really intriguing'
Padres have considered experimenting with lefty as starter in 2017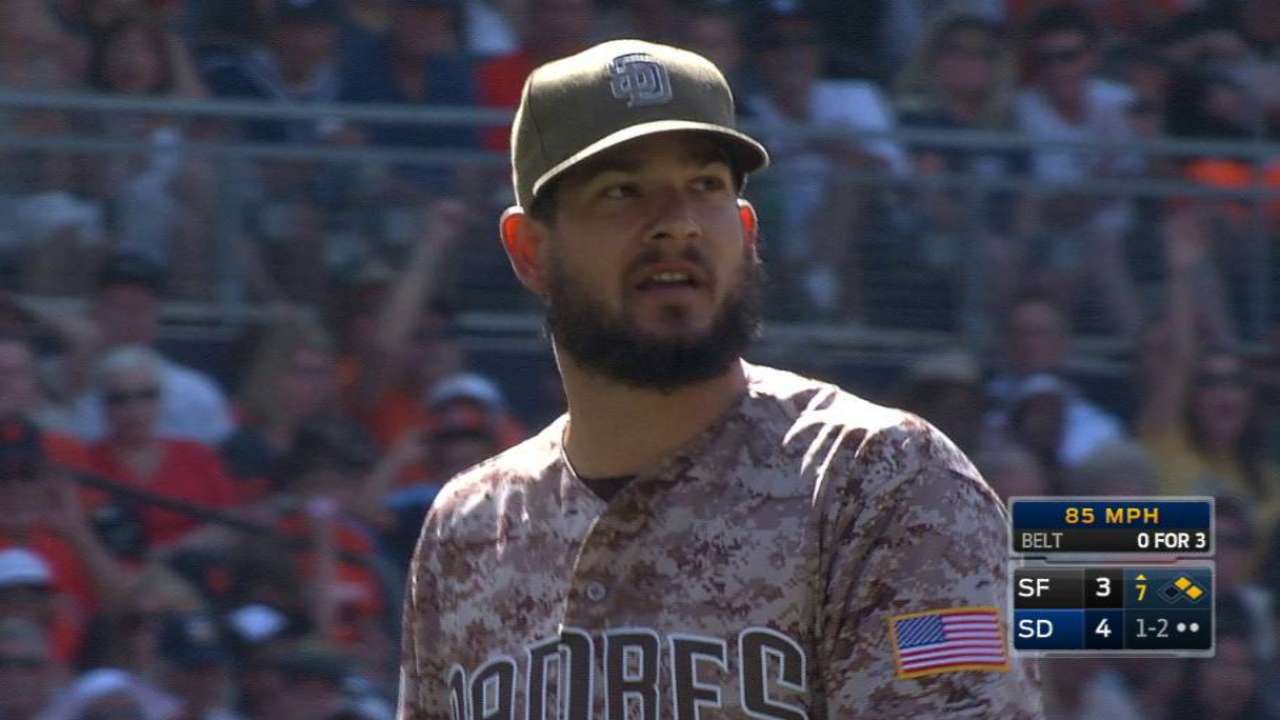 SAN DIEGO -- In the span of three months, Brad Hand has carved himself a vital role within the Padres' bullpen -- after he began the season with no role at all in Miami.
The veteran left-hander, claimed off waivers in the season's opening week, has been a revelation for San Diego. He owns a 3.09 ERA and has allowed just 44 hits in 58 1/3 innings.
Next year, however, could see Hand in a bit of a different role. The Padres have had discussions about potentially experimenting with the 26-year-old southpaw as a starter when they arrive at Spring Training next year.
"It's a really intriguing idea, because I think his stuff plays as a starter," Padres manager Andy Green said. "He didn't take off the way they wanted to in Miami, but that doesn't mean he can't do it. I like his pitch mix, and it's something that as a starter, it fits."
As a starter with the Marlins, Hand struggled, posting a 4.86 ERA with a 1.46 WHIP. But that's not necessarily an indicator of his future performance as a starter.
After all, both Tyson Ross and Drew Pomeranz struggled as starters early, to the point where many felt they'd be best suited as relievers. Ultimately, of course, Pomeranz and Ross proved their mettle in the rotation, and Hand says he'd be eager to do the same, if given the chance.
"It's been nice, being in the bullpen through the year," Hand said. "But I still think I can start. I've been a starter in the Minor Leagues. That's always what I've done. The bullpen thing, to me, was kind of new, and it's been a learning process."
To be sure, the reliever-to-starter transition isn't always a smooth one. Padres closer Brandon Maurer began Spring Training this season attempting to make the same transition. But he struggled mightily as he searched for a reliable third pitch.
In fact, Maurer's rotation foray carried negative effects into the regular season. His experimentation with a curveball seeped into his power slider and actually decreased its velocity. Only recently -- after not throwing a curveball for three months -- has Maurer's slider returned to its high-80s velo.
On the other hand (pardon the pun), Hand likely wouldn't need to add to his mix. He already throws both a slider and a curveball with regularity -- and to much success (though he's shied away from his changeup this season).
"He's so good in the bullpen that it would be difficult, and I think he's really fallen in love with the role," Green said. "But it's a four-pitch mix; it's a four-pitch mix that plays.
"I've brought it up on a couple of occasions about the possibility for the future. I think probably for the foreseeable future, this year, we're pretty much committed to leaving him in the bullpen, unless something happens where we don't have any options. But I don't know that it's out of the realm of possibility that we would consider that going into next season."
AJ Cassavell covers the Padres for MLB.com. Follow him on Twitter @ajcassavell. This story was not subject to the approval of Major League Baseball or its clubs.