Yankees' Hicks has held onto love for golf
From early age, outfielder used driving ranges, putting greens to bond with father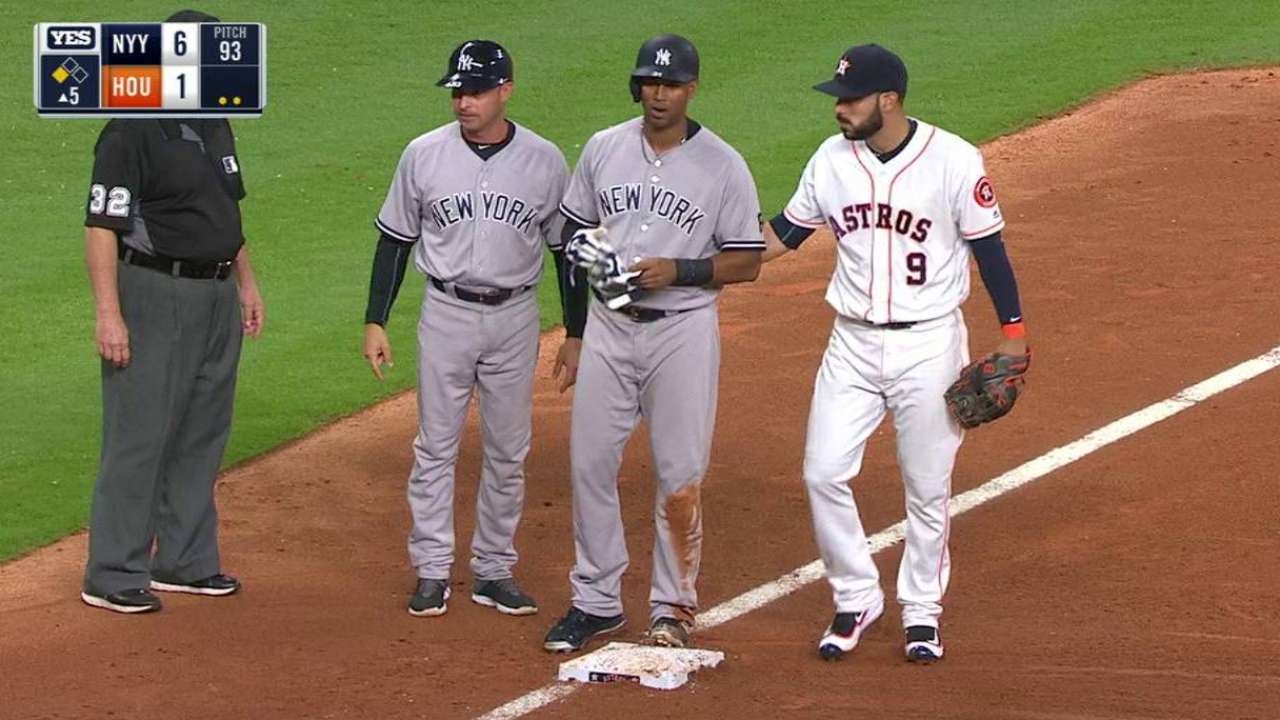 NEW YORK -- Joseph Hicks realized his golf clubs were much too long for his 4-year-old son, so he sawed three of them down to size. Aaron Hicks had seen his father putting into a cup in the living room, so he grabbed one and tested his luck.
Soon, father and son -- with the shorter clubs -- took a trip to a local course. The younger Hicks was given two buckets of balls. He was done hitting both of them before his father had finished one.
Hicks said he doesn't remember the story. He was too young. But as he got older, Hicks kept putting into cups in the living room. Eventually, he graduated to the SCPGA. Hicks eventually gave up competitive golf to focus on baseball, but it's still a favorite hobby of the Yankees outfielder.
"You never know what's going to happen," Hicks said. "You can have the best round of your life, you can have the worst round of your life, but you never know what's going to happen."
Growing up in Long Beach, Calif., Hicks often played on courses previously traversed by an icon. A young Tiger Woods had dominated at the Navy Golf Course in Seal Beach and at El Dorado Park, and that was never far from Hicks' mind.
"You're always shooting for the next best score," Hicks said. "A lot of courses where we played, Tiger had the best score at that course. You go there and you try to beat him."
Hicks never did beat Woods, but he found success nonetheless. Hicks said he won probably five tournaments while playing competitively from ages 8-12.
But by the time Hicks hit high school, he had to put his clubs down. Baseball was becoming more important.
Hicks' passion for golf never wavered. He said he plays a lot in the offseason and belongs to a private course. Approximately three weeks ago, the 26-year-old posted a photo of himself preparing to hit a golf ball on his Instagram.
It's the product of a childhood fascination. In addition to playing on the same courses as Woods, Hicks said he and his father used to watch tournaments on television together.
"He just wanted someone to play golf with, and I just happened to be right there," Hicks said. "It kind of just worked."
Joshua Needelman is a reporter for MLB.com based in New York. This story was not subject to the approval of Major League Baseball or its clubs.