Crisp, Alonso lead A's to victory over Angels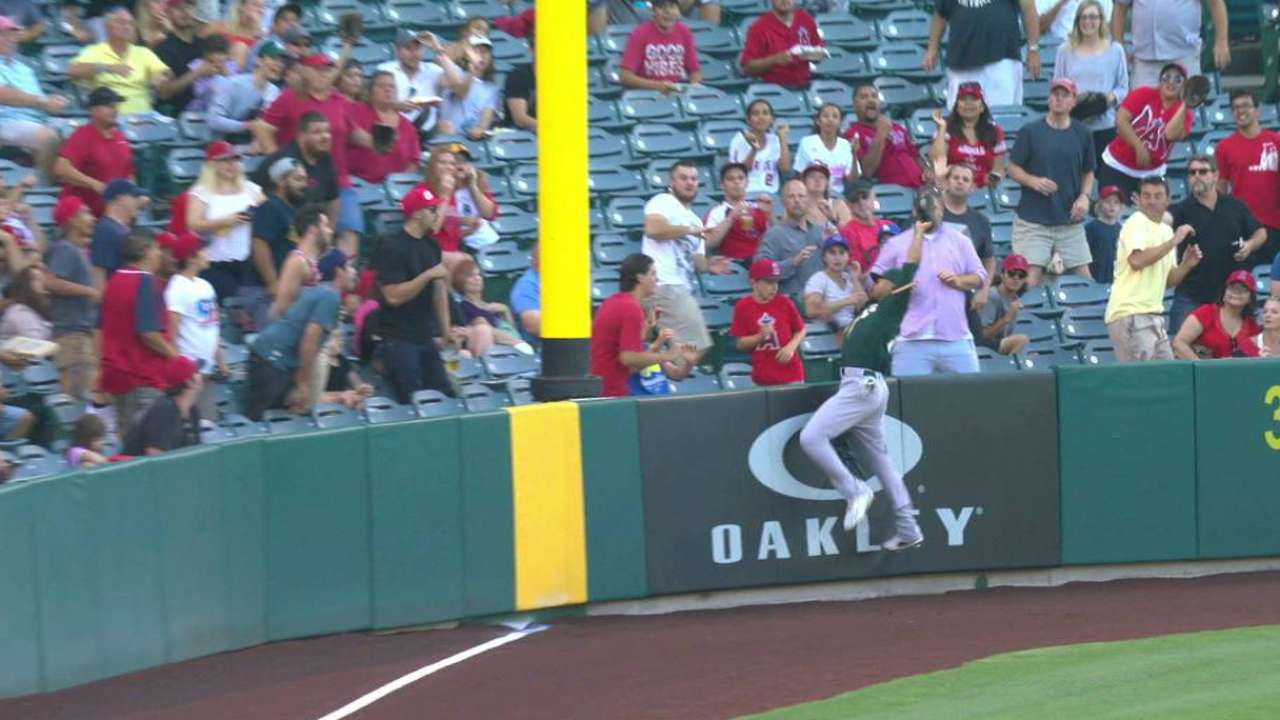 ANAHEIM -- After seeing his team miss a chance to help seal a win when a ball stuck in his glove in the eighth inning, A's first baseman Yonder Alonso wanted to remove all doubt -- just as he had seen Coco Crisp do earlier in robbing a home run.
Alonso drove an RBI double off of Angels reliever Mike Morin in the 10th inning, giving his team the lead for good as Oakland avoided a sweep with an 8-6 win on Thursday. Just two innings earlier, it was Alonso who looked like the goat after Johnny Giavotella's hard-hit, bases-loaded grounder stuck in his glove and allowed the tying run to score.
The A's took the lead in the seventh, as Crisp, who took a potential third home run away from Ji-Man Choi with an amazing catch near the short left-field wall in the 5th inning, laced a double off the right-field wall to score Jake Smolinski.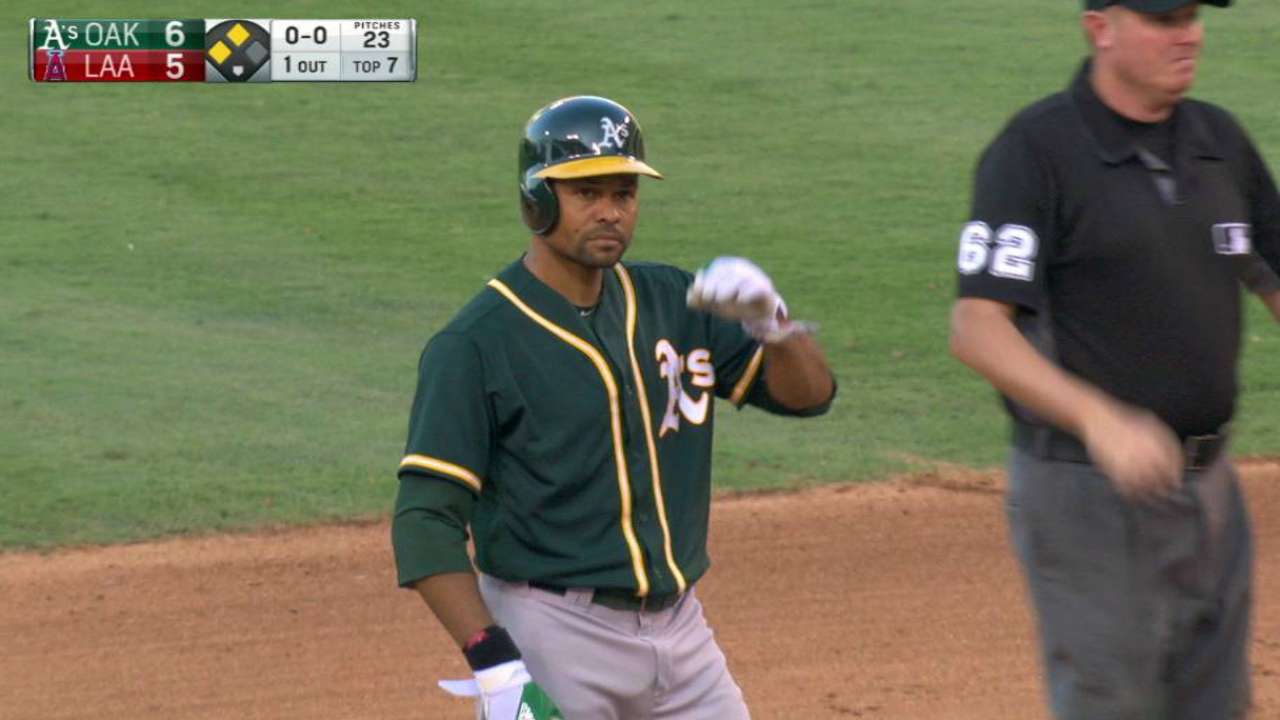 "I went back and I knew my distance from the wall,'' Crisp said. "This is an outfield that is a good one, the angles make it a lot easier than most ballparks to play. It's nice when you have short walls out there to give you the opportunity to make plays like that.''
The Angels offense jumped on A's starter Jesse Hahn, who was making his first start since being recalled from Triple-A Nashville. Choi knocked the first of his two home runs with a solo shot in the second inning, following that up in the third with a three-run shot that gave the Angels a 5-2 lead. Hahn was knocked out after four innings, departing after allowing five runs on 87 total pitches.
Angels right-hander Ricky Nolasco had some trouble with the long ball in his team debut, giving up homers to -- Max Muncy, Ryon Healy and Danny Valencia -- all of which were solo shots. The A's rallied to tie the game in the fourth, eventually leveling the score on a Nolasco wild pitch.
"I don't care who you are, when you're on a new team you want to make a good impression," Nolasco said. "Got that one out of the way and was able to get decently far into the game. It's frustrating, but at the same time, I got a little rhythm going on and that's what I'm going to concentrate on the next five days."
MOMENTS THAT MATTERED
Ji-Man is The Man: Choi entered Thursday's game hitting .167/.265/.306 with two career homers to his name, but he put together the best offensive performance of his career. He cranked out the first two-homer performance of his career, doubling his career total entering the day. He also became the fourth player from South Korea to have a multi-homer game this season. He nearly hit his third homer in the fifth, but was robbed at the left-field wall by Crisp. He was seeking to become just the third Korean-born player to hit three home runs in a game, joining Hee-Seop Choi (Dodgers, 2006) and Shin-Soo Choo (Indians, 2010).
"Ji-Man can hit the ball a long way, though his basic approach is more up the middle and he'll use the whole field," Angels manager Mike Scioscia said. "He had some balls and hit them hard today, and he almost had a third one down there. It was good to see." More >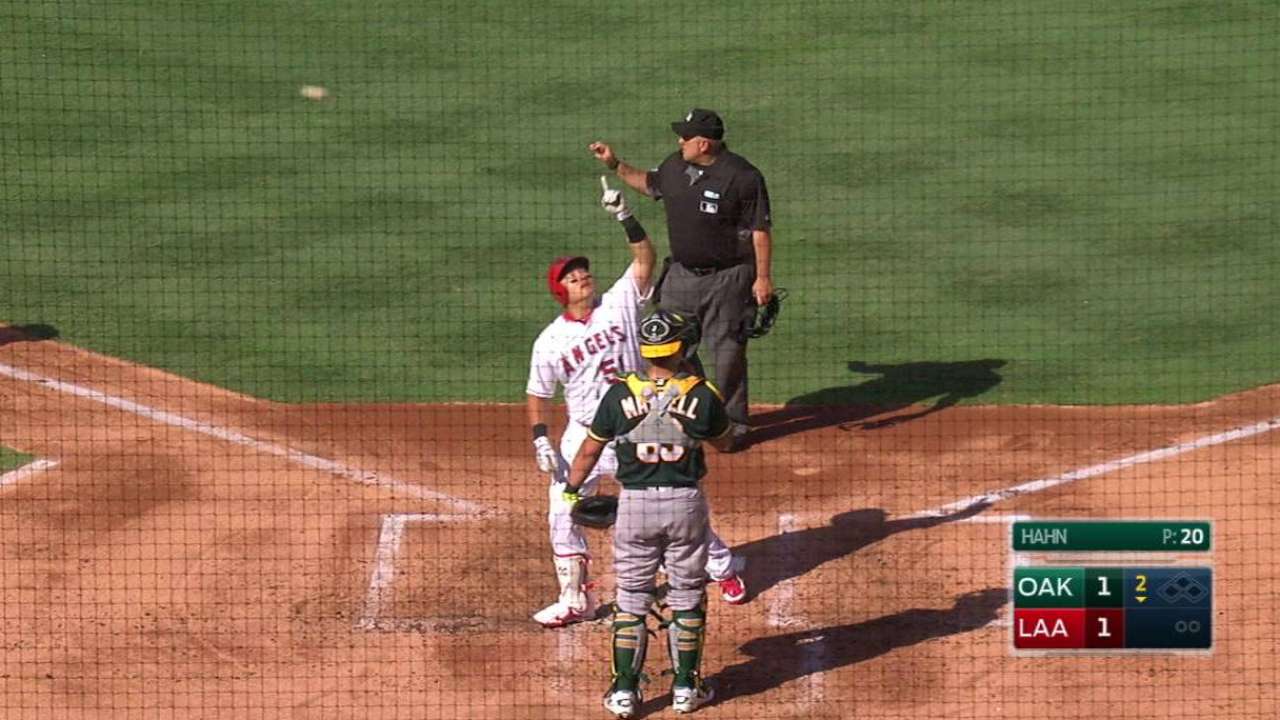 Crisp goes above and beyond: Choi came up to bat in the fifth with two homers already under his belt, and nearly had his third when he hit one to left that looked like it was going over the wall. Crisp made a leaping grab, flinging his body into the stands to make the catch and keep the game tied, 5-5.
"It was a routine catch,'' Crisp said, with a smile.
Welcome to the ballclub: Nolasco made his first start for the Angels after being acquired from the Twins in a four-player deal that included left-hander Hector Santiago on Monday, completing six innings for the fifth time in his last six starts but also squandering an early lead and leaving on the hook for five runs. He found far too many barrels of bats, allowing four extra-base hits and several other loud outs before exiting after 93 pitches.
"Those mistakes [Ricky] made, those guys didn't miss," Scioscia said. "He finished strong, and hopefully it'll get him on a roll for his next start." More >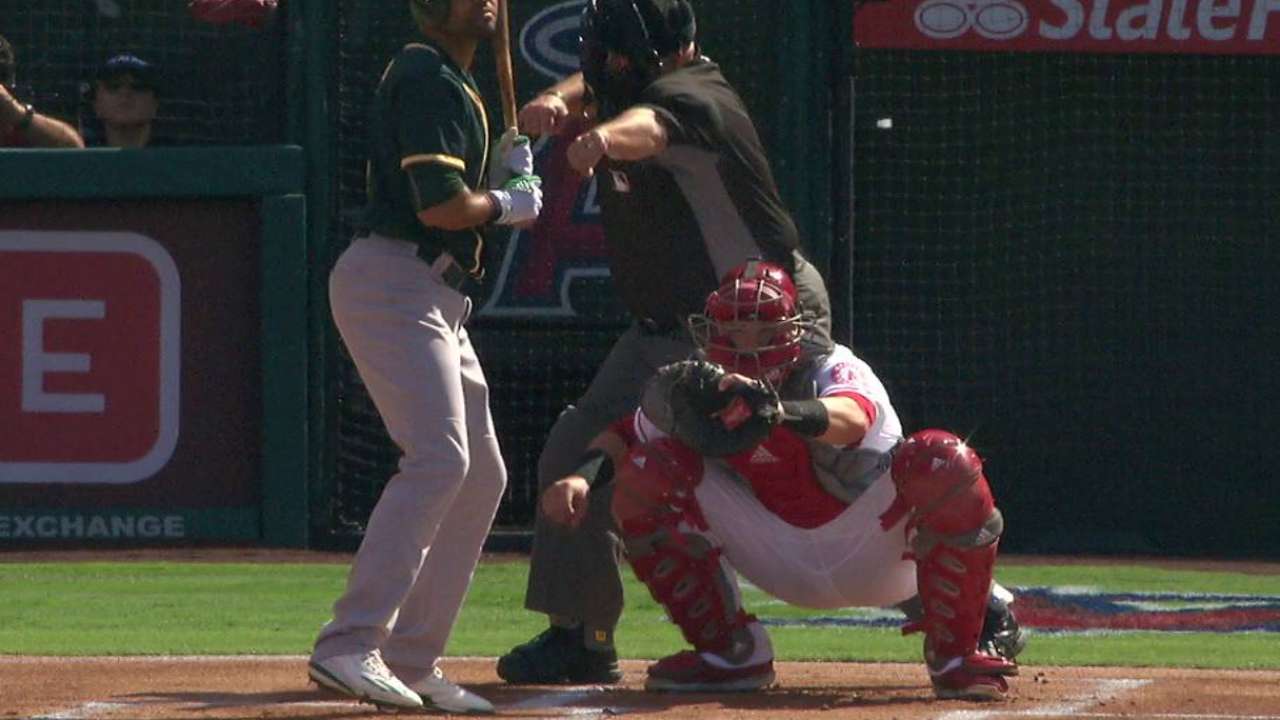 QUOTABLE
"Coco is just a veteran that knows how to play the game. He robbed the homer and his hitting. He's like "The Natural" out there. He just goes out there and plays the game and has a lot of fun. It's a lot of fun to watch. -- Alonso, on Crisp's solid performance.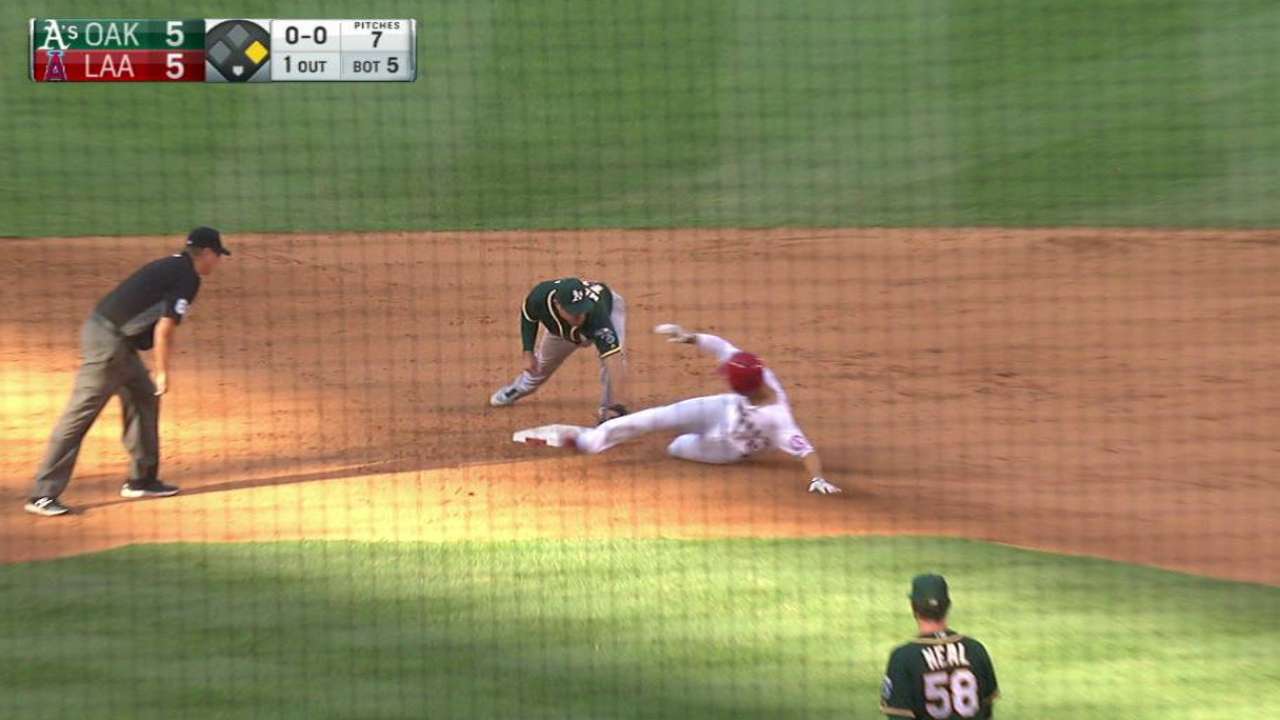 FOR THE HIGHLIGHT REEL
With one out in the sixth inning, Alonso laced a shot into right field for what looked to be a sure double. Angels right fielder Kole Calhoun, battling the sun, raced back and made a leaping grab in stride for the out.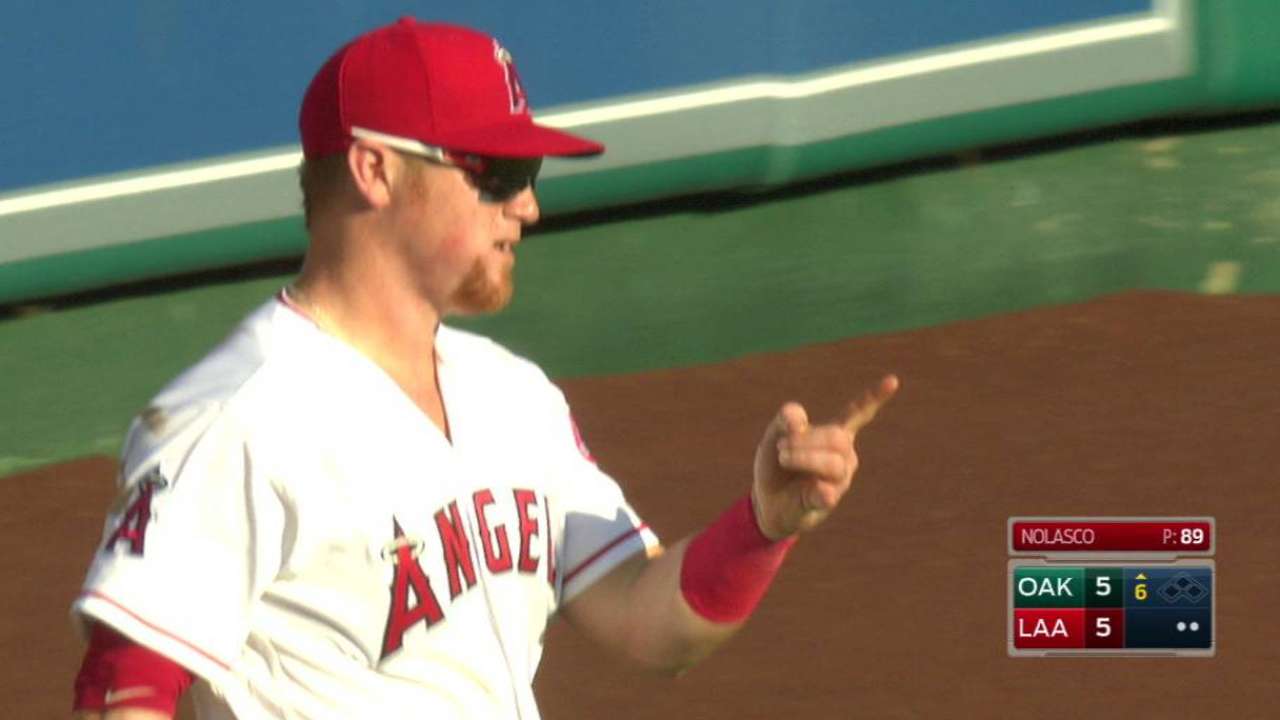 EJECTION
Athletics designated hitter Khris Davis was ejected by home plate umpire Eric Cooper for arguing balls and strikes after being called out on strikes to lead off the eighth inning. It was the first ejection of Davis' career. Manager Bob Melvin went out to argue with Cooper, but was not ejected.
AFTER FURTHER REVIEW
On Andrelton Simmons' run-scoring base hit up the middle in the third inning, Angels designated hitter Albert Pujols tried going from first to third base. After Pujols was initially ruled safe, the A's challenged the call that the tag was late. The call stood, and Pujols remained at third base. The review lasted one minute and 32 seconds.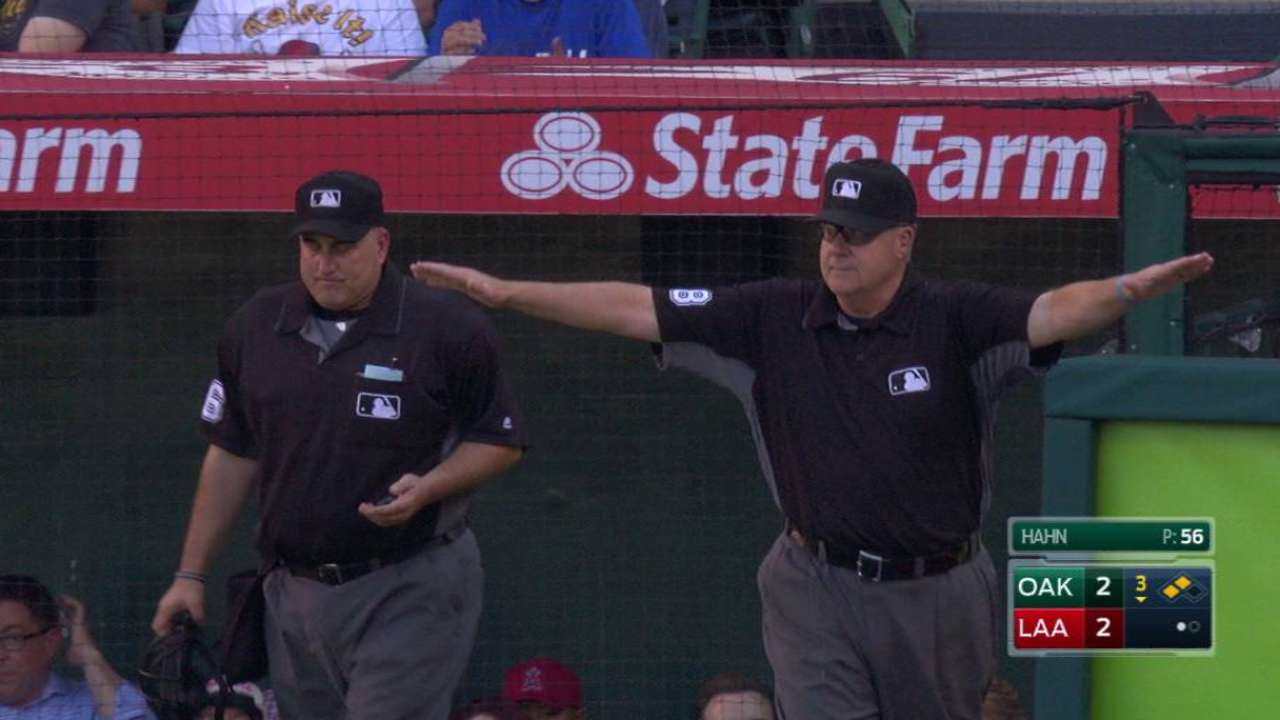 WHAT'S NEXT
A's: Oakland kicks off a 10-game homestand on Friday with an interleague series with the Chicago Cubs in their first matchup since 2013. Southpaw Dillon Overton (1-2, 9.33) will start the opener for the A's, drawing lefty Jon Lester (11-4, 2.95). First pitch is at 7:05 p.m. PT.
Angels: The Angels hit the road starting Friday in Seattle, as right-hander Tim Lincecum makes his way to the ballpark that is just 12 miles from his childhood home. Lincecum has struggled of late, as he hasn't finished six innings since his season since his season debut on June 18. First pitch is scheduled for 7:10 p.m. PT.
Watch every out-of-market regular-season game live on MLB.TV.
Fabian Ardaya is a reporter for MLB.com based in Anaheim.

Jay Paris is a contributor for MLB.com based in San Diego. He covered the A's on Thursday.

This story was not subject to the approval of Major League Baseball or its clubs.