Cubs place Hammel on bereavement list
Grimm called up from Triple-A Iowa to fortify bullpen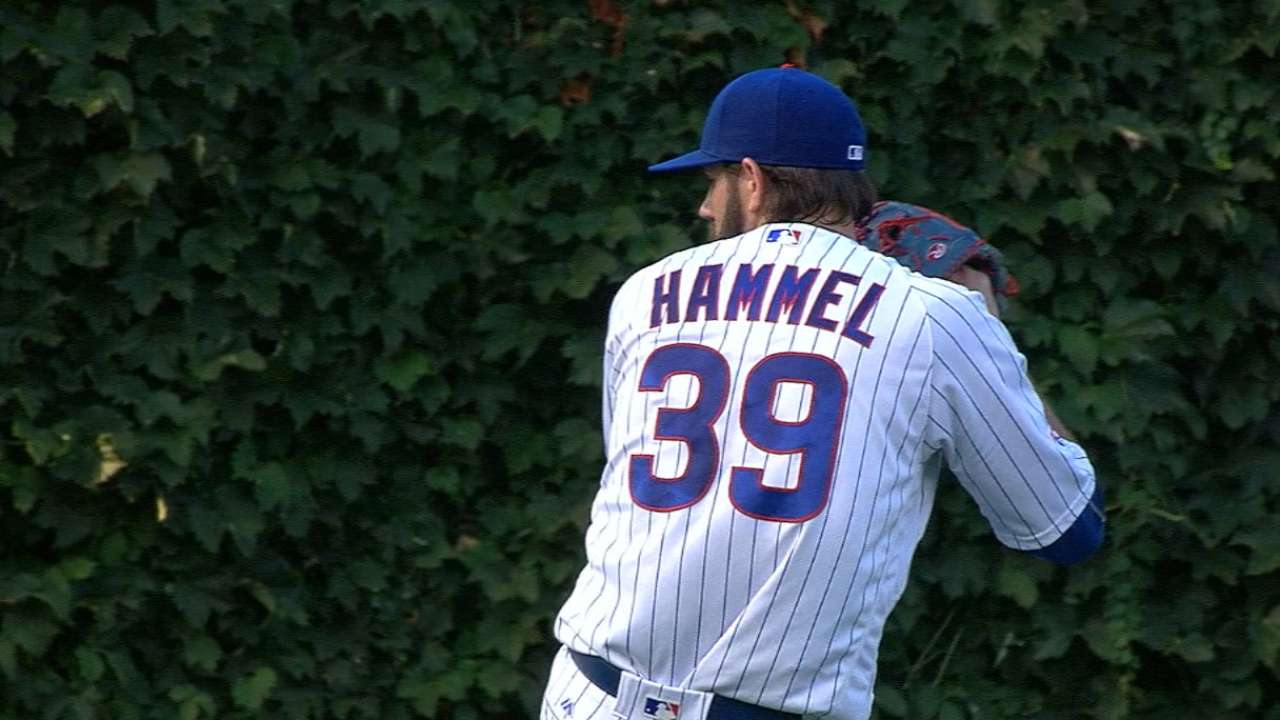 CHICAGO -- The Cubs placed right-handed starter Jason Hammel on the bereavement list on Wednesday and recalled right-handed reliever Justin Grimm from Triple-A Iowa.
Hammel had to deal with a family matter. The 33-year-old, who picked up his career-high 11th win on Tuesday against the Marlins, will be out three to seven days. He was next scheduled to start Tuesday against the Angels at Wrigley Field.
Grimm, 27, returns after a brief stint at Iowa. He was optioned after Saturday's game, and he made one relief appearance there, striking out three batters in a scoreless ninth.
The addition of Grimm gives the Cubs nine relievers, which isn't a bad thing. Even though Kyle Hendricks threw a complete game Monday, the bullpen is still recovering from Sunday's 12-inning contest.
"It's nice to have an extra guy out there," Cubs manager Joe Maddon said.
• After an off-day Thursday, the Cubs resume Interleague Play with a weekend series against the Athletics. Maddon said he was still considering his options for the designated hitter. Players in that role for Chicago are 2-for-17 this season. Dexter Fowler and Kris Bryant filled that spot in two games against the White Sox on July 25-26.
• Javier Baez has been solid defensively no matter where Maddon puts him, whether it be second, third or short. On Wednesday, Baez started at shortstop to give Addison Russell a breather.
"It's unusual," Maddon said of Baez's skills. "He's a game-changer on defense."
Baez started at third on Tuesday, and he made an acrobatic throw on Adeiny Hechavarria's grounder for the first out of the ninth. Maddon said the infielder should have been credited with the save because of the play.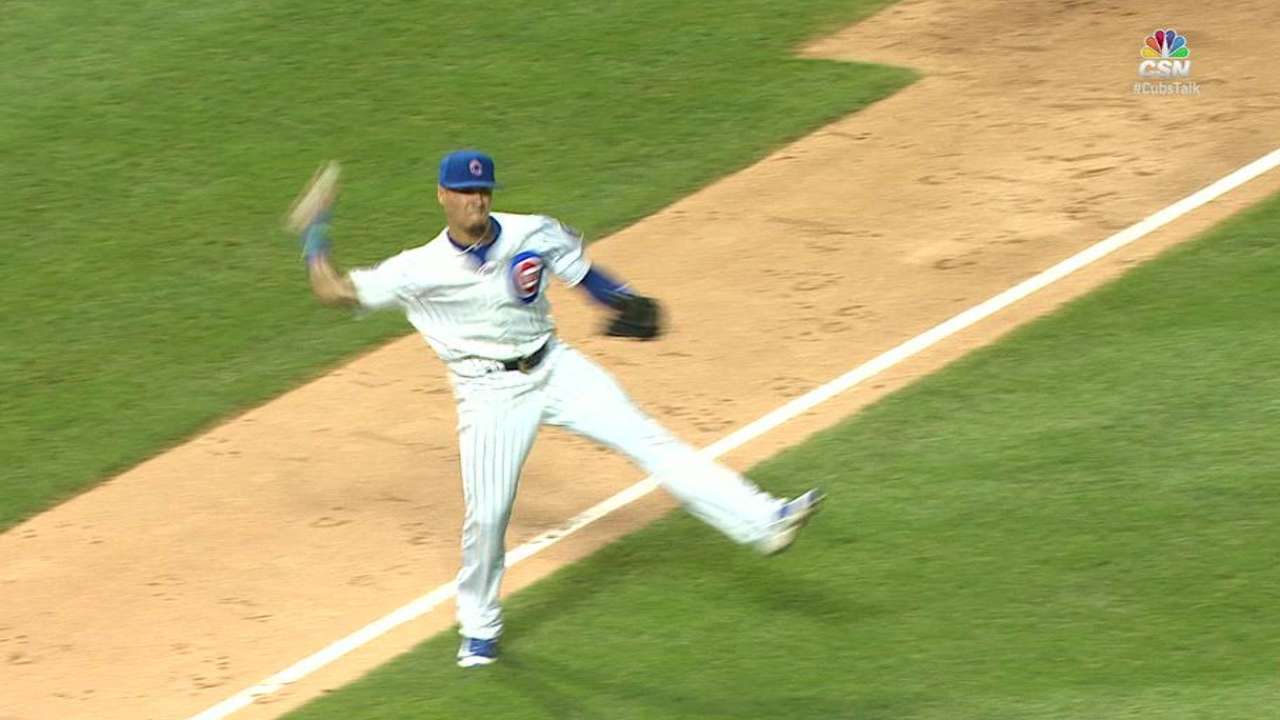 Baez also has improved at the plate and cut down on the strikeouts, although he did fan three times on Tuesday.
"There's a week or 10 days when he'll shorten up and utilize the entire field, and other times he's pretty much [pro golfer] John Daly," Maddon said, when asked for a comparison.
Maddon likes to say he'll put on his scouts hat and project what Baez can do.
"This is who he is. He's going to hit homers, he's going to make extravagant plays offensively and defensively, but there's been a more consistent approach to his game this year, better than I'd seen last year," Maddon said. "I said it the other day, with a lot of of players, you have to take the bad with the good."
• Anthony Rizzo will treat the Southeast Parkland (Fla.) Little League team to watch a Cubs game on Friday in Oakland. The Parkland team is competing in the Little League Intermediate World Series in Livermore, Calif., and it advanced with a 5-4 win on Sunday over Team West.
On Wednesday, Rizzo met with kids from the "Anthony Rizzo Kids Camp" that he sponsors through Gilda's Club of Chicago.
Carrie Muskat has covered the Cubs since 1987, and for MLB.com since 2001. She writes a blog, Muskat Ramblings. You can follow her on Twitter @CarrieMuskat and listen to her podcast. This story was not subject to the approval of Major League Baseball or its clubs.