Bumgarner vexed by free-swinging Phillies
PHILADELPHIA -- The Giants unveiled their early stretch-drive look Tuesday night against the Philadelphia Phillies. Eduardo Nunez, not Matt Duffy, played third base and, from the ninth spot in the batting order, led a procession of three consecutive leadoff-type hitters. Newly acquired reliever Will Smith arrived shortly before gametime, ready to pitch despite flying most of the day.
But except for Angel Pagan, none of the slap-and-dash hitters contributed much. Nunez committed a second-inning error that helped Philadelphia generate four runs. And Smith received the decision, though he faced just three batters, in the Giants' 13-8 loss.
With their pitching, the Giants expect to win anytime they score eight runs. Thus, starter Madison Bumgarner didn't even mention any of San Francisco's shortcomings other than his own. The left-handed ace surrendered 10 hits and eight runs (four earned), both season highs, in five-plus innings.
Bumgarner and the Giants would have accepted anything approaching his June 25 outing against the Phillies when he allowed them three runs and five hits in 6 1/3 innings in a 3-2 loss at AT&T Park. But he lacked his usual precision this time.
"I didn't make a lot of good pitches," Bumgarner said. "I had a hard time putting guys away. That was really it. I felt good physically. My command just wasn't there tonight. It's got to be better than that."
Particularly against the free-swinging Phillies, who take the field every day with youthful exuberance. Bumgarner threw only 58 strikes in 94 pitches, unable to find a way to make the Phillies' zeal work against them.
"An aggressive team like that, guys ready to swing the bat, it's going to work in their favor" if a pitcher is anything less than sharp, Bumgarner said.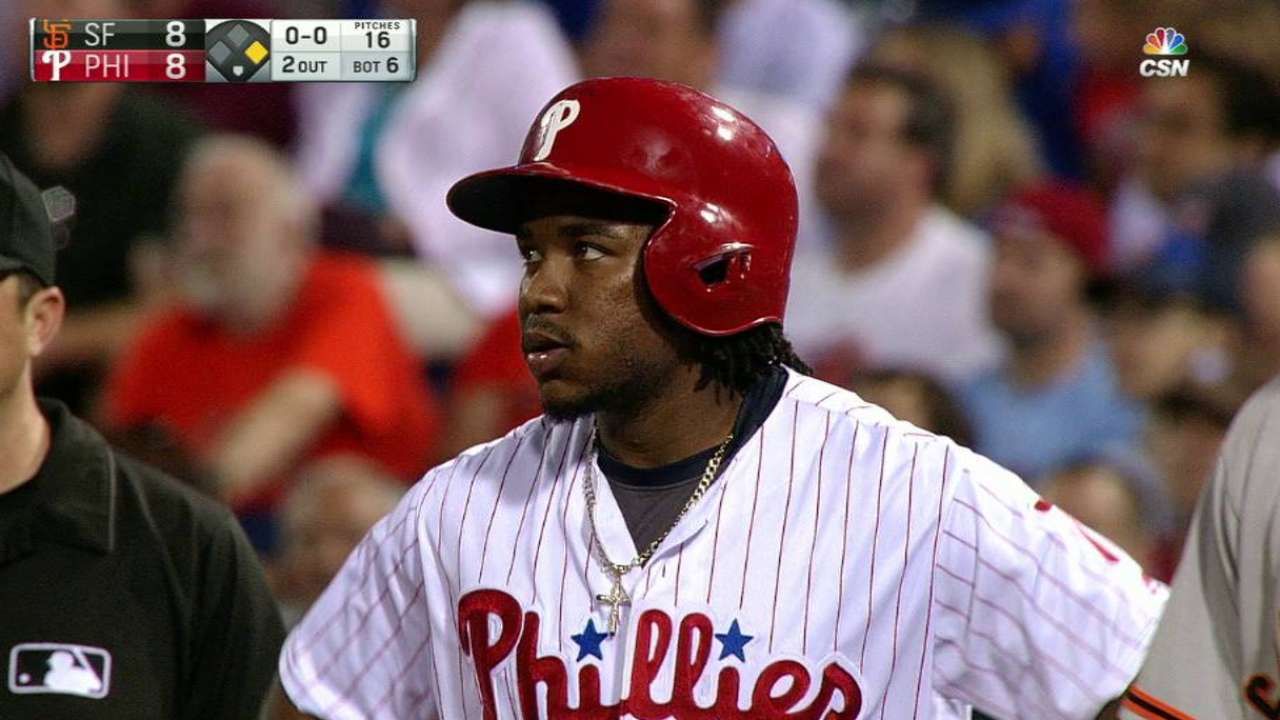 Bumgarner was particularly annoyed after walking pinch-hitter Taylor Featherston to open Philadelphia's sixth inning. The Giants had just completed their comeback from a 6-0 deficit and led, 8-7, on the strength of Pagan's two-run homer in the top of the sixth. But Bumgarner left the game after issuing that free pass, and Hunter Strickland proceeded to yield the tying run on Maikel Franco's single.
"I was definitely upset about it," Bumgarner said. "You get a chance to go out there for the sixth and your team battles back like that and gives you the lead, that's the last thing you want to do."
Smith looked sharp to open the ninth as he struck out Freddy Galvis. He also induced weak contact from pinch-hitter Odubel Herrera, but that resulted in an infield single.
"Buzzard's luck," said Giants manager Bruce Bochy, employing one of his familiar expressions.
Cesar Hernandez doubled Herrera to third. In came Sergio Romo, who experienced much of the same trouble Bumgarner encountered against the eager-swinging Phillies.
"We had it set up and it didn't play out," Bochy said.
Chris Haft has covered the Giants since 2005, and for MLB.com since 2007. Follow him on Twitter at @sfgiantsbeat and listen to his podcast. This story was not subject to the approval of Major League Baseball or its clubs.